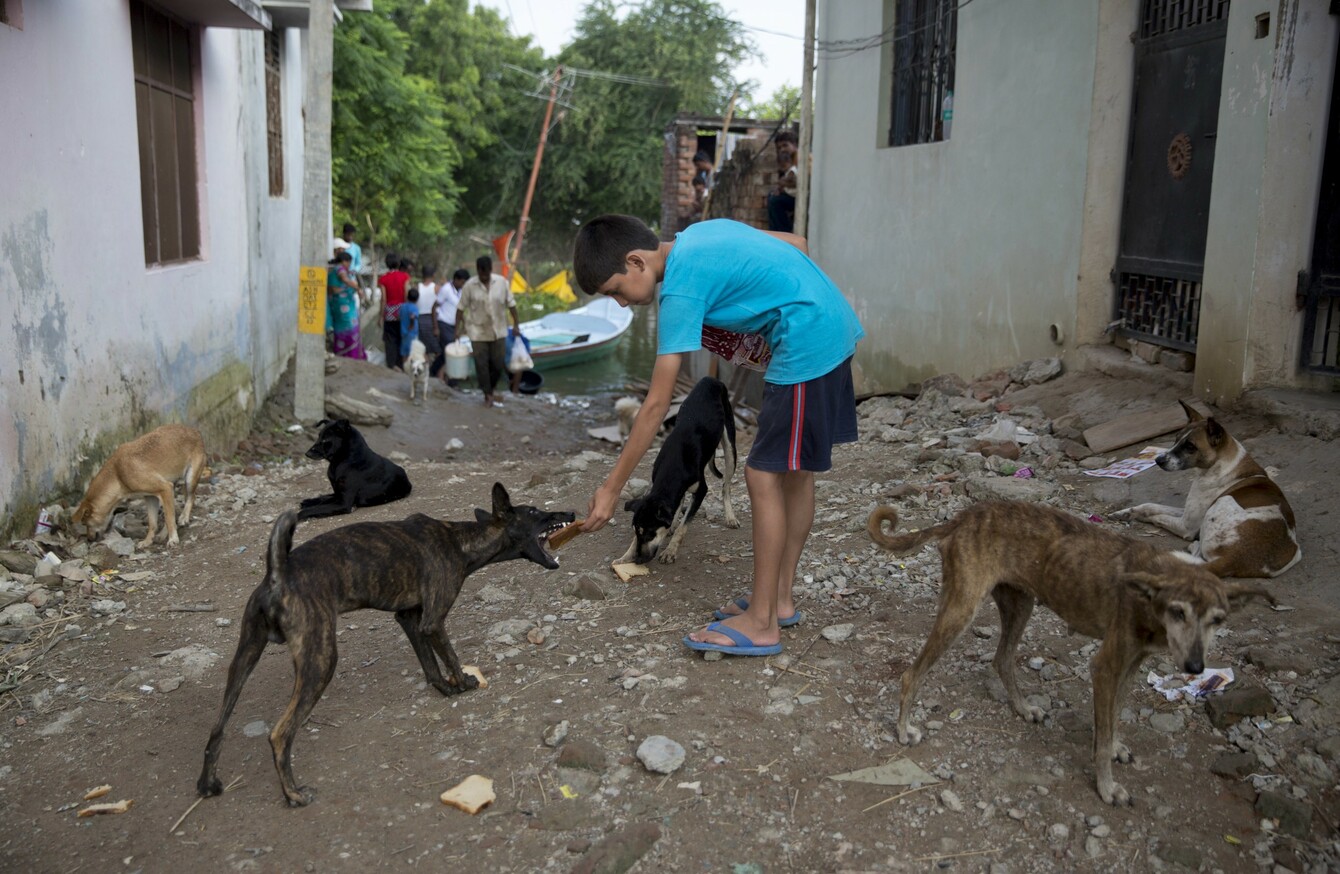 A Indian boy feeds bread to street dogs in Allahabad last month.
Image: Rajesh Kumar Singh/PA
A Indian boy feeds bread to street dogs in Allahabad last month.
Image: Rajesh Kumar Singh/PA
POLICE IN SOUTHERN India are investigating political activists for killing dogs, tying the corpses to a pole and parading them in public to protest against dangerous strays.
The protesters from the youth wing of a local party carried the pole with the dogs hanging by their legs through the streets of a town in Kerala state yesterday.
Video of the protest in Kottayam district that saw the dogs being dumped outside local government offices was broadcast on television and sparked public anger.
"We have registered a case against the protesters today for cruelty against animals and launched our investigation," Gireesh P Saradhi, deputy superintendent of Kottayam police, told AFP.
They killed and paraded five to seven dogs. We have sent the bodies for a post-mortem to ascertain how they were killed.
The protest is the latest incident in a row over feared rising numbers of strays in the state, after a woman was mauled by a pack of dogs last month and later died.
Chief Minister Pinarayi Vijayan sparked anger recently by saying he opposed culling, while animal activists have called for sterilisation and other more humane methods of curbing numbers.
Rabies
Thousands of stray dogs roam the streets in India, with some carrying rabies and other diseases.
It was unclear why the numbers were feared to be a particular problem in Kerala, a popular state with tourists.
Saji Manjakadambil, one of those involved in the protest from the Kerala Congress (M) party, said such killings would continue unless the government acted on the problem.
"We have killed these dogs," Manjakadambil told the NDTV network.
And it's a warning that this will continue if the central and state governments do not control the stray dog menace.
In a statement, the Humane Society International branded Monday's protest disgraceful, saying members of political parties should not be taking the law into their own hands.