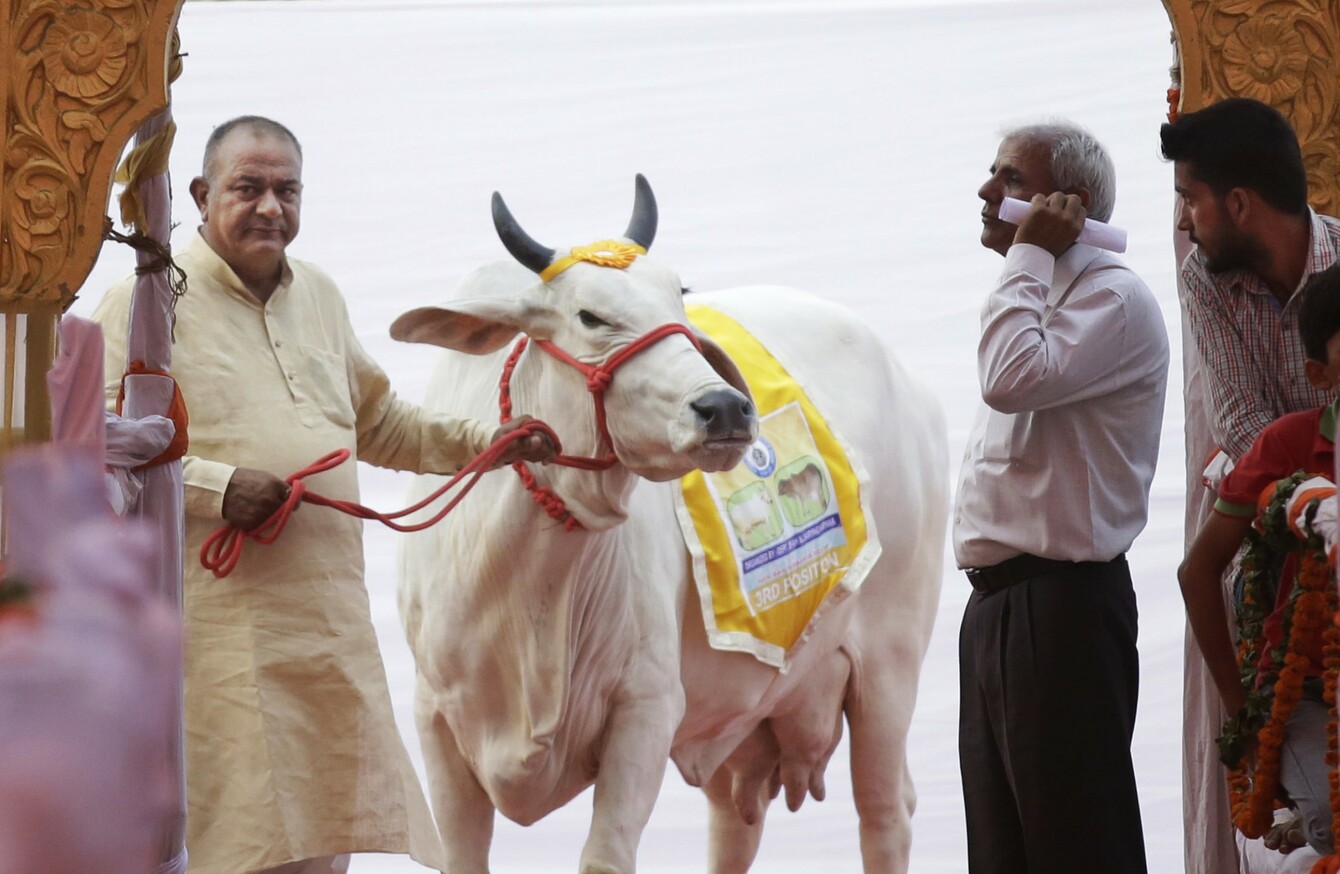 A bovine beauty pageant in Rohtak, India last May.
Image: Altaf Qadri/PA
A bovine beauty pageant in Rohtak, India last May.
Image: Altaf Qadri/PA
AN INDIAN WOMAN has told the BBC that she and her 14-year-old cousin were gang raped and two relatives murdered, after being accused of being Muslims who ate beef.
The woman, 20, said that four men carried out the attack in northern Haryana state two weeks ago. She denied consuming beef.
She said the men beat her uncle and aunt to death in their home in Mewat.
Many Hindus consider cows sacred and the slaughter of the animal is banned in several states, including Haryana.
The suspects have been arrested and charged with rape and murder.
Police have played down the idea that cow protection groups were involved in the attack. The alleged rape took place two weeks ago, but has just emerged.
"They [the accused men] said that we ate cow meat and that is why we were being disgraced [raped]," the woman told BBC Urdu, the corporation's branch in India.
They even threatened to kill me and my family if we ever told anybody what happened to us.
Mewat district lies 62 miles from Delhi, and recently made headlines after a senior official said police would check mutton biryani dishes to ensure they contained no beef.
Rape epidemic
Rape and sexual assaults have been in the spotlight in India after the 2013 death of a student who had been gang-raped.
India amended its laws to broaden the definition of rape to include any form of penetration. It also listed strict punishments not only for rape but also for sexual assault, voyeurism and stalking.
However, brutal sexual attacks against women and children continue across the country.
There has been a string of gang rapes against foreign women in the country in recent years – including two last month.
India's national crime statistics show 92 women are raped each day, mostly in rural areas – though the figure is widely believed to underestimate the actual severity of the problem.
The country's Tourism and Culture minister recently said female foreign tourists should not wear skirts in the country.