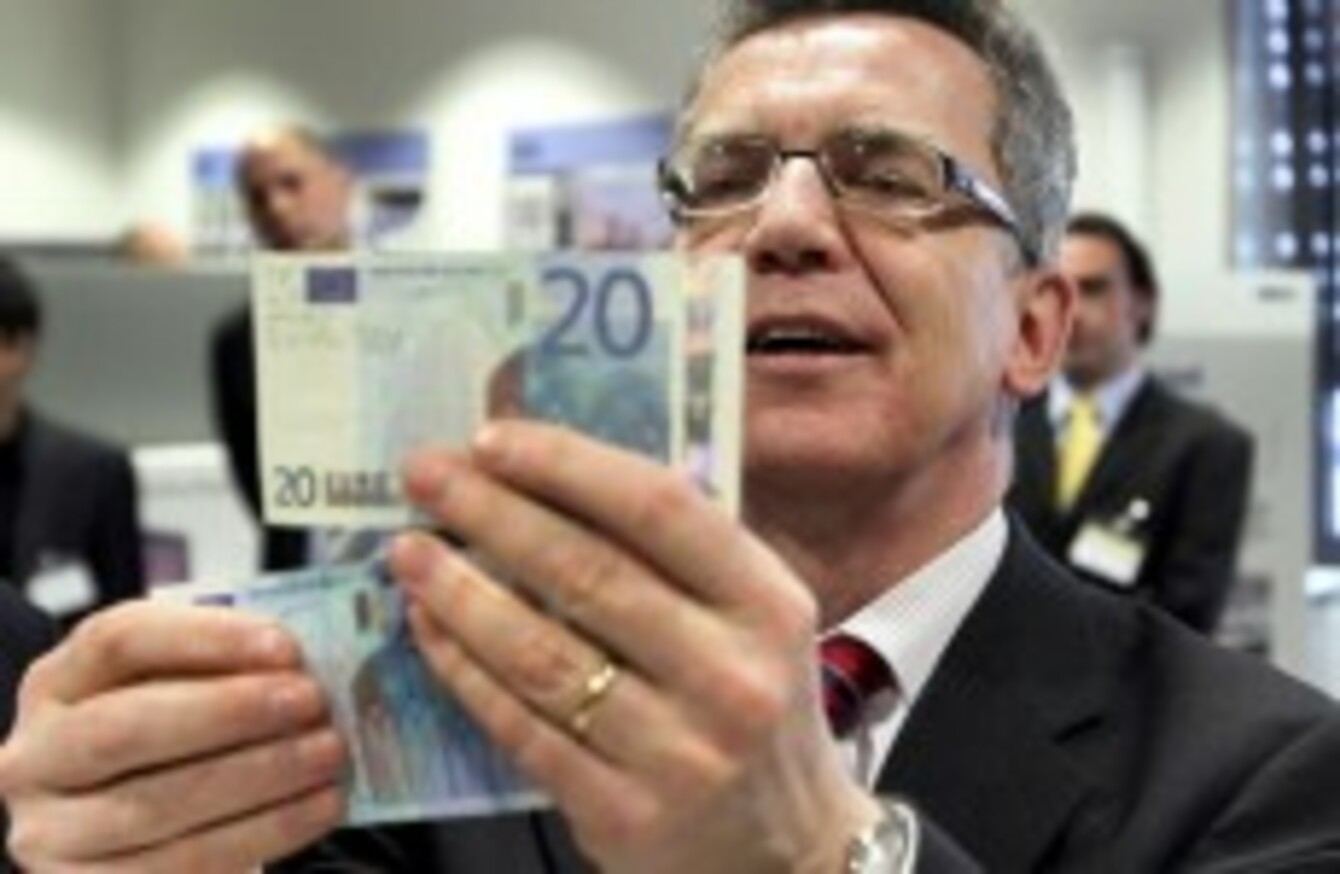 Image: Daniel Roland/AP
Image: Daniel Roland/AP
THE NUMBER OF times that Gardaí intercepted the transit of counterfeit euro notes fell by almost a third last year, new figures have revealed.
Data published by justice minister Alan Shatter showed that Gardaí had seized or come into the possession of counterfeit currency 375 times last year.
That compared to 552 times in 2010, which itself was a recent peak, ahead of 2009 (539 times) and 2008 (527 times).
The figures do not reflect the notional value of the notes seized each year, and such figures are not likely to be compiled, as Shatter says it would require a disproportionate amount of Garda time to compile.
How can you tell a note is genuine?
The euro note is designed to be one of the most difficult currencies to forge, and has a number of notable features which aim to discourage counterfeiting.
Genuine euro notes have a number of features including:
Holograms, which are plainly visible on the right hand side of notes up to €20, and in a circular shape on the right of notes of €50 and higher
Coloured ink – the EU flag in the top-left should appear green and orange when held under UV light
The 'EURion' constellation – the dots on the front face of the €10 note are of a deliberate design which means some photocopiers will refuse to copy it
Watermarks – not only the traditional one on the left, but also a 'digital one' embedded onto the print of the page, which programs like Photoshop are programmed to refuse. There are also marks that show up only under infrared light
Security thread – Holding notes up to the light, you should see a 'thread' intervowen into the note, down the middle of the note.
Magnetic ink – Notes like the €20 are printed with magnetic ink in some parts (such as one of the church windows)
Microprinting – Take out a €5 note and look at the bar on which the word EΥΡΩ appears. That grey text? That's actually the words 'EΥΡΩ' and 'EURO' written in very small letters.
Bar code – Hold a note up to the light. You'll see a barcode to the right of the watermark. The width of the codes on this indicates the note.
Checksum – The serial number of each note is preceded by a letter. If you convert this letter to its ASCII equivalent and add all the digits together, the number will be divisible by 9.