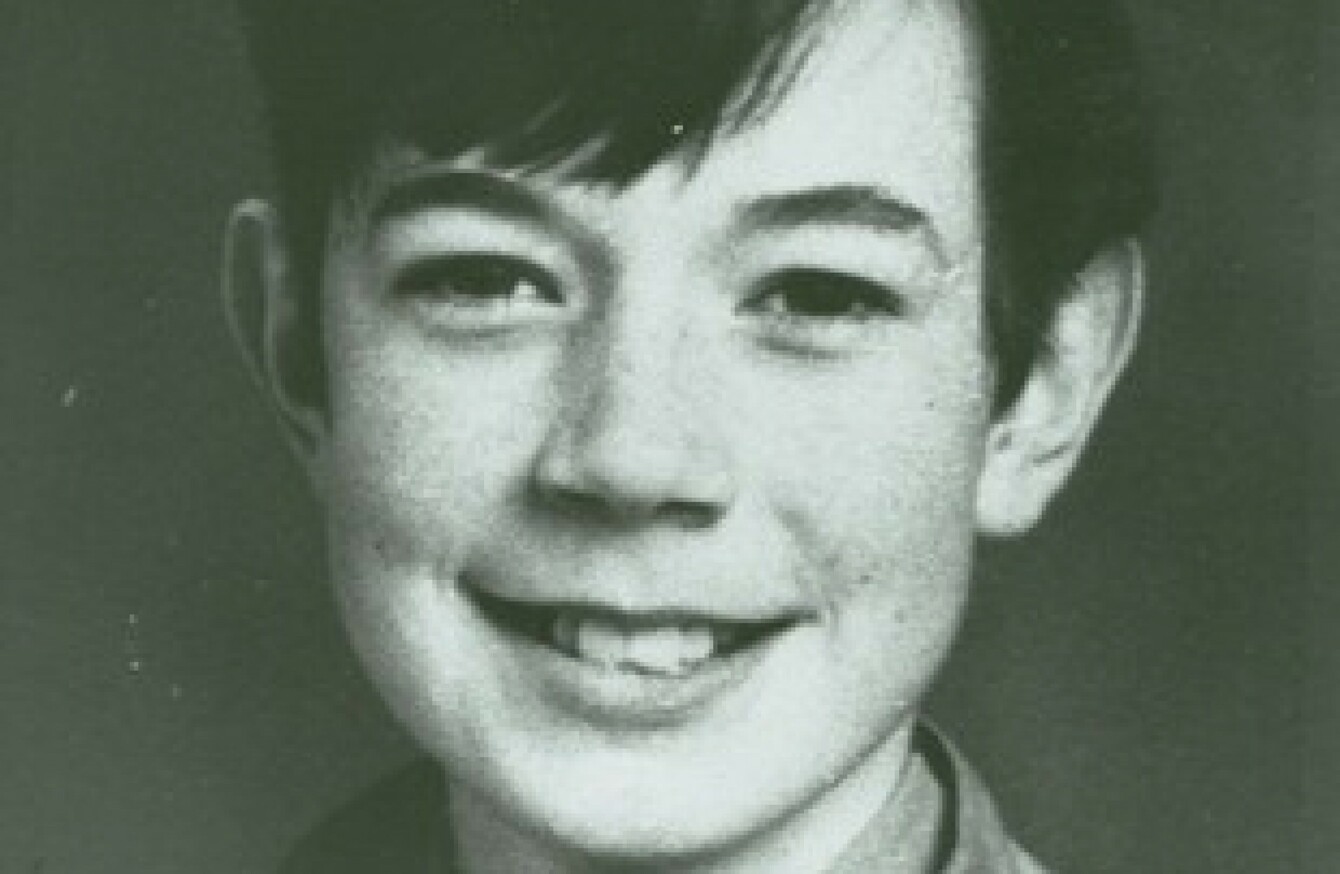 GARDAÍ HAVE APPEALED for anyone who may have been a child around the time of the disappearance of Philip Cairns and who may have any information on his disappearance and the finding of his schoolbag to come forward.
Gardaí said today that the investigation into missing person Philip Cairns – who disappeared from Rathfarnham on 23 October 1986 – is "very much active" and that they were pursuing 160 new lines of inquiry.
Philip returned home from school the day he went missing. He left his house to go back to school some time after but never turned up there.
His schoolbag was discovered a week after he went missing in a nearby laneway that linked Anne Devlin Road to Anne Devlin Drive.
Superintendent Peter Duff announced today that gardaí believed that people who would have been young at the time of Philip's disappearance may have information surrounding his bag.
"From our inquiries I believe that there are people who may have been young at the time who may have information in relation to Philip's schoolbag and for whatever  reason did not come forward," said Duff.
I am conscious that due to the passage of time and the change of circumstances these people may now be in a position to assist.
This may be playing on their minds and I ask these people now to come forward.
RTÉ reports that gardaí believe that a number of children may have been coerced into placing Philip's bag in the laneway at the time.
Duff said that anyone who came forward would be treated "sensitively and discreetly".
He also said that a large number of people had come forward in the last number of days.
Eamon Cooke
Last week, RTE reported that gardai had linked the disappearance of Cairn's to the convicted paedophile Eamon Cooke – who operated a pirate radio station in Dublin at the time.
It was reported that a woman – who was a child at the time of his disappearance – had come forward with new information linking Cooke with Cairns.
Superintendent Duff would not confirm that Cooke was being actively investigated by gardaí, but said that there were multiple lines of inquiry open.
Duff said that shortly after an appeal for information on the case in 2011, a woman had come forward to gardaí.
However, it had taken until May of this year for the woman to give information to the gardaí in relation to the investigation.
This information led to Philip's bag being tested for DNA. Duff said today that the results of DNA testing have yet to come back.
Duff said that he "commended" the woman who came forward with the information on Cairns' disappearance.
"At the time of the incident the person who came forward was a very young child," said Duff.
I commend her bravery even after the passage of time to come forward and say she had information.
I think that's a very commendable act.
Questioned
It was reported last week that before his death gardaí spoke to 79-year-old Cooke at a hospice in Dublin where he was receiving palliative care.
He is thought to have confirmed aspects of the woman's statement, but refused to say where Cairns was buried.
Cooke was serving a 10-year sentence for repeatedly sexually abusing two girls from January 1974 to May 1978.
Duff said today that the investigation was open and lines of inquiry were being followed up.
He said that no searches have been carried out as of yet.
Duff also said that Philip's family were being kept up to date on the investigation.
"They're coping quite well," he said.
Anyone with any information is asked to contact Rathfarnham Garda station on 01-6666500 the Garda Confidential Line on 1800 666111 or any Garda station.