Image: Julien Behal/PA Archive/PA Images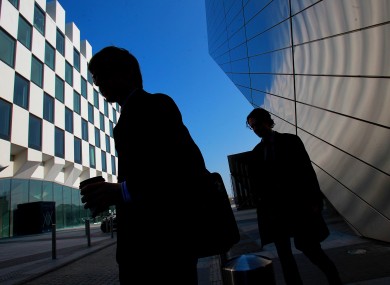 Image: Julien Behal/PA Archive/PA Images
CONFIDENCE IN THE Irish economy amongst investors has shot up by more than one quarter in less than a year, a survey by RaboDirect has found.
The investor barometer published this morning shows that 81 per cent of respondents are feeling positive about Ireland's economic prospects, up from just 55 per cent this time last year.
The upsurge in confidence extends to the prospects of the global economy, climbing to 86 per cent from 64 per cent in Q1 2013. Respondents to the survey of investors said that they were also feeling positive about their personal financial situation.
The stock market is seen as the best place to deploy capital, with 78 per cent finding value in that arena. Only 11 per cent said they would invest in property.
Popular sectors among the investment community included technology (31 per cent), finance (20 per cent), sustainability related investments (17 per cent), with investments in healthcare and commodities attracting the interest of 16 per cent of investors.
RaboDirect investment manager Killian Nolan said that the growth in the confidence had been aided by a steady stream of positive news on the domestic front around the country's economic prospects.
In our opinion, his increased optimism is contributing to a slightly higher risk appetite when it comes to investors pursuing medium to long-term growth opportunities. The barometer shows the vast majority of investors questioned see value in global stocks, and this is reflected in increased interest in Europe in particular.