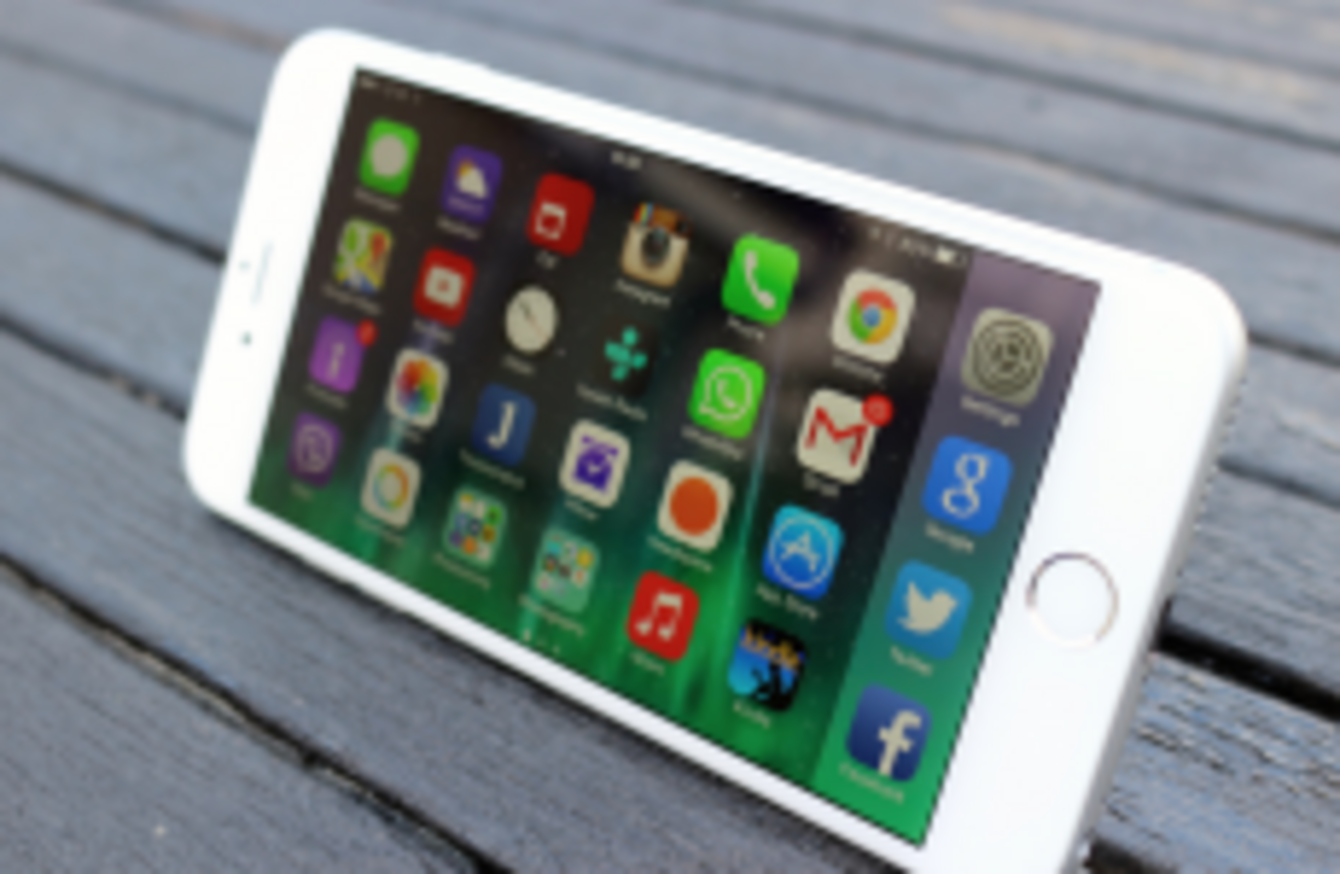 Image: TheJournal.ie
Image: TheJournal.ie
WITH THE LATEST iPhones dominating news, long after its announcement was made, one of the more intriguing decisions was whether to opt for the standard iPhone or go for the 6 Plus.
The phablet device is certainly an anomaly in Apple's smartphone range, but when you consider that some people bring their iPads everywhere (and use it to take photos, much to the annoyance of some) and screen sizes has increased in recent years, it was a move that made sense.
If you've decided you want to get the latest iPhone but can't decide whether the 6 Plus is worth getting or not, here what you should consider.
Look and feel
Apart from the obvious difference in size, both iPhone 6 and 6 Plus feel exactly the same. Rounded off corners and an aluminium design ensures it rests in your hand comfortably.
The 6 Plus is a little bit heavier when compared to other phones, again the size of it being the main contributor, but you can still slip it into your pocket without much trouble.
The idea that it's too big to fit into your pocket is silly simply because the device is slim enough to fit into your pocket (the same principle applies to similar devices like the Galaxy Note 4).
The Pros…
Double tapping gets over the obvious problem with a large-screen
With a large 5.5-inch screen, the obvious problem is that if you want to use it one-handed, you're going to have to sacrifice a solid grip and risk dropping it to reach the furthest parts of the screen.
Thankfully, there's a solution to this problem. By double-tapping (not double-pressing) the home button, it brings the top-half of the screen to the bottom. This can be applied to any app or function on the device and it (almost) prevents you from having to use two-hands to operate it.
With your thumb, you can just about reach the corner of this half-screen and is really only used for selecting options that are just out of reach. It doesn't work perfectly with every app, but it's a solution that app developers will take into consideration as they adjust to the new screen settings.
The camera has been further refined
Apple made a huge deal of the camera capabilities and it's easily one of the high points of both devices.
Alongside the regular software improvements made, the 6 Plus also has optical image stabilisation, which helps improve low light photography, and another factor to consider should photography be a priority for you.
The slo-mo feature is easily the standout feature of the iPhone 6 range and is something people will play around with. The increase to 240 frames per second gives it a movie-like feel and there's no doubt that people will use it for more creative ideas.
http://vine.co/v/Ob5OUYdZ3BQ
The battery life is better than expected
While the specs are exactly the same between the two devices, there is one major difference. The battery for the iPhone 6 Plus is a Lithium-Polymer 2915 mAH battery (11.1 Wh) while the iPhone 6 uses a Lithium-Polymer 1810 mAH battery (6.9 Wh). Even if that means absolutely nothing to you, the figures should at least hint that the battery used in the 6 Plus is better.
While it powers a larger screen, the battery life in general is that little bit better than the 6 and will certainly last a good day and a half before needing the charger.
Although it must be said that other recent devices from the likes of Samsung, Sony, and Nokia have also started seeing improvements with the battery life, but either way, this is a welcome trend.
And the cons
Apps haven't been optimised for the large screen
Considering you can use the homescreen in landscape mode, it's amazing how many apps have still yet to adapt to this, the majority only being viewed in portrait mode. This problem even extends to some Apple apps like Podcasts.
Also, even in portrait mode, a significant number of apps still haven't adapted to the new sizes yet, causing them to be stretched out and blurry.
It would have been nice if Apple had encouraged iPad developers to downsize their apps so it would work on the 6 Plus, but for now, it means only the main Apple apps will work in this mode.
iOS 8 is unrefined
So many problems surrounded the launch and followup of iOS 8 that it's almost pointless listing them out again, but the software still requires some improvement, despite the number of features and upgrades it brings.
#Open journalism No news is bad news Support The Journal

Your contributions will help us continue to deliver the stories that are important to you

Support us now
This is a pity as at its worst, it really brings down the quality with freezes and bugs, but the first proper update, iOS 8.1, is being released tomorrow so at the very least, you would expect it to solve these performance issues.
Also, from a wider standpoint, iOS can feel very rigid compared to Android and Windows Phone meaning if you didn't like it before, there's little that will convince you to revert back.
Getting an iPhone 6 Plus will likely boil down to one thing.
And that's how big your hands are (Honestly). If you're not used to phablet devices, then this will take some time to properly adapt to, but using it with one-hand is going to be testing for those with petite hands.
Also, from a practical standpoint, some may feel that a screen larger than 5-inches is too much. While some will enjoy the extra screen real-estate, others will feel more comfortable with the smaller 4.7-inch screen the iPhone 6 has.
There's no right or wrong answer with this and which one you go for will really depend on what you value more, physical practicality or extra screen space.
If you're ok with using two hands to work your phone more often, then you will certainly benefit from not only the larger screen, but the better performing camera and improved battery life.
Make no mistake, both iPhones are fantastic devices, but the decision of which one to get will depend on whether you mind holding a larger than usual smartphone. Think about it that way and it should make the decision a little easier.
The iPhone 6 Plus costs €799 (SIM-free version) and is available in:
Vodafone (€149 bill pay)
O2, (€749 PAYG/€149 bill pay),
Three (€759 PAYG/€279 bill pay),
Meteor (€199 bill pay),
and Carphone Warehouse (€749 PAYG/€249 bill pay).
The iPhone 6 starts at €699 (SIM-free version) and is available in:
Vodafone (€49 bill pay)
O2, (€649 PAYG/€59 bill pay),
Three (€659 PAYG/€179 bill pay),
Meteor (€99 bill pay),
and Carphone Warehouse (€649 PAYG/€149 bill pay).