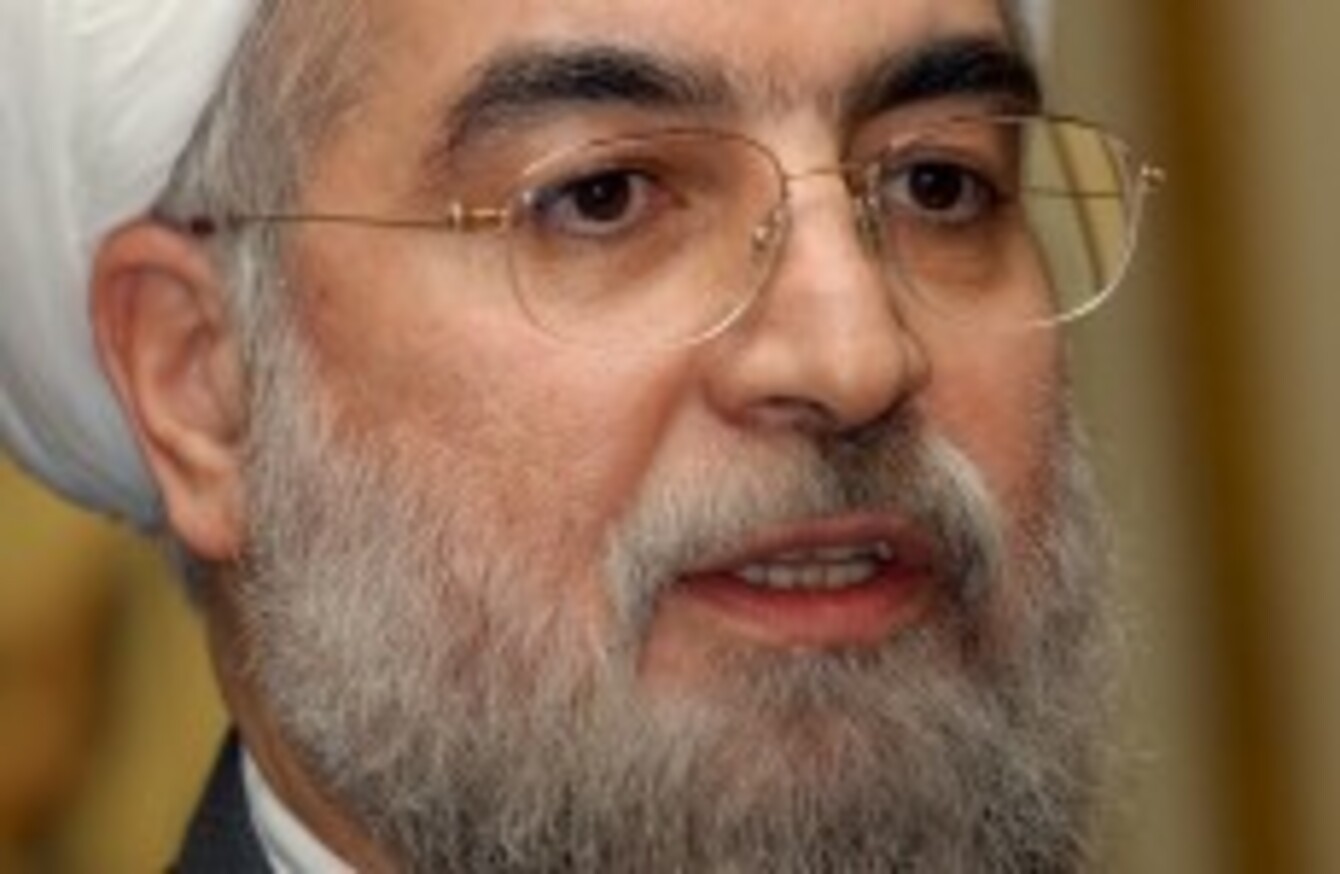 Image: VIRGINIA MAYO/AP
Image: VIRGINIA MAYO/AP
MODERATE CLERIC Hassan Rowhani has hailed his win in Iran's presidential election as a victory over "extremism", as thousands of supporters celebrated in the streets into the early hours of Sunday.
Major global nations have quickly offered to engage with the former nuclear negotiator, who has promised a more constructive approach to talks, but Israel called for no let-up in Western sanctions that have bitten the Iranian economy hard.
Iran's reformist press hailed Rowhani as the "sheikh of hope" and said his victory promised a return to optimism after the eight-year grip of conservatives under outgoing President Mahmoud Ahmadinejad.
Tens of thousands of celebrators took to the streets of Tehran, toting pictures of 64-year-old Rowhani and chanting pro-reform slogans as news of his victory spread.
Many were dressed in purple, Rowhani's campaign colour, and others in green, the colour of the reformist movement.
"Tonight we rejoice as there is once more hope in Iran," said Ashkan, 31, holding a poster of Rowhani and wearing a green wristband.
Rowhani was declared outright winner with 50.68 per cent of votes cast in Friday's election, avoiding the need for a second round run-off election against the second-placed Mohammad Bagher Ghalibaf.
In his first statement after his win was confirmed, Rowhani called on world powers to treat Iran with respect and recognise its rights, an apparent allusion to its controversial nuclear programme.
"This is a victory of intelligence, of moderation, of progress… over extremism," Rowhani said.
"A new opportunity has been created by this great epic, and the nations who tout democracy and open dialogue should speak to the Iranian people with respect and recognise the rights of the Islamic republic."
Then they will "hear an appropriate response," he added.
New president supports talks with world powers
Rowhani is a former top nuclear negotiator who has championed a more constructive engagement with world powers.
He won outright against five conservative candidates, securing 18.6 million votes out of the 36.7 million cast, the interior ministry said.
That was enough to ensure there would be no run-off against Tehran mayor Mohammad Baqer Qalibaf, who came a distant second with 6.07 million votes, or 16.55 per cent.
Supreme leader Ayatollah Ali Khamenei, who has the final say in all strategic matters in Iran, including nuclear policy, congratulated Rowhani.
"I urge everyone to help the president-elect and his colleagues in the government, as he is the president of the whole nation," Khamenei said on his website.
Reformist daily Etemad headlined: "A salute to Iran and to the sheikh of hope," above a picture of a smiling Rowhani flashing a V-for-victory sign.
Conservative newspaper Jomhuri Eslami said his win was "Iran's yes to moderation and no to extremism".
World powers expressed readiness to take up Rowhani's offer of engagement.
The White House said it was prepared to engage Tehran directly to try to reach a "diplomatic solution that will fully address the international community's concerns about Iran's nuclear programme".
Rowhani said during his campaign that he was ready to hold bilateral talks with Washington on Tehran's nuclear programme, "difficult" as that would be after decades of enmity.
He has also offered to restore diplomatic ties with the United States, which cut relations in the aftermath of the 1979 seizure of the US embassy by Islamist students.
EU foreign policy chief Catherine Ashton, who acts as chief negotiator for the six powers involved in the current nuclear talks, said she was committed to working with Rowhani to find a "swift diplomatic solution".
The Lebanese Shiite movement Hezbollah, a close ally of Tehran, called Rowhani a "beacon of hope".
Israel asks for no let-up in international unease
But their arch foe Israel urged the international community to keep up its pressure on Iran over its nuclear activity despite Rowhani's victory.
"The international community should not fall into wishful thinking and be tempted to ease pressure on Iran to stop its nuclear programme," said Israeli Prime Minister Benjamin Netanyahu.
"If it insists on continuing to develop its nuclear programme the answer needs to be clear – stopping its nuclear programme by any means," he told his cabinet.
Israel, the region's sole if undeclared nuclear power, has not ruled out a military strike to prevent Iran developing a rival arsenal.
Iran insists it has no such ambition and that its nuclear programme is for peaceful power generation and medical purposes only.
Rowhani inherits an economy that has been badly hit by EU and US sanctions targeting the key oil and banking sectors.
The inflation rate has risen to more than 30 percent, as the rial has lost nearly 70 percent of its value against the dollar, sending the cost of imported goods soaring and slashing the purchasing power of ordinary people.
Rowhani has pledged to tackle the problems by taking a more constructive approach with the major powers that might lead to an easing of the sanctions.
Friday's vote was the first since the controversial 2009 re-election of Ahmadinejad triggered mass protests that were crushed with deadly force.