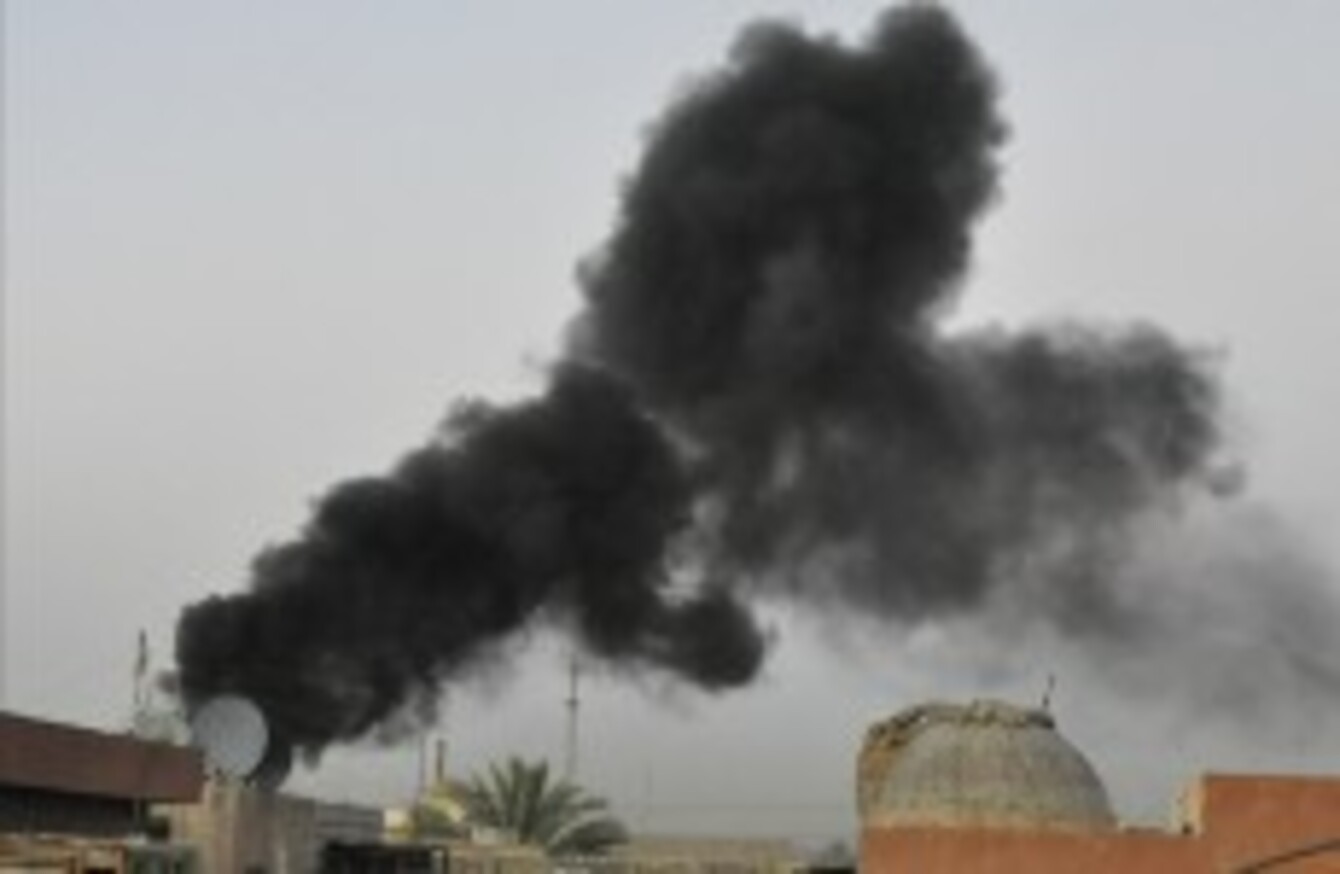 A WAVE OF car bombings, mainly targeting cafes and markets around the Iraqi capital of Baghdad, killed 69 people today out celebrating the end of the Muslim holy month of Ramadan, officials said.
The death toll in the attacks is the highest since 20 July, when brazen assaults on two prisons near Baghdad plus other attacks left 71 dead.
Violence rising
Violence has been on the rise across Iraq since a deadly crackdown by government forces on a Sunni protest camp in April, and attacks against civilians and security forces notably spiked during Ramadan. The surge of attacks has sparked fears that the country could spiral into a new round of widespread sectarian bloodshed similar to that which brought the country to the edge of civil war in 2006 and 2007.
Police said the deadliest of the attacks took place when a suicide bomber drove his explosive-laden car into a residential area in the town of Tuz Khormato, killing eight people and wounding dozens, Mayor Shalal Abdool said.
Police said a car bomb exploded near an outdoor market in Baghdad's southeastern suburbs of Jisr Diyala shortly before sunset, killing seven people and wounding 20.
Also in southeastern Baghdad, officials said a car bomb went off inside a parking lot in the mainly Shiite New Baghdad neighborhood, killing three people.
Another car bomb exploded in a busy street in the Shiite neighborhood of Amil, killing three people and wounding 14.
In the holy Shiite city of Karbala, police said four people were killed in a car bomb attack near a cafe at night. Karbala is 80 kilometres south of Baghdad.
Explosions
In northern Baghdad, a car bomb hit a restaurant in the Shiite area of Khazimiyah, killing five people and wounding 14, authorities said. Police also said that five people were killed when a car bomb exploded near a cafe in Baghdad's southwestern neighborhood of Baiyaa.
Six people were killed and 15 were wounded in a car bomb explosion in the Shiite neighborhood of Shaab in northeastern Baghdad, officials said.
A car bomb hit near restaurant in the city's northeastern suburb of Husseiniyah, killing seven people and wounding 15, police said.
Smoke rises after a bomb attack in Tuz Khormato, 210 kilometres north of Baghdad, Iraq. Pic: AP Photo
Also, a car bomb explosion a commercial street in the Dora area in southern Baghdad killed five.
Police officials said that all those attacks took place within an hour. Earlier in the day, four people, including two children, were killed when a bomb exploded near a park just south of Baghdad.
Later, a car bomb exploded in a busy street in Nasiriyah city in southern Iraq, killing four people and wounding 41 others.  In the city of Kirkuk, a car bomb hit near a Shiite mosque, killing one person and wounding 20 others.