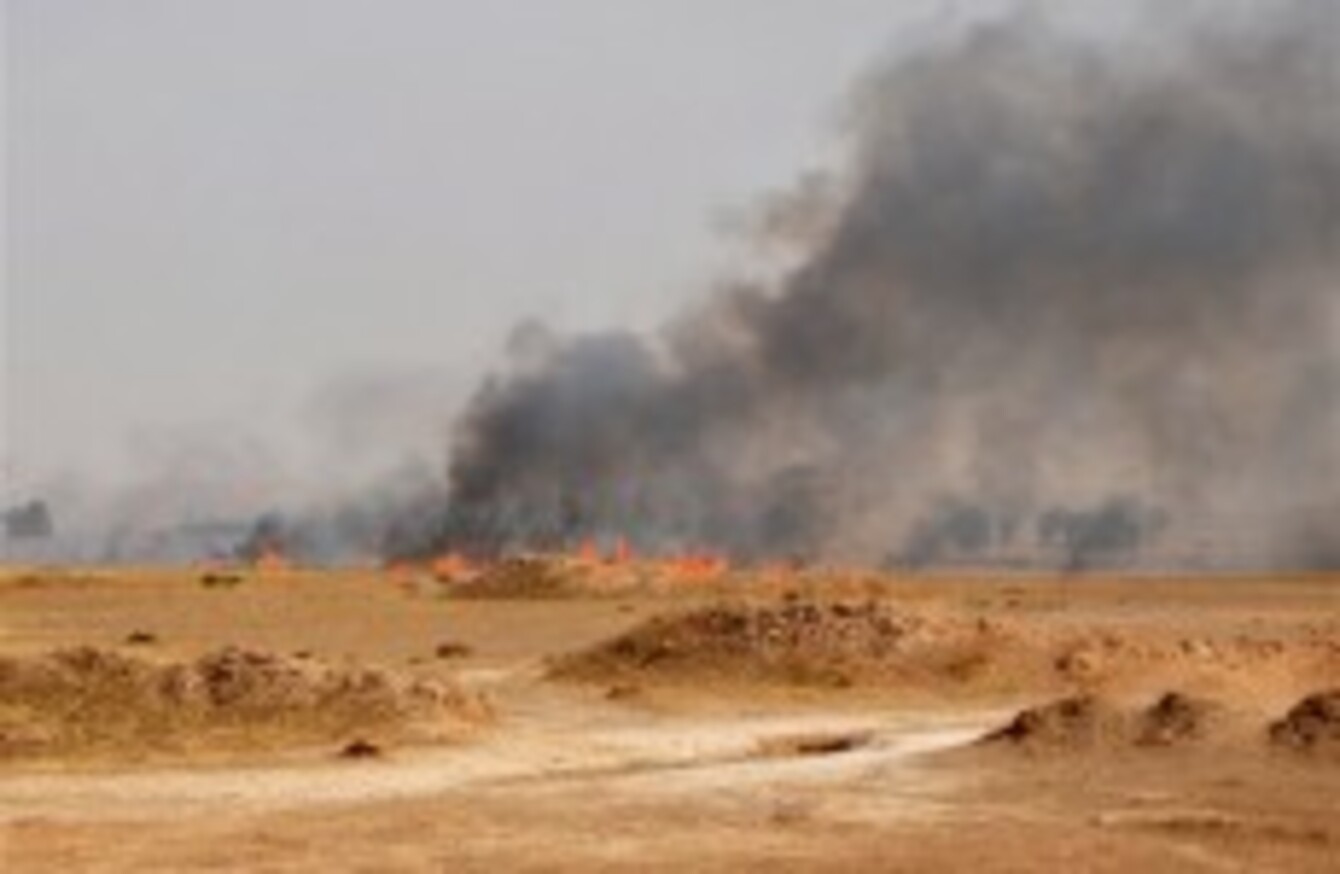 Smoke rises during a military operation to regain control of Dallah Abbas north of Baqouba, the capital of Iraq's Diyala province.
Image: AP
Smoke rises during a military operation to regain control of Dallah Abbas north of Baqouba, the capital of Iraq's Diyala province.
Image: AP
IRAQI HELICOPTER GUNSHIPS struck suspected insurgent positions in Tikrit today.
As part of a government offensive to retake the predominantly Sunni hometown of former dictator Saddam Hussein from Sunni militants led by the al-Qaida breakaway Islamic State of Iraq and the Levant, the Iraqi military launched its push to take back Tikrit.
The area is said to be a hotbed of antipathy toward Iraq's Shiite-led government. 
Tikrit is one of two major urban centers that fell to insurgents earlier this month during their lightning offensive across the country's north and west.
Tikrit
The insurgents appeared to have repelled the military's initial push for Tikrit, and remained in control of the city on Sunday, but clashes were taking place in the northern neighborhood of Qadissiyah, two residents reached by telephone said.
Muhanad Saif al-Din, who lives in the city center, said he could see smoke rising from Qadissiyah, which borders the University of Tikrit, where troops brought by helicopter established a bridgehead two days ago.
He said many of the militants in Tikrit had deployed to the city's outskirts, apparently to blunt the military attack.
Military spokesman Qassim al-Moussawi told reporters today that the military was in full control of the university and had raised the Iraqi flag over the campus.
"The battle has several stages. The security forces have cleared most of the areas of the first stage and we have achieved results," al-Moussawi said. "It is a matter of time before we declare the total clearing" of Tikrit.
A provincial official reached by telephone reported clashes northwest of the city around an air base that previously served as a US military facility known as Camp Speicher.
He spoke on condition of anonymity because he was not authorised to brief the media.
Jawad al-Bolani, a security official in the provincial operation command, said the US was sharing intelligence with Iraq and has played an "essential" role in the Tikrit offensive.
"The Americans are with us and they are an important part in the success we are achieving in and around Tikrit," al-Bolani told The Associated Press.
Troops
Washington has sent 180 of 300 American troops President Barack Obama has promised to help Iraqi forces. The US is also flying manned and unmanned aircraft on reconnaissance missions over Iraq.
Meanwhile, a top Iranian military commander said Tehran was ready to send in any type of military assistance the Iraqi government forces need, including drones.
"Iran will never spare any help in any field that Iraq needs, even drones. … We are waiting to help them, in case Iraqi officials ask," the deputy head of Iran's armed forces, Gen. Masoud Jazayeri, told the Iranian state-run Arabic-language station, Al Alam TV.
None-Arab and mostly Shiite, Iran has been playing the role of guarantor of Shiites in Iraq, Syria and Lebanon. It has maintained close ties with successive Shiite-led governments since the 2003 ouster of Saddam Hussein, a Sunni who oppressed the Shiites.
U.S. officials said Iran has been flying surveillance drones in Iraq, controlling them from an airfield in Baghdad. A top Iraqi intelligence official said Iran was secretly supplying the Iraqi security forces with weapons, including rockets, heavy machine guns and multiple rocket launchers.
Iraq's government is eager to make progress in Tikrit after weeks of demoralising defeats at the hands of the Islamic State and its Sunni allies. The militants' surge across the vast Sunni-dominated areas that stretch from Baghdad north and west to the Syrian and Jordanian borders has thrown Iraq into its deepest crisis since US troops withdrew in December 2011.
The government received a boost in its battle with the militants with the arrival in Baghdad late Saturday of five Sukhoi 25 warplanes purchased second hand from Russia. The aircraft is designed to provide close air support to ground forces and to destroy mobile targets.