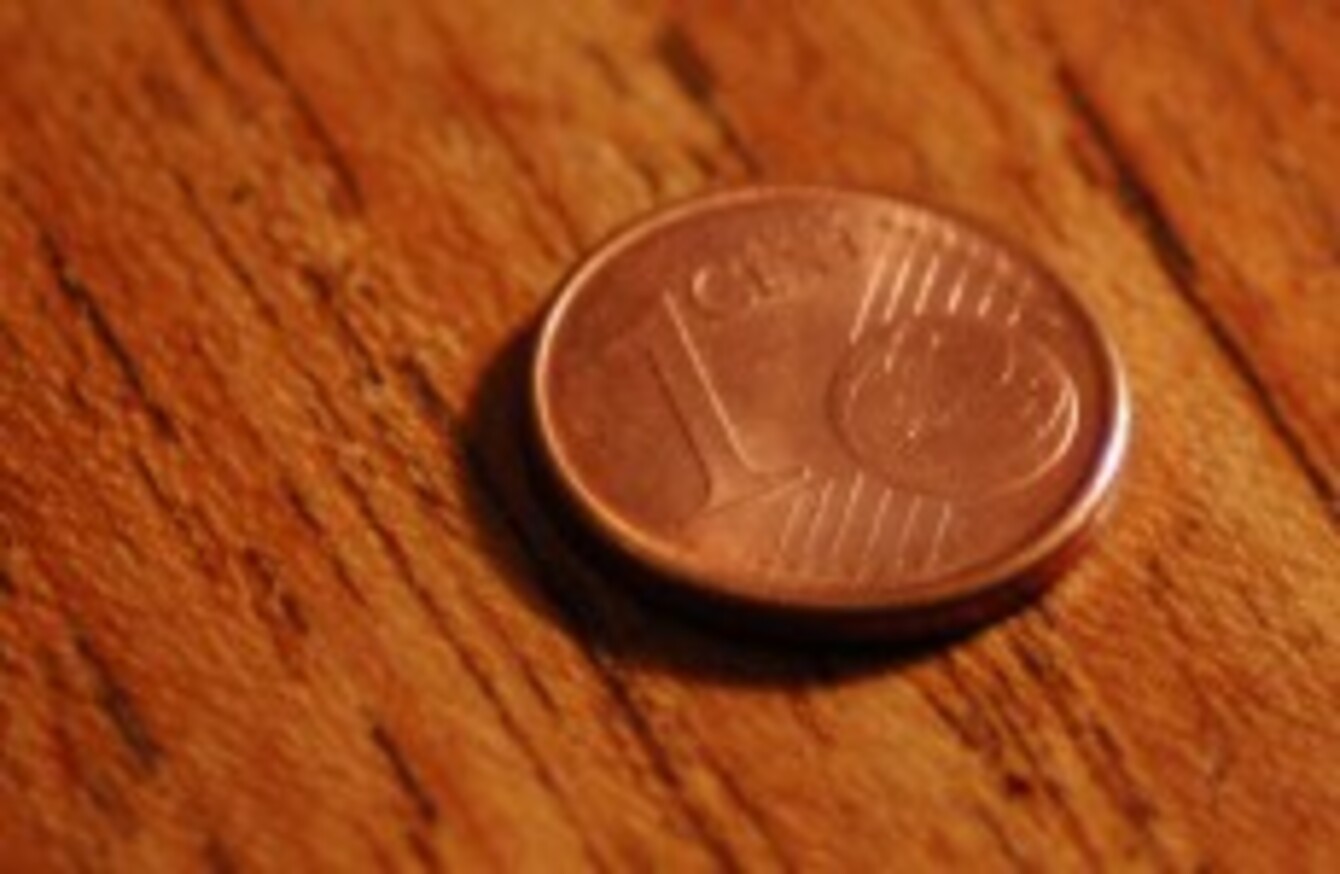 Although they're still legal tender, you'll almost never be asked for a 1c coin in either Finland and the Netherlands.
Although they're still legal tender, you'll almost never be asked for a 1c coin in either Finland and the Netherlands.
THEY'RE SMALL, FIDDLY, machines don't accept them – and quite a few of us simply throw them away, or don't bother picking them up if we drop them.
They're also a fairly expensive business – with mints across Europe forced to continue producing more and more, in order to cover the shortage that arises when we keep them in jars and drawers across the continent.
But could Ireland ever simply decide to stop using the 1c and 2c coins?
A Europe-wide survey taken in September 2010 revealed that the Irish were among the Europeans who most favoured the removal of 1c and 2c coins from circulations, with 89 per cent of Irish people wanting to scrap the 1c coin and 73 per cent looking to abandon the 2c piece.
That was out of the 26 per cent of Irish people who said there were too many coins to begin with – with only 70 per cent of people satisfied that there were just the right number of Euro pieces in circulation.
Unsurprisingly, though many countries were similarly minded – a significant number of people in every Eurozone country were dissatisfied with the current rage of coins – there was just one countries where fewer than one-in-ten said there were too many coins.
That country was Finland – where, thanks to local conventions, the use of those small coins is very rare indeed.
Working around the rules
Finland's solution is a relatively creative one, building on examples which already exist elsewhere in the world – but doing so in a way to get around the legal complexities of a pan-continental currency.
Rules agreed by the finance ministers of the EU countries in 1998 specifically outlined the denominations of Euro coins that would exist through the EU.
This means that individual countries don't have a legal option to simply remove the small denominations from their local currencies: because the rule takes the form of a Regulation, it becomes the fixed law of each country, and can only be amended with a similar consensus.
This isn't likely to happen – most prominently because the country that's most in favour of keeping it is Germany, where consumers are happy with the coin selection, and where retailers are particularly keen on retaining the ability to exploit psychological pricing – charging, for example €1.99 for products instead of €2.
So, without that consensus, it's a legal requirement for the 1c and 2c coins to remain legal tender. So how did Finland get around it?
Simple – the retailers and consumers got together and decided: let's just not use them. While the 1c and 2c coins are still legal tender in the country, and are minted by the Central Bank, you're not likely to ever be asked for the coins.
Pretend they're not there, and they won't be
So while retailers still use 1c and 2c denominations when they're pricing their products – something can still cost, for example, 41c – when it comes to paying, the coins are simply ignored.
If a total bill in a supermarket or restaurant comes to €61.67, and you're paying with cash, then it's simple: both sides pretend like the 2c coin doesn't exist, and you're simply charged €61.65 instead.
If the bill comes to €61.68, a similar system is used: you are asked instead to fork over €61.70. In either case, the bill is rounded to the nearest 5c unit.
Think of it as being a little like those supermarkets that run a 'Take a penny, leave a penny' system, where a little jar is left beside the till for some shoppers to discard their unwanted coins, leaving them for other shoppers who might find themselves a couple of cent short.
The only difference is that the jar exists only in theory: for every instance where a shopper is conned out of a couple of cent, there will almost certainly be other situations where the system works in their favour.
This system is called 'Swedish rounding', owing to its main use in Sweden from the early 1970s when the government phased out the öre as a unit of currency (being worth 1/100th of a krona, it was practically useless anyway).
This is legal thanks to the concept of invitation to treat, where a shopkeeper is not obliged to sell you something simply because you saw it in the shop and thought, 'I'd like to buy that'. An agreement to sell a product is only formed at the till – and up to that point, a trader can simply refuse to accept the coins if they so wish.
Making the process even more commonplace, the Finnish central bank only mints and circulates a tiny quantity of 1c and 2c coins, almost as a way of encouraging the rounding mechanism. The coins that do circulate are prized collectors items way.
(As a side note: did you know that a similar EU regulation, adopted on the same day as the rules regarding coins, mean that only central banks and other specified bodies are required to accept more than 50 coins at once?)
This works fine for the Finns, and also for the Dutch, who gradually moved to a similar system in the middle of the last decade, essentially providing that 1c and 2c coins are accepted in banks and nowhere else. The Netherlands reckons it saves around €30 million a year by eliminating the need to process and circulate 1c coins.
So: would it work here?
So, it can be done: the question mark is, do the Irish support doing it? Neither the Central Bank nor the Department of Finance offered to comment on the proposal, apparently leaving it up to consumers and retailers to decide whether a similar system should work here.
And from the retailers' point of view, it seems, there's no major problem.
David Fitzsimons, the chief executive of Retail Excellence Ireland, says his members wouldn't have much of a difficulty with adopting a similar convention where shoppers simply pretend that 1c and 2c coins don't exist.
"I don't see a reason for not doing it," he says. "Pricing and pricing psychology might be a reason – some retailers would be keen to keep the 99c pricing model – but that would be the only immediate barrier.
I would concur that obviously there's a far greater use for higher-value coins and notes.
While the UK has a reasonable prevalence of 99p stores, where the system simply wouldn't work – anyone wanting to buy a single 99c product would be forced to hand over £1, which defeats the purpose – Fitzsimons says there are no similar retailers in Ireland.
#Open journalism No news is bad news Support The Journal

Your contributions will help us continue to deliver the stories that are important to you

Support us now
Another industry where specific pricing is very important – in fuel – would not face such problems either, given how regularly customers buy petrol based on currency units and not on the price of a litre.
"Normally you'd find the luxury users at the higher end, rounding to the nearest five, whether 95c, €95 or even €995," Fitzsimons says. "I don't see any major issue, bar the psychological stuff, and the current habit among grocery retailers."
Snagging points
If it proved too important for some retailers to be able to hang onto the 99c model, there's an alternative model used in some countries: over the years, inflation in China has meant that coins worth less than a tenth of a yuan are still valid, but rarely used.
But there – and in Argentina, where the most valuable coin (the 2 peso) is worth the equivalent of 34c in euro currency – the shortage of valuable coins means retailers simply never round up – they always round down.
Therefore in China, if your bill is ¥184.59, you'll be asked for ¥184.50 – even though there are coins worth ¥0.1 which make it possible to pay ¥184.60. If retailers were anxious to avoid forcing people to pay €5 for something that costs €4.99 product, they could agree simply to give you a 5c in change.
So would consumers be similarly open-minded? This is where the Consumers' Association of Ireland comes in – and the CAI isn't quite as enthusiastic about the idea.
"The suggestion that we should eliminate a coin and eliminate a value from our currency is quite an astonishing one to begin with," says chief executive Dermott Jewell, who says we can learn from experience in this regard.
Learning from the past
When Ireland changed over to the euro, he says, prices were rounded up in almost every case "with very few exceptions".
"If we determine that it is more efficient to eliminate the 1c and 2c coins then there will likely be an immediate inflationary bubble when, without question, prices will increase to raise to the nearest whole number.
"If we are to consider this at all, then should a further logical and resulting consideration not be the elimination of the 5c coin for similar reasons of cost in minting?"
Jewell says extending the logic to removing the 5c coin (which the 2010 survey said 28.3 per cent of Irish people wanted to abandon) underlines the dangers of the proposal: the effect of rounding up prices would be "decidedly more stark".
The reaction of consumers, in this case, would be "more defined and, likely, significantly more resistant – and with good reason," Jewell argues, suggesting that the decision is tantamount to simply deciding whether consumers want prices at €1.98 or €1.99 raised to a round €2.
A vote on that, he says, "will be an interesting one to count".
Would you like Ireland to phase out use of the 1c and 2c coin?

Poll Results:
Yes - scrap both the 1c and 2c (1305)
No, we're fine as we are (372)
Yes - scrap all of the copper ones (356)