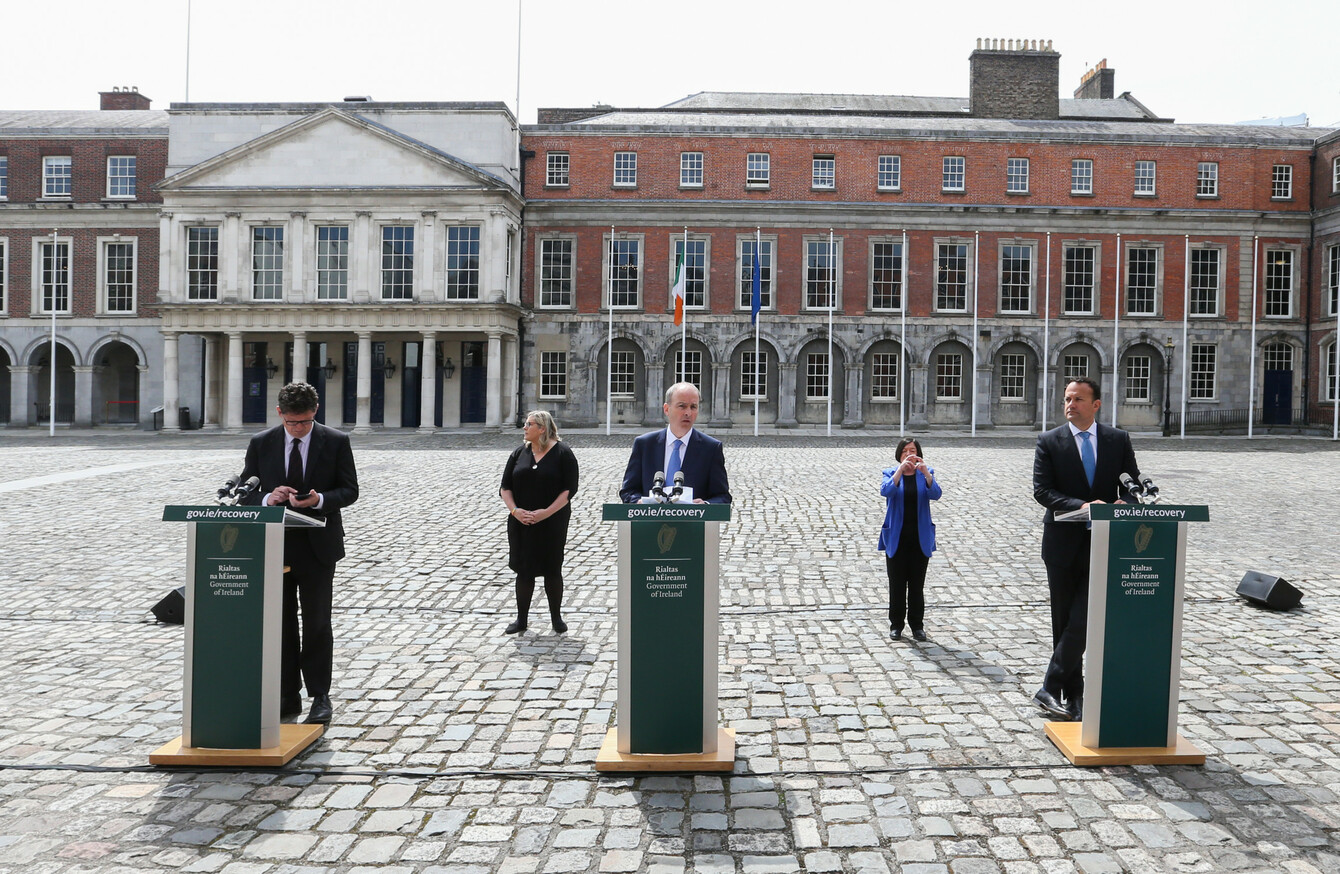 Image: Sasko Lazarov
Image: Sasko Lazarov
THE GOVERNMENT HAS announced a number of financial projects to stimulate the Irish economy post-pandemic, and to support businesses and workers as Covid-19 supports are gradually phased out. 
Revealing its €3.5 billion economic recovery plan this afternoon, Taoiseach Micheál Martin said that the "jobs-led" approach would focus on retraining certain workers and creating new employment opportunities that would be carbon neutral.
The aim is to have 2.5 million people working in Ireland by 2024.
Tánaiste Leo Varadkar said the plan will prompt our economy "to take off like a rocket in the months ahead".
"It's about restoring our public finances to good health through employment, not austerity; by going for growth, not retrenchment; and aiming for a rapid recovery," the Minister for Enterprise and Trade said.
Here's a run-through of what was announced.
The Pandemic Unemployment Payment (PUP)
The PUP will be closed off to new applicants from 1 July, "in recognition of the fact that at that stage, there should be no new job lay-offs directly attributable to public health restrictions". 
After 7 September, the PUP will be gradually reduced on a phased basis by €50 a week.
The payment will be reduced to €300 from 7 September "provided progress on re-opening continues". Two further phases of changes will take place over the following months – the payment will reduce to €250 on 16 November and be abolished on 8 February.
This means that people currently on the lowest rate of PUP at €203 a week will be transitioned onto Jobseeker's Benefit from 7 September.
This will be repeated each time the rate is reduced, resulting in those hitting the €203 rate in subsequent months moving to the regular unemployment payment.
PUP claims for students will be extended until the start of the 2021/22 college year.
The Employment Wage Subsidy Scheme (EWSS)
The Covid wage subsidy scheme is to be extended from 30 June until 31 December.
The current payment rates will be maintained in July, August, and September; and the rates after that are "to be determined", the Tánaiste said.
The Government is also broadening eligibility that is hoped to include more businesses.
"It will now be based on your turnover this year, relative to 2019 – the year pre-pandemic, – and we think that means more businesses will qualify," Varadkar said.
Covid Restrictions Support Scheme (CRSS)
The weekly CRSS payment will continue, which is paid to businesses that are severely hampered in how they can operate due to the Covid-19 pandemic.
But as the tourism and hospitality sectors open back up this month, the Government is expecting less and less businesses will qualify. So the Government is giving businesses that are coming off the CRSS a "bullet payment on reopening", as the Tánaiste called it.
It will come in the form of a double payment for three weeks, up to a maximum of €30,000. "That's going to be very helpful in terms of cash flow, restocking, and re-engaging with employees," he said.
A new scheme: Business resumption support scheme
A new scheme will start in September this year for businesses that are still struggling to resume operations in the autumn, where their turnover is 75% lower than it was in 2019.
These businesses will receive a further grant in the autumn up to a maximum of €15,000.
A special scheme for the event sector will be worth up to €50,000 per company.
Varadkar also said that he is extending the redundancy moratorium, for the last time, until 30 September by extending Section 21A of the Redundancy Act.
Businesses who struggle to pay redundancies will be able to gain access to a no-interest loan, the Tánaiste said.
Jobs
Of the around €950 million from the EU recovery fund, the largest chunk – €250 million – will go to the Department of Further and Higher Education, to invest in skills and training opportunities.
The aim of this is to get people back to work as quickly as possible, and to keep them in those jobs.
As part of the Government's strategy to kick-start job growth are: a work placement experience programme, which is hoped to have 10,000 participants by the end of 2022; 50,000 additional places in further and higher education; and expanding the Jobs Plus scheme to 8,000 places.
It also said that it would reserve places on employment services and training programmes for people from minority backgrounds – but didn't specify what proportion.
Over €14 million will be invested in technological universities to aid their development and support a "critical focus" on regional development and key skills.
A metropolitan rail network for Cork
Transport and Climate Minister Eamon Ryan announced an investment in a metropolitan rail network for Cork, which he said would represent "a transformation of the city". 
The line will run from Midleton to Mallow, running through Kent Station, and "putting new stations, in time, in the likes of Tivoli and Blarney and Monart, Kilbarry and other locations".
#Open journalism No news is bad news Support The Journal

Your contributions will help us continue to deliver the stories that are important to you

Support us now
"We start today €184 million starting from Midleton to Gleantán, Carrigtwohill going up Ken Station to run right the way through so we get to Mallow," the Minister said.
A 'Green' recovery
The government also said it was signalling a "major investment" in climate action as well, including a €55 million fund to retrofit businesses.
The Solas Recovery Skills Response Programme will see a range of additional educational and training programmes rolled out; the establishment of the Solas Green Skills Action programme will focus on providing training to address climate and low carbon economy issues, and around €155 million in funding.
"There's a clear message here," Minsiter Ryan said, "By going green by going digital, by investing in this, this is going to be the economy for the next 30 years. So there's a good career in this, there's good income in this, and we're going to help provide the skills."
Tourism – the Vat rate
 The 9% VAT rate will be extended until September 2022.
The commercial rates will be waived for July, August and September – with a decision on the final months of the year to be made in the Budget.
With reporting from Órla Ryan.