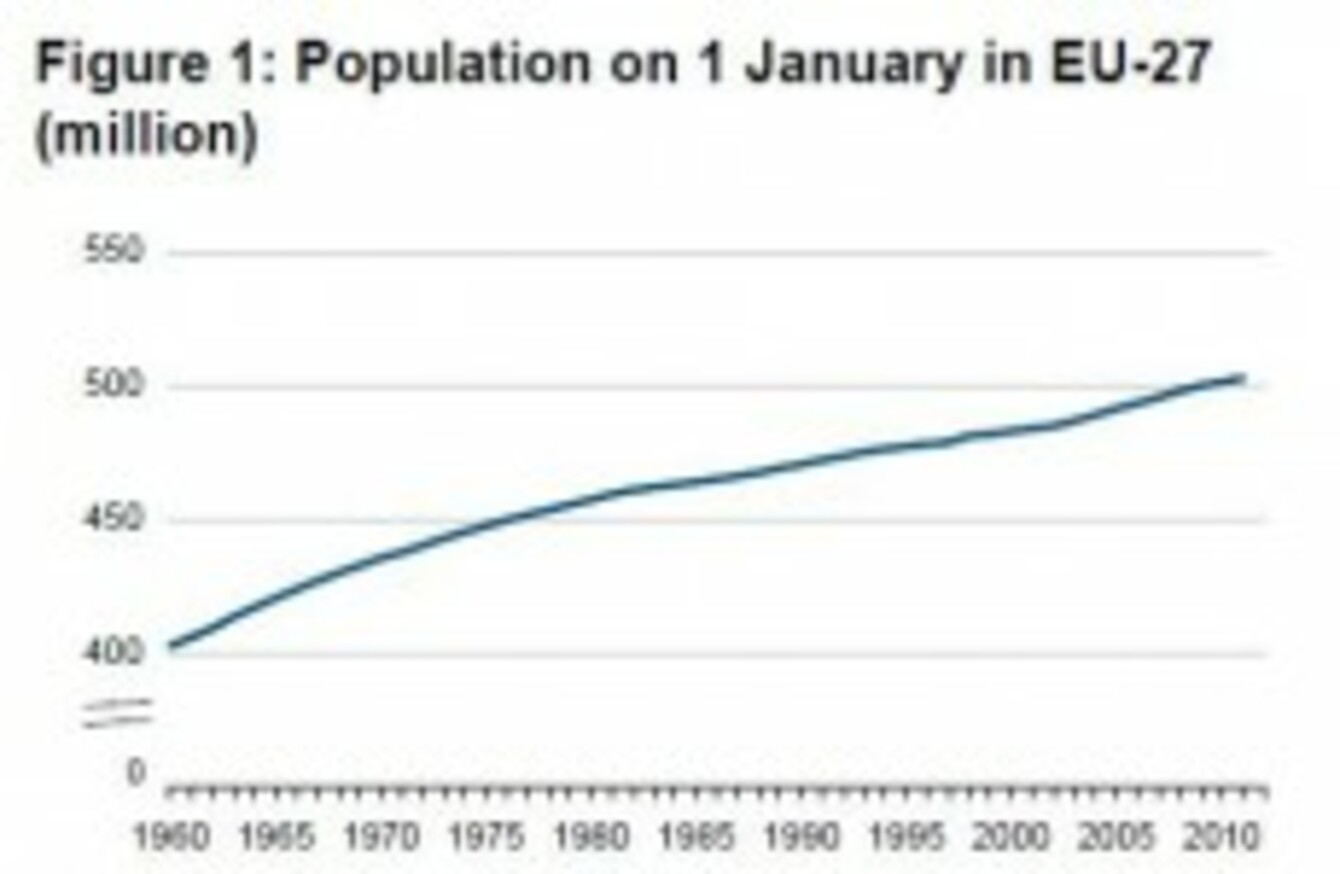 Image: Eurostat
Image: Eurostat
THE GOVERNMENT HAD better hope that it gets Ireland 'back to work' in the next two decades – the country now has the highest birth rate in the EU.
The 16.5 per cent birth rate here is 3.5 per cent higher than the next-placed country in the list, the UK. France has a birth rate of 12.8 per cent, Cyprus is at 12.4 per cent and Sweden at 12.3 per cent. In total, 5.4 million children were born in the EU's 27 member states in 2010. The population of all those countries now comes to 502.5 million.
Ireland also has one of the lowest death rates in the EU (6.2 per cent) according to new statistics released by Eurostat. Those figures mean that we are now the country with the highest natural growth of the population (+10.3 per cent). Cyprus is next but much farther behind on +5.7 per cent, then France (+4.4), Luxembourg (+4.2), and the UK (+3.9).
In contrast, eight EU states had negative natural growth – Latvia (-4.8 per cent), Bulgaria (-4.6 per cent), Hungary (-4), Germany (-2.2) and Romania (-2.2).
There is another interesting note in the Eurostat figures – while Ireland is producing more babies than the rest of the EU, it also recorded one of the highest net outflows of people from our shores last year. Ireland saw a net outflow of -7.5 per cent. This is in contrast to much of the rest of the EU (save Lithuania), where 60 per cent of the overall population increase of 1.4 million people came from migration.
This graph gives an overview of crude rates of population change in the EU member states since 1960:
Or in simple population growth terms:
#Open journalism No news is bad news Support The Journal

Your contributions will help us continue to deliver the stories that are important to you

Support us now
Graphs from Eurostat – the European Commission's statistics agency.