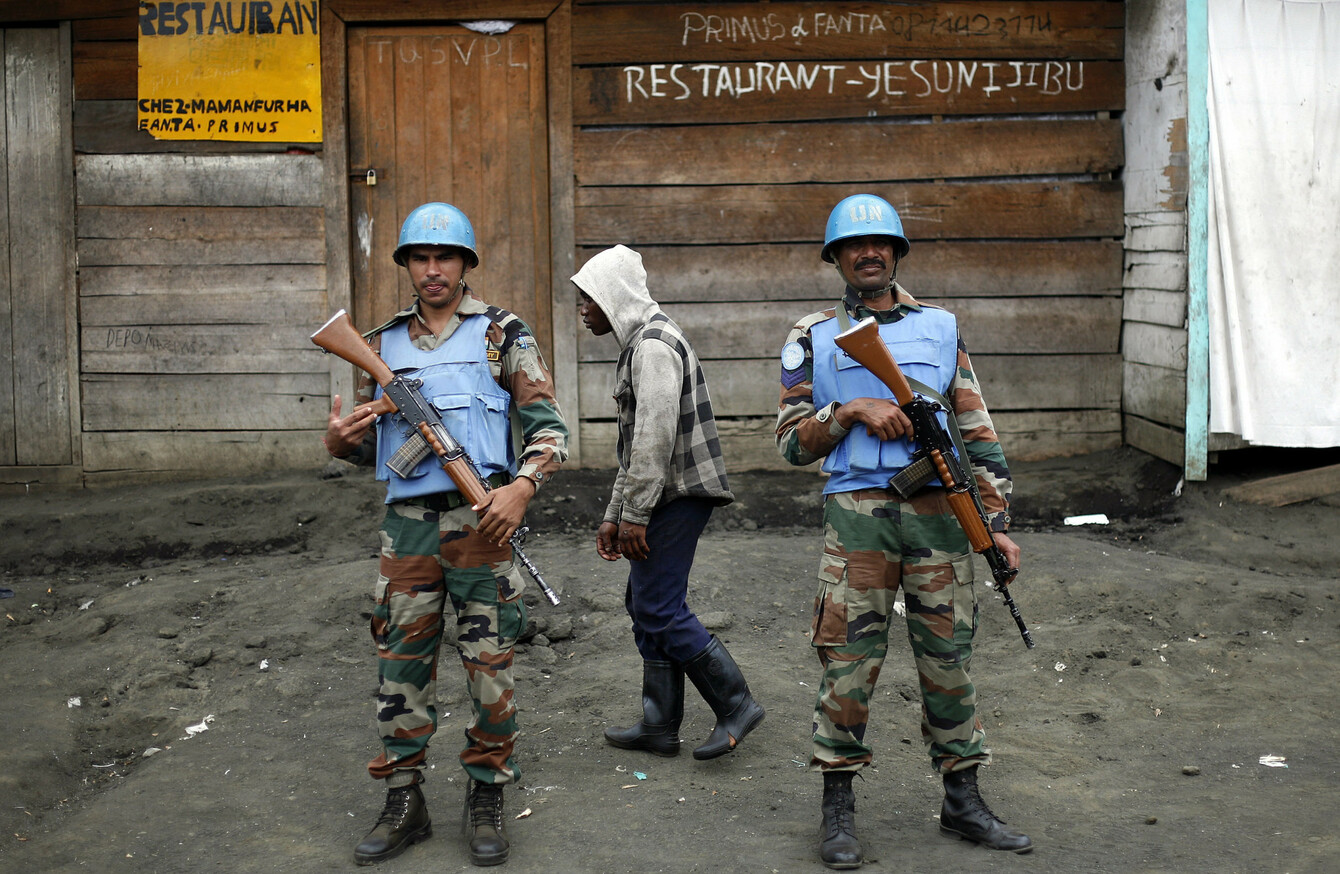 UN soldiers in Goma, eastern Congo
Image: Jerome Delay via AP
UN soldiers in Goma, eastern Congo
Image: Jerome Delay via AP
IRELAND IS TO give a further €500,000 in humanitarian assistance in response to the crisis in the Democratic Republic of Congo (DRC).
Minister for Foreign Affairs Simon Coveney's announcement today bring's Ireland's total humanitarian support to the crisis in DRC to nearly €5.5 million this year, and over €20.5 since 2014.
In addition, Ireland is the eighth largest donor to the United Nations Central Emergency Response Fund, which has allocated over €22.1 million this year.
The UN has described the crisis as the fastest growing humanitarian crisis in the world. In October, the UN declared a level three humanitarian emergency – the highest possible level.
Ireland will provide its support through the UN-managed Humanitarian Pooled Fund, which ensures that the most urgent needs can be met quickly, be they for food, shelter, health or protection for the most vulnerable.
Congo, the size of Western Europe, has seen immeasurable cruelty and greed as a result of its mineral resources while more than 80% of the population lives below the absolute poverty line.
The nation suffered through one of the most brutal colonial reigns ever known before enduring decades of corrupt dictatorship. Back-to-back civil wars later drew in a number of neighbouring countries.
In the deadliest single attack on a UN peacekeeping mission in nearly 35 years, rebels in eastern Congo killed 15 peacekeepers and wounded over 50 others in an assault on their base in early December.
Announcing the funding, Coveney said: "Decades if armed conflict and insecurity in DRC have created one of the world's largest, most complex and long-standing humanitarian crises.
"Over eight million people urgently need humanitarian assistance and protection, and this number continues to rise.
I am deeply concerned that the ongoing violence, displacement and chronic vulnerability continue to cause great human suffering.
As part of Ireland's response, I have decided to allocate an additional €500,000 to support urgent live-saving assistance for Congolese facing critical food insecurity and disease.