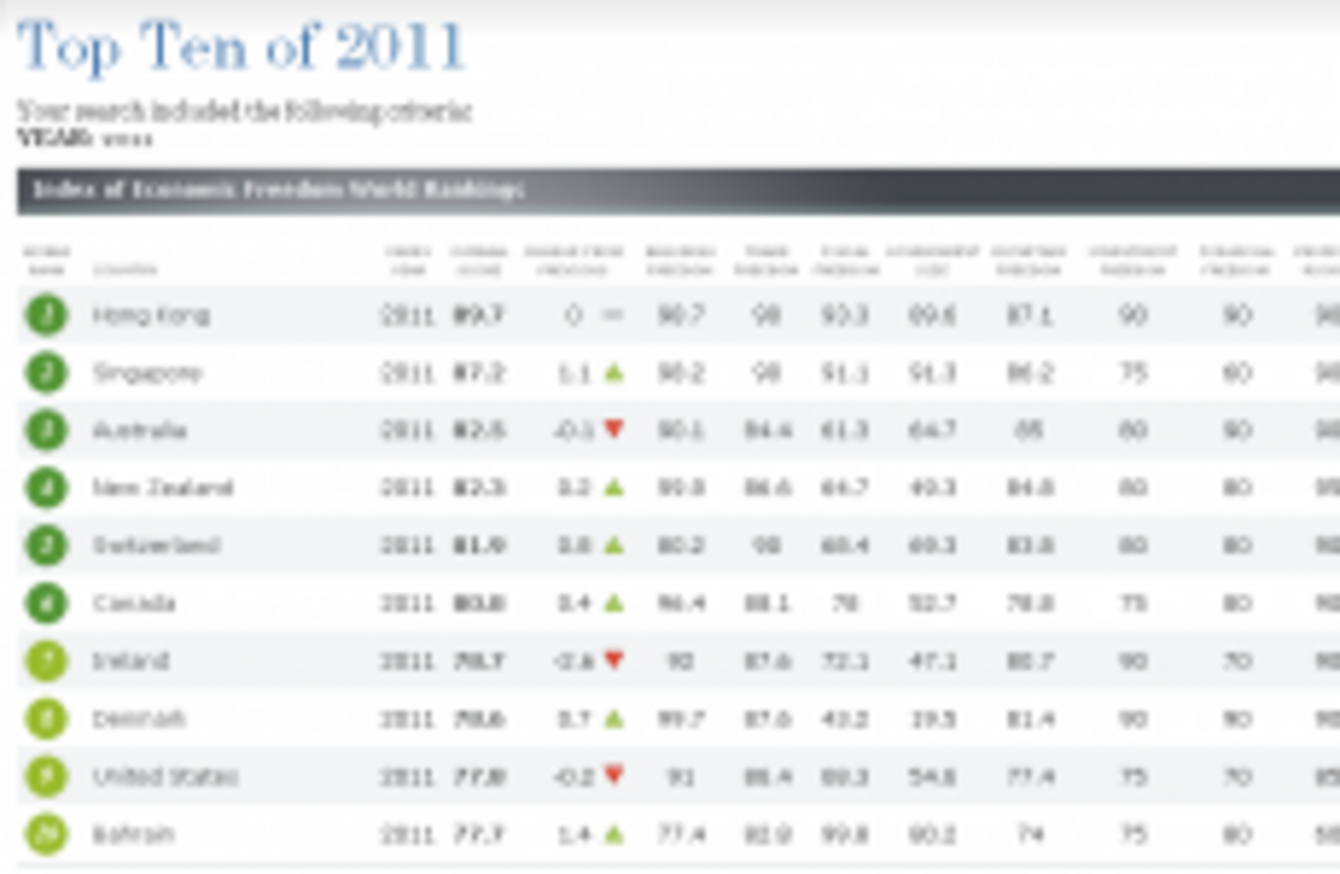 IRELAND HAS been ranked seventh in a new world ranking of economic freedom.
The 2011 World Economic Freedom index, compiled by the Heritage Foundation, gave Ireland a 'freedom score' of 78.7 out of a possible 100, being ranked as 'mostly free' in economic terms.
Of the 183 nations surveyed, Ireland enjoyed more economic freedom than any other European Union member state, with Switzerland being the only European nation that enjoyed greater 'economic opportunity and prosperity'.
Hong Kong topped the worldwide list, with its score of 89.7 remaining unchanged from last year, ahead of Singapore, Australia and New Zealand. Switzerland, in fifth at 81.9, outscored Canada on 80.8.
Nations scoring above 80 on the index are considered economically 'free', while the 32 nations whose score was under 50 being classed as 'repressed'.
The index's analysis of Ireland claimed that "despite the ongoing crisis, Ireland's overall levels of economic freedom remain high, sustained by such institutional strengths as strong protection of property rights, a low level of corruption, efficient business regulations, and competitive tax rates."
Scoring a 92 on business freedom, and 90 on both property rights and investment freedom, only the dramatic fall in government spending – which scored 47.1, well below the international average – stopped Ireland from appearing further up the list.
Among the other factors measured by the index (with the Irish score in brackets) were financial freedom (70), fiscal freedom (72.1), monetary freedom (80.7), labour freedom (77.5), freedom from corruption (80) and trade freedom (87.6).
The United States dropped to ninth in the index, its lowest score for a decade, while the UK dropped five spots to 16th.