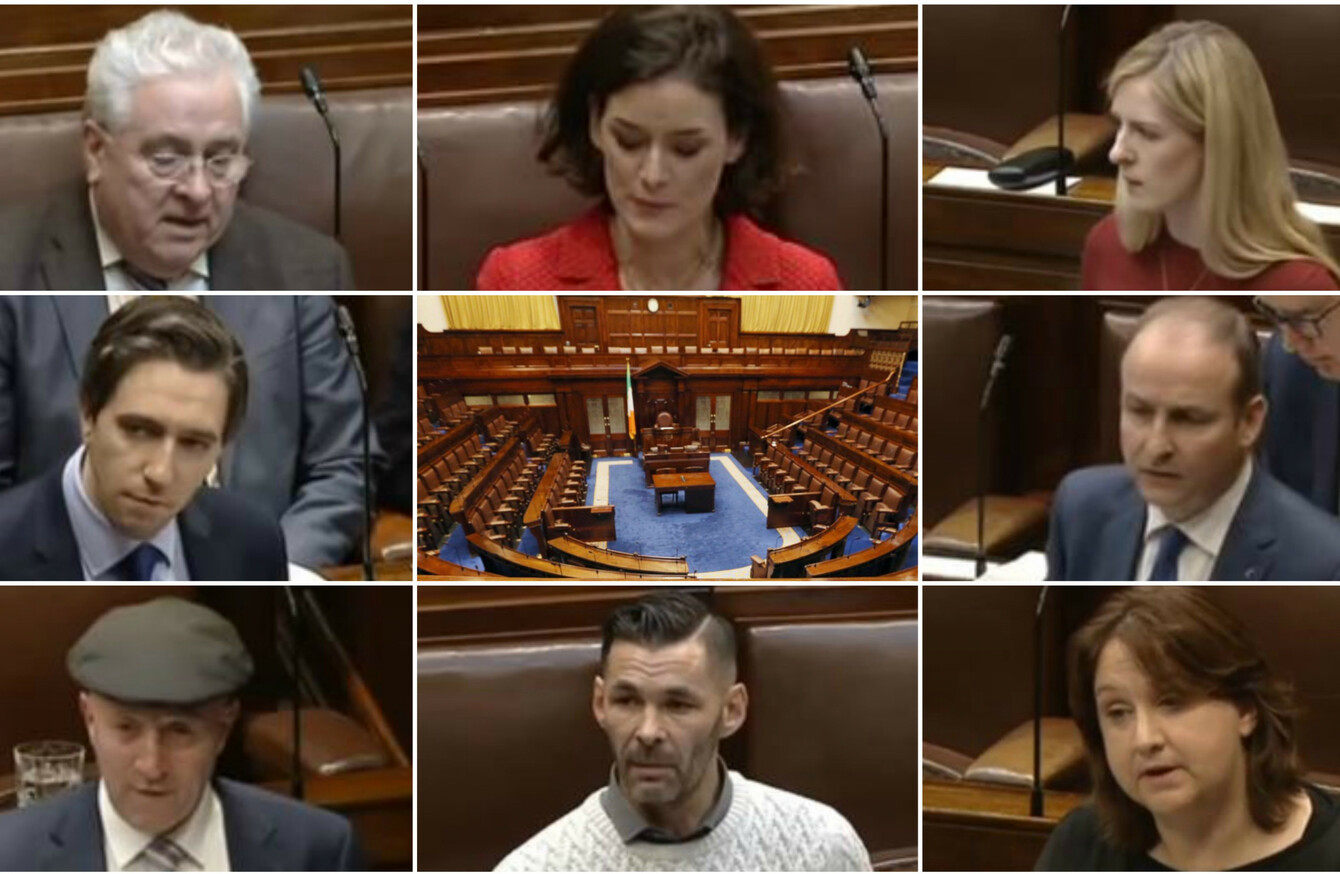 Image: Oireachtas TV
Image: Oireachtas TV
THIS WEEK SAW TDs and Senators debate the report of the Joint Committee on the Eighth Amendment – and it led to some unexpected moments from the assembled politicians.
The report came after a three-month process where 21 deputies and senators examined the recommendations of the Citizens' Assembly on the issue, and listened to evidence from expert legal and medical practitioners.
You can read the full report here, and key points here. It recommends legal abortion up to 12 weeks of pregnancy without restriction; repealing the Eighth Amendment; and for the government to legislate for abortion.
This week's debates in the Dáil demonstrated the level of nuance that's now there when TDs give their opinions on the abortion issue. Some who are pro-life now find themselves wanting the Eighth to be repealed. Some no longer call themselves pro-life. Others feel extremely strongly about their pro-life views, and gave impassioned speeches as to why.
Away from party lines – and given the fact most will have the opportunity to choose their own stance when it comes to voting – TDs are finding their own place on a spectrum of opinion, not always picking a seat at either end.
It's worth noting too that there were dissenting voices on the 21-member Oireachtas committee, with two TDs and one senator declining to sign the report.
While some politicians have already set out their stall on the repeal issue, others haven't – among them the Taoiseach Leo Varadkar, who said he will give his opinion at the end of this month. But his colleague Micheál Martin used the debates as a chance to make his opinion public.
Here were some of the key moments from the debates this week.
Health Minister reads names of women who travelled
Source: TheJournal.ie/YouTube
Health Minister Simon Harris used his time speaking in the Dáil to draw attention to the number of women – 3,265 in 2016 – who travel from Ireland to access abortions.
He told those assembled that the Eighth Amendment affects "real women":
Real women like the 36 from County Carlow who travelled to the UK for an abortion in 2016, or the 38 from Mayo, the 69 women from Tipperary, the 85 from Wicklow, the 241 from Cork or the 1,175 women from Dublin.
"These are not faceless women," said Harris. "They are our friends and neighbours, sisters, cousins, mothers, aunts, wives. Each woman is dealing with her own personal situation and making what is a deeply difficult decision."
In Harris's statement, the health minister tried to turn what could be an abstract debate personal, and put the women who travel at the centre of his speech.
"Let this be a different type of moment," he urged TDs. "Let this be a moment people look back on as one where their representatives confronted one of the complex issues we faced as a country with clarity, with compassion, and with care."
Lorraine's story
Source: TheJournal.ie/YouTube
During her speech, Fine Gael's Kate O'Connell shared the story of a woman who had an abortion after being raped.
Fianna Fáil leader Micheál Martin calls for repeal
Source: TheJournal.ie/YouTube
An unexpected moment came when Fianna Fáil leader Micheál Martin, who was on the record as being pro-life, said he supports the repeal of the Eighth Amendment.
Martin said he had arrived at the decision after a "long period of reflection" and for many different reasons.
His endorsement of the removal of The Eighth makes him the first of the two largest parties' leaders to officially give their opinion. Taoiseach Leo Varadkar's said he will reveal his own approach to the Eighth at the end of this month.
Martin said in the Dáil that he believes the Eighth will probably need to be replaced, rather than a straight repeal.
"Before deciding on this I would like to see the legal advice which the government says is being prepared," he said.
He said that his opinion had been reached after reading the Oireachtas Committee on the Eighth's "report, the transcripts of its hearings and written submissions".
But he added: "Most importantly I have sought to listen to the diverse contributions of women."
The Eighth Amendment does not mean that Ireland is a country without abortion. Retaining the Eighth Amendment will not make Ireland a country without abortion. Nothing we say or do here could make Ireland a country without abortion.
'You would think these comments are from 30, 40 years ago'
Source: TheJournal.ie/YouTube
Fianna Fáil's Lisa Chambers started her speech by saying she wonders how far things have come when "I listen to some of the commentary that we have had to listen to in the committee room about women, about why they make the choices that they make".
She outlined some comments she heard recently, including a tweet about identifying and jailing "murdering mothers". "I've had one individual say to me 'if women don't want babies they should close their legs'," she said.
"You would think these comments are from 30, 40 years ago, but they were said to me recently," said Chambers.
Fatal foetal abnormalities a 'defining moment'
Source: TheJournal.ie/YouTube
During her speech, Fianna Fáil TD Anne Rabbitte – who is a member of the Eighth Amendment committee – said that hearing testimony from a father whose child had a fatal foetal abnormality was a "turning point" for her.
She described listening to a man who had to travel to Belfast with his wife for a termination due to fatal foetal abnormality. "He doesn't want anybody, ever again, to go through what he went through," she said, describing the man as brave for sharing his story.
"And do you know what? Neither do I. I do not have the right to tell any couple that have conceived a baby in love and a child that is wanted … when they have heard that information, that their child is not likely to survive… that I have the right to tell them – that I have the right to legislate for them, or I have the right to choose for them that they should leave this country. How dare I. I don't have this right."
 Lives saved
Source: TheJournal.ie/YouTube
Kerry TD Michael Healy-Rae told the Dáil that "thousands" of lives had been saved by the Eighth Amendment.
He said he was, unusually for him, nervous about the debate. "I believe passionately in what I am going to say," he said.
#Open journalism No news is bad news Support The Journal

Your contributions will help us continue to deliver the stories that are important to you

Support us now
Healy-Rae spoke about how strongly his views are held, and how much they mean to him.
"I just don't agree with abortion. I don't think it's right. And nothing will ever, ever change me from that point of view," he said.
I think that Ireland has progressed, we have seen what has happened and the awfulness of the Kerry Babies… nobody wants an Ireland like that. Nobody wants an Ireland where a young lady becomes pregnant and it's as if something is wrong with her because she is pregnant.
He said that if a person becomes pregnant today, there is support and "no shame in being pregnant", whether you are married or not.
His brother Danny Healy-Rae told the Dáil the following day:
Human life is precious but it is also extraordinarily complex. Sometimes, pregnancies go wrong. Undoubtedly, the Eighth Amendment has stopped women from availing of terminations and thus, it has saved lives. On other occasions, however, it has interfered with doctors in the performance of their duties and cost lives. We do not hear about the former but we hear very much about the latter in very tragic circumstances.
He also told the Dáil that the Oireachtas should regulate for the abortion pill "in the public interest".
'I was pro-life, now I consider myself a realist'
Source: TheJournal.ie/YouTube
Sinn Féin deputy Jonathan O'Brien spoke about the evolution of his personal views. He said he grew up in a religious household that "had a great influence from the Church" and so he always considered himself pro-life.
He said that once he was appointed to the committee, he knew he would have to face questions about this stance.
"I know a lot of people have said this is a matter of conscience, and while I don't disagree with that, I don't think as legislators we can afford to legislate based on our conscience," said O'Brien.
"I think this, rather than being a matter of conscience, is a matter of public health policy," he added, saying he has learned that the terminology that people label themselves or others with on the issue is "absolutely not helpful".
I consider myself pro-life, which I know some people in the pro-life movement would probably look at me and say 'you aren't pro-life given the views you are articulating, you are not pro-life'. But I honestly believe everyone in this chamber is pro-life. I believe everyone in this chamber is also pro-choice.
He said he thinks people can be both pro-life and pro-choice – but that he thinks the debate needs to move away from the terminology, and needs to be about women's healthcare.
'Coming to an amicable conclusion'
Source: TheJournal.ie/YouTube
Deputy Bernard Durkan – who noted he is on the record as not being pro-abortion – spoke to the fact that the referendum is about people making decisions, and that it's not just about those in the Dáil who are making the decision. He spoke about how there are some situations, like rape, where he supports the option of abortion.
He said that after listening to evidence given to the committee, particularly the coroner's report on Savita Halappanavar's death:
"I thought then that it was our duty, and it remains our duty, to learn from that and to do what we can to hand this over to the community, to the people, to the society outside to make this decision. Let them now be the judges, let them now ask their peers in a quiet way and a persuasive way, what is the right thing to do," he said.
"If they do that, they will come to a conclusion that is amicable and generally in line… with the findings of the committee."
Contains reporting from Cianan Brennan, Paul Hosford, and Nicky Ryan.