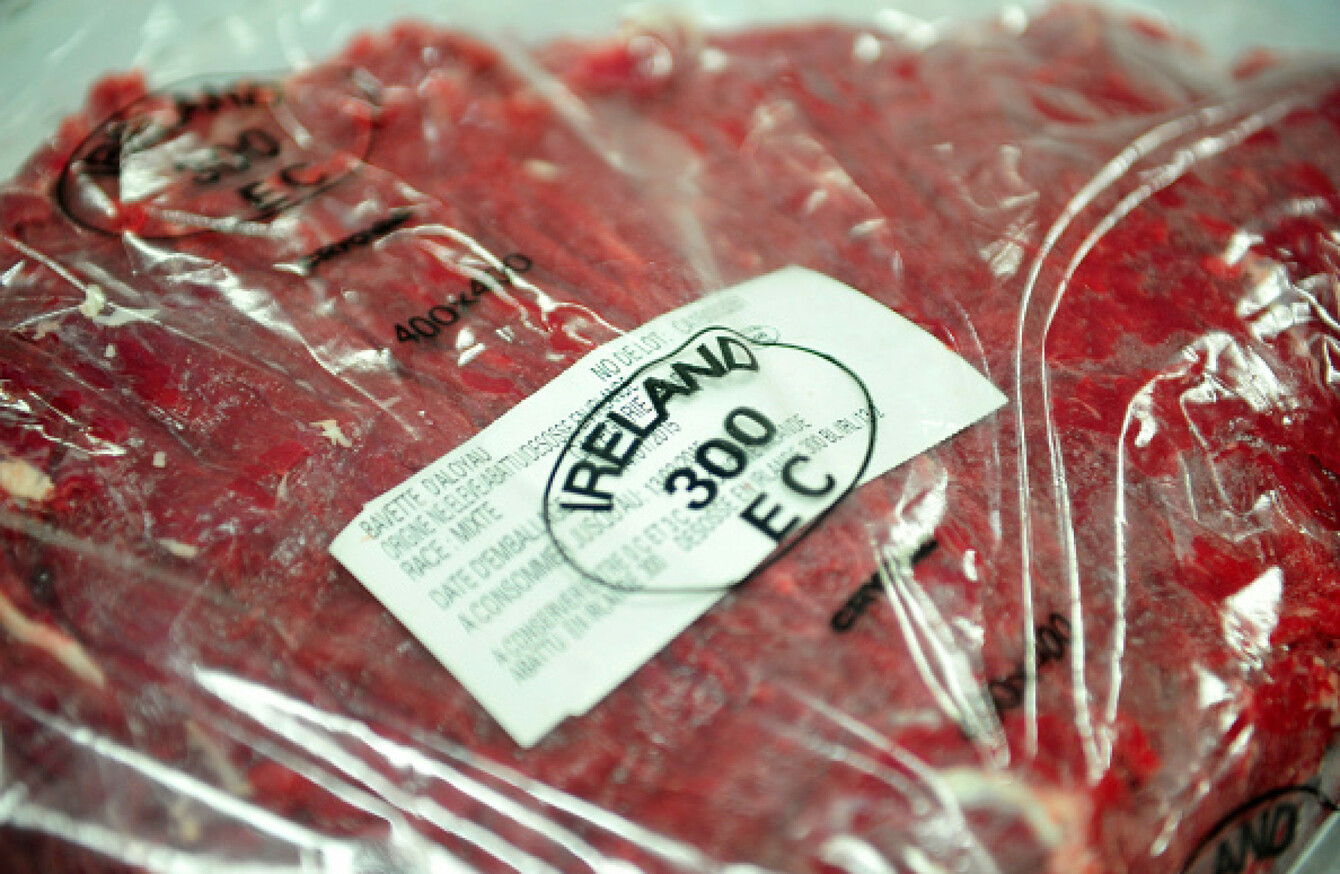 Image: Aidan Crawley via Getty
Image: Aidan Crawley via Getty
THE TRADE RELATIONSHIP between Ireland and Russia has been in decline since 2014, the year of the annexation of Crimea by Russia troops.
That year, Ireland's overall trade worth with Russia stood at €948 million. Among the products Ireland exports to Russia is agri-products including Irish beef, which have been badly hit by sanctions placed on Russia over various diplomatic incidents.
This week, the Irish government announced that it was expelling a Russian diplomat over the poisoning of Russian spy Sergei Skripal and his daughter Yulia in England last month; the UK government said President Vladimir Putin was behind the attack.
In the past four years, trading relations have decreased significantly due to a number of factors, according to the Department of Foreign Affairs and Trade.
In 2014, the EU imposed targeted economic sanctions against the Russian Federation in response to its actions in he illegal annexation of Crimea and the city of Sevastopol.
Recently, Tánaiste and Minister for Foreign Affairs and Trade Simon Coveney said that Ireland recognised Ukraine's "sovereignty, independence and territorial integrity", and expressed concern over the worsening human rights situation in Crimean peninsula.
"All allegations of human rights violations involving political prisoners, human rights defenders and civil society activists must be fully and properly investigated."
A number of other factors have also played a role in reducing trading relations between the two countries. According to the Department of Foreign Affairs:
These include a dramatic decline in the value of the rouble, a fall in oil prices, weak consumer demand, and negative investor sentiment towards Russia, all of which led the Russian economy to contract in 2015 and 2016.
The restrictive measures have impacted on trade between Russia and the EU, and as a result Ireland's trade with Russia has "fallen significantly".
In overall terms, the value of Ireland's bilateral trade with Russia stood at €948 million in 2014. However, a once-off order valued at €150 million had a distorting effect on the overall export performance that year.
For Ireland, the direct effect of the EU sanctions has been "minimal", according to the government, as the majority of goods and services we export to Russia are not covered by the EU restrictions.
On the other hand, the economic downturn in Russia, coupled with Russian countermeasures introduced in 2014 banning a range of EU agrifood goods hit our exports hard.
In 2013, Ireland exported 7,494 tonnes of beef worth a little under €10 million to Russia, the majority of which was beef offal. Simon Coveney, who was minister for Agriculture at the time, described the beef trade as "limited", but also as "a useful alternative third country outlet for Irish beef, particularly beef offal".
Coveney also said that the sanctions were having "a big impact in some other sectors".
#Open journalism No news is bad news Support The Journal

Your contributions will help us continue to deliver the stories that are important to you

Support us now
In recent years, those import-export figures between Ireland and Russia have recovered:
After falling sharply in 2015 and registering a small increase in 2016, two-way trade rebounded significantly last year.
Exports reached €497 million last year, while imports were valued at €310 million, a total of €807 million.
On 20 March of this year, Dublin TD Joan Collins asked Coveney in the Dáil about Ireland's relations with Russia following a brutal bombing campaign in eastern Ghouta.
As part of his response, he replied:
I believe that maintaining dialogue and contact at national level with countries with whom we do not always agree is not only necessary, but is the very essence of Ireland's approach to foreign policy.
"Our concerns over Russia's actions in Syria and Ukraine impacts on the nature of such cooperation, but we believe it is important to keep channels of communication open and to develop our trade relations in the areas and sectors where trade is still possible.
Trade relations, and promotion of Irish trade, is not a reward for good behaviour. It is a priority activity to support Irish jobs and livelihoods.