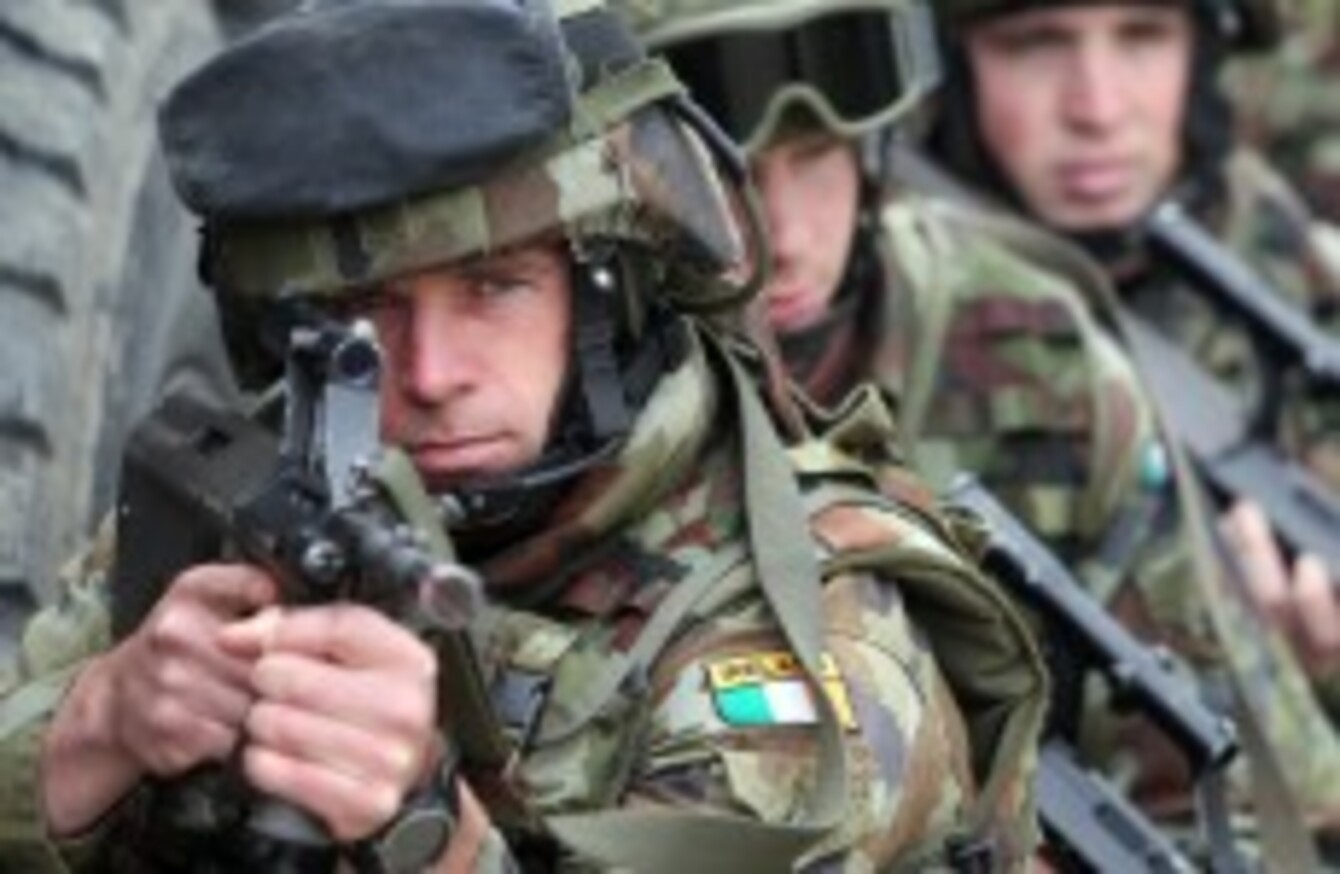 Image: Sam Boal/Photocall Ireland
Image: Sam Boal/Photocall Ireland
IRELAND'S TRIPLE LOCK system of deciding whether to take part in peacekeeping missions and other military deployments has been slammed as 'no longer viable'.
This policy, not contained in official legislation, is under review as part of an upcoming White Paper on Defence.
The system means that military action outside of the State must first prompted by a formal Government decision, then approved by the Dáil.
The mission must also be mandated by the United Nations.
The deployment of Irish troops to Afghanistan, coming to an end shortly, raised questions as to how well it fitted the triple-lock bill.
Irish troops weren't deployed in a typical 'blue helmet' role. They performed admin and planning roles, as well as analysis of IEDs.
While this was a UN-mandated mission, it was led by Nato. However, it was not subjected to Dáil approval.
A similar deployment took place in 1997 to Bosnia-Herzegovina, and later Kosovo in 1999.
Former Minister for Defence Alan Shatter told a Justice Committee in 2011 that small deployments shouldn't require a vote.
"There is adequate opportunity at meetings of the defence committee to discuss the very small contingents of the Defence Forces who go abroad on various missions," he said.
There is no need for the time of the House to be taken up in circumstances where perhaps one or two members of the Defence Forces are participating in a UN organised mission abroad.
The Green Paper on Defence, published last year by Deputy Shatter, argued that the positives of the system outweighed the negatives, recommending to retain the policy, and cited "substantial public support".
However, current Defence Minister Simon Coveney has noted that keeping the triple-lock system as it is means that a situation could arise "where there is a pressing moral or security imperative and overwhelming international support" for a military response, but that a UN sanction is not forthcoming as "a veto is exercised by a permanent member of the Security Council acting in its own national interests".
This is so-called Chinese veto.
Writing in the blog of UCD's School of Politics and International Relations, Professor Ben Tonra described how steps where taken in a 2006 amendment to the Defence Act to address this, resulting in potential participation in more EU or Nato missions.
What is now required is "… an international force or body established, mandated, authorised, endorsed, supported, approved or otherwise sanctioned by a resolution of the Security Council or the General Assembly of the United Nations".
Tonra notes that Ireland was caught out from participating in the later stages of a UN peacekeeping mission to Macedonia. When the mission came up for renewal, China vetoed it, having formed close ties with the country.
The UN pulled out, Nato stepped in, and later handed control over to the EU in 2003. Ireland was unable to take part.
#Open journalism No news is bad news Support The Journal

Your contributions will help us continue to deliver the stories that are important to you

Support us now
Tonra  said that the Green Paper concludes that if the UN doesn't authorise something, it shouldn't be done.
"In both principle and practice that assertion is simply not true," he wrote.
UN authorisation may indeed be viewed as the Gold Standard in terms of international legitimacy, but would anyone argue that the decisions of the UN Security Council represent the ne plus ultra of moral and ethical judgement on world affairs?
Former Minister for European Affairs, now Reform Alliance TD, Lucinda Creighton questioned Minister Coveney on the triple-lock system recently in the Dáil, calling for it to be reviewed in light of the "dysfunctional nature of the UN Security Council".
"I consider the Council to be completely deadlocked," she told TheJournal.ie.
I don't think that it's not longer a viable position in Irish foreign policy that peacekeeping missions are dependent on a UN mandate when Russia and China get a veto.
"They have particular vested interests around the world."
Creighton has suggested that instead of the triple-lock system, deployments should be subject to a Government and Dáil vote, but to take cognisance of the UN's position.
"We all just nod along to the triple-lock system without really thinking it through."