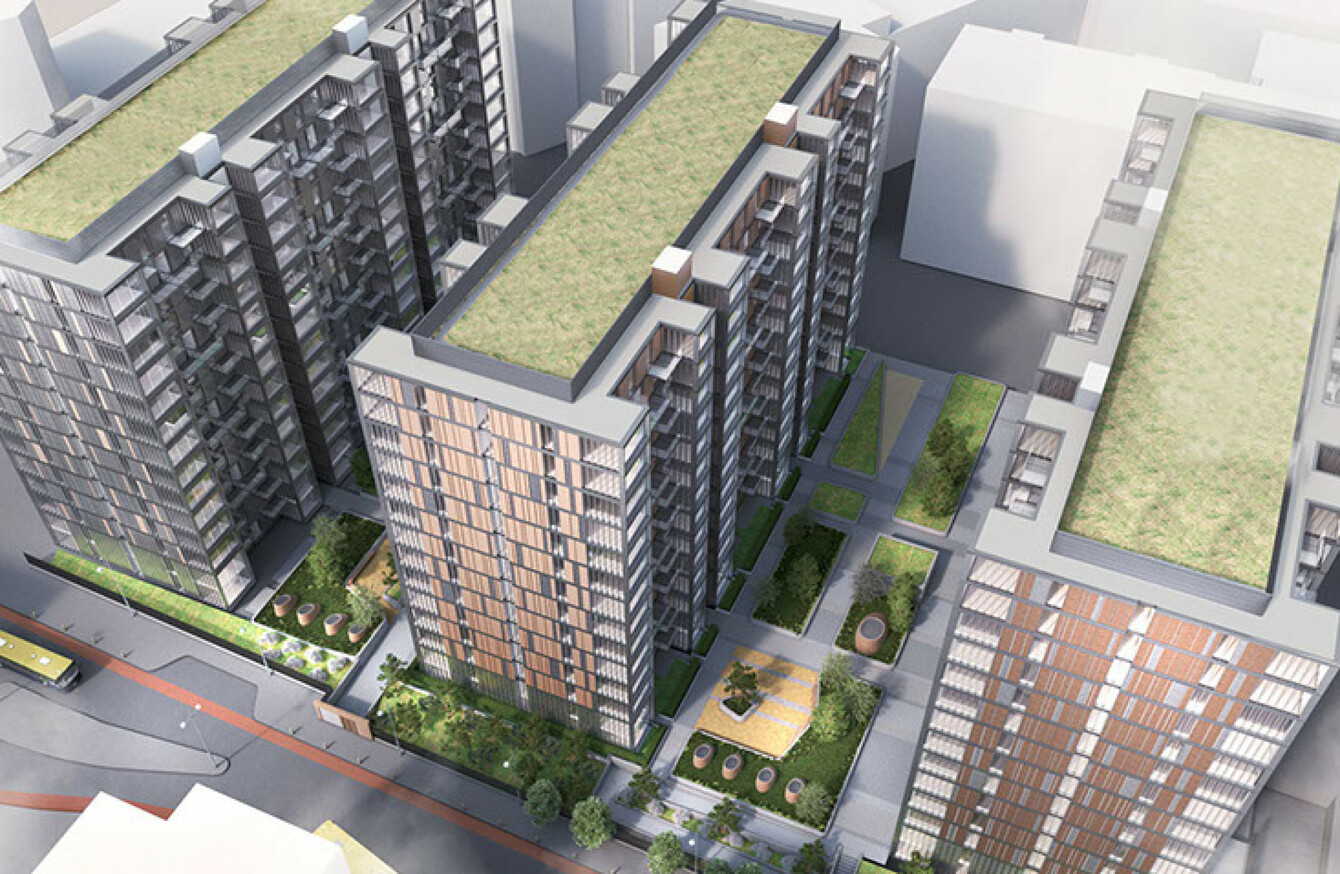 Image: Studio Anyo
Image: Studio Anyo
A DECISION to deny permission for a major housing development in south county Dublin shows that Ireland's planning regime is "not fit for purpose", one analyst has said.
Writing in an investor briefing note, Investec economist Philip O'Sullivan was highly critical of An Bord Pleanála's decision to refuse Ires Reit planning approval for a 456-apartment project at Rockbrook in Sandyford.
The planning board upheld Dún Laoghaire-Rathdown County Council's earlier refusal to grant permission for the development over height concerns.
"The history of the Rockbrook site is a case study of how Ireland's planning regime is not fit for purpose," O'Sullivan said.
Permission was granted in 2006 for 467 apartments to be built on the site. Preliminary works were carried out, but the project was stalled during the downturn.
Ires later applied to build nearly 500 apartments at Rockbrook but was refused permission. It scaled back the plan to include 456 units, with the apartments to be spread across three 12- to 14-storey blocks.
Dún Laoghaire-Rathdown County Council shot down those plans, saying the build would be "visually unacceptable at this location". The property group – Ireland's biggest private landlord – appealed the decision.
However, An Bord Pleanála sided with the local council, believing the project would be "contrary to the statutory development plan for the area".
'Mystified'
O'Sullivan said the project would have played "a meaningful role" in alleviated a chronic lack of housing in the Sandyford area.
Citing council data, he said there were nearly 5,000 applicants on a social housing waiting list at the end of last year, while property listings website Daft.ie showed that there are currently 22 units available to rent in Sandyford.
"To this end, we are mystified as to how policymakers reached this decision," O'Sulivan said.
Pundits at Davy stockbrokers said they expect Ires to resubmit new plans for a 350 to 400-unit project.
"We anticipate that Ires's new plan will consider reducing the height of the apartment blocks towards 10 to 11 storeys each," Davy analysts wrote in a note.
"We view this as a minor setback for the company but we expect the new plan to be successful."
Sign up to our newsletter to receive a regular digest of Fora's top articles delivered to your inbox.
Written by Conor McMahon and posted on Fora.ie