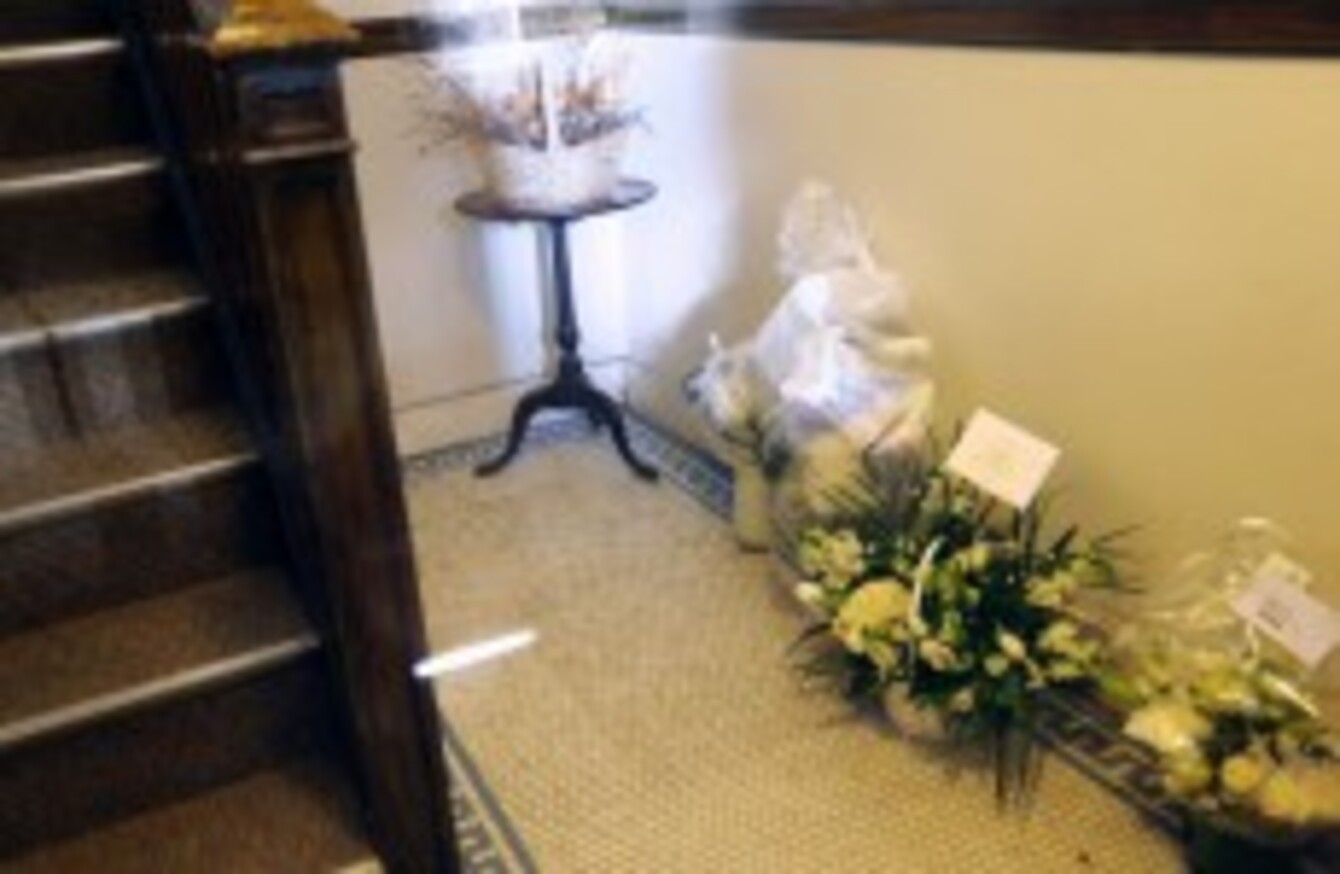 Flowers addressed to the parents of Rehma Sabir are seen in the entryway of their apartment building in Cambridge, Massachusetts
Image: Michael Dwyer/AP/Press Association Images
Flowers addressed to the parents of Rehma Sabir are seen in the entryway of their apartment building in Cambridge, Massachusetts
Image: Michael Dwyer/AP/Press Association Images
THE POST-MORTEM has taken place on the child that Irish nanny Aisling McCarthy Brady is accused of violently assaulting in Boston, latest reports say.
The Boston Herald reports that newly-released documents detail items that were found in the bedroom of the child, who died on 16 January after suffering severe injuries.
The Irish Independent says that multiple bruises were found on the baby's head, according to preliminary post-mortem results.
McCarthy Brady is from Lavey, Co Cavan, and has denied the charge against her of assault and battery on a child causing substantial bodily injury.
Middlesex District Attorney Gerry Leone said yesterday that the "extremely troubling case" involves the 34-year-old Irish national being accused of violently assaulting the one-year-old child, causing "a devastating head injury and broken bones".
Cambridge District Court Judge Michele Hogan held McCarthy Brady on a $500,000 bail with conditions that McCarthy Brady have no contact with the family of the child, no contact with kids under the age of 10, not engage in employment or volunteer work with kids, not engage in child care services, surrender her passport, and check in with probation.
Unresponsive
Cambridge Police responded to a call on Ash Street on 14 January at around 4.41pm, regarding an unresponsive infant. They found the child breathing but unconscious.
She was then taken to the Children's Hospital in Boston, where she was found to be suffering from subdural and retinal haemorrhaging, and cerebral swelling, as well as multiple healing bone fractures.
On 16 January the child was pronounced brain dead and subsequently died. Police allege that on 14 January the baby was in the sole care of McCarthy Brady. Middlesex District Attorney said that further charges are anticipated following the conclusion of the final report by the Chief Medical Examiner.
According to the Irish Independent, the Chief Medical Examiner's post-mortem is now completed.
Nanny charged

Nanny charged

Nanny charged