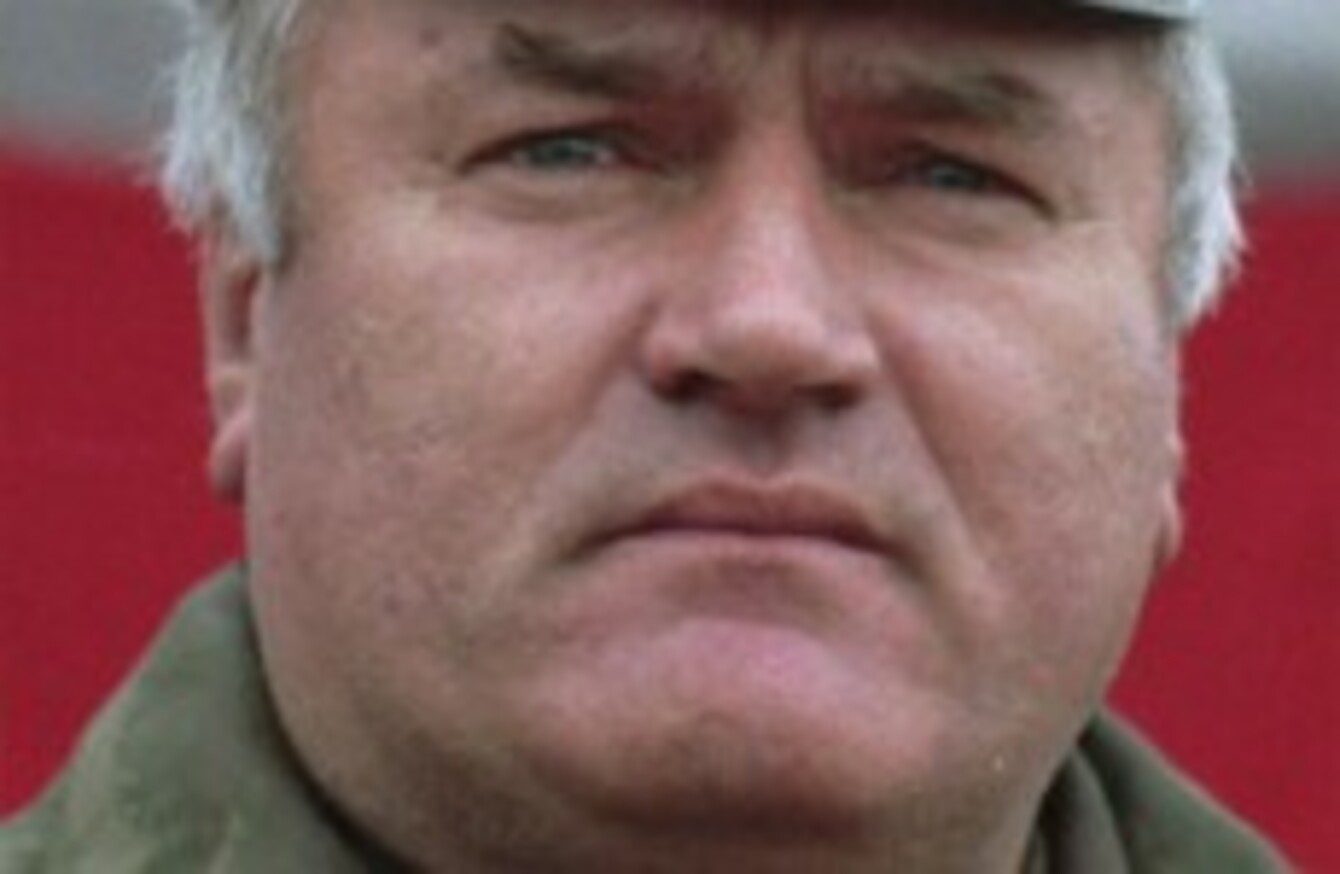 Former Bosnian Serb general Ratko Mladic.
Image: AP Photo/Oleg Stjepanovic/PA
Former Bosnian Serb general Ratko Mladic.
Image: AP Photo/Oleg Stjepanovic/PA
A FORMER IRISH Defence Forces officer is on standby to give evidence at the war crimes trial of Ratko Mladic at The Hague.
Retired Colonel Colm Doyle held a top UN peacekeeping post in the former Yugoslavia during the conflict of the early 1990s. He also served as the personal representative of Peter Carrington, chair of the International Peace Conference on Yugoslavia.
Mladic is on trial for war crimes including the massacre of around 5,000 Muslim men and boys during the siege of Sarajevo in the 1992-95 Bosnian war.
Doyle has already made six trips to the Hague and given evidence at three other trials in the International Criminal Tribunal for the former Yugoslavia, including those of Slabodan Milosevic and Radovan Karadzic. During the latter trial, which is still underway, Doyle was subjected to three days of cross-examination by Karadzic himself.
"I found that very traumatic," he told RTÉ's Morning Ireland this morning.
However, he said it's not clear how long he will be cross-examined by the defence at the Mladic trial, but doesn't expect to be subject to the same intensity of questioning because of the nature of the evidence he is expected to provide.
Although he knew Karodic from his time in the Balkans, Doyle said that he "didn't personally meet with Mladic" but knew of him as a commander.
Instead, he'll be giving "background information" about "the atmosphere that prevailed in Sarajevo when the federal army were leaving and handing their weapons over to the Bosnian Serbs," he explained.
Doyle also said that Irish people seem particularly suited to peacekeeping work and that the "Irish temperament seems to be quite good" for getting people in conflict situations to talk through the issues at hand.
"As Irish Defence Forces officers, we are are actually in a unique position because throughout all of our military service we have been witnesses to various conflicts, but we have been trusted by all side – we are neutral, we don't belong to any military alliance," he said this morning.
#Open journalism No news is bad news Support The Journal

Your contributions will help us continue to deliver the stories that are important to you

Support us now
"And one of the things that I found about Bosnia was that if you can be trusted by all sides, then all sides will talk with you. Therefore for my role, it was important that I remained strictly impartial and there were occasions when I was being urged earnestly to condemn the Serbs publicly. But I would say look if I condemn the Serbs publicly, they're going to listen to that. They'll think that I am partial and therefore I won't make any progress."
Mladic was on the run for 16 years before his arrest in 2011 at a family member's home in Serbia.
Prosecutors are currently seeking a life sentence for one of Mladic's former commanders, Zdravko Tolimir, for his role in the Srebrenica massacre.