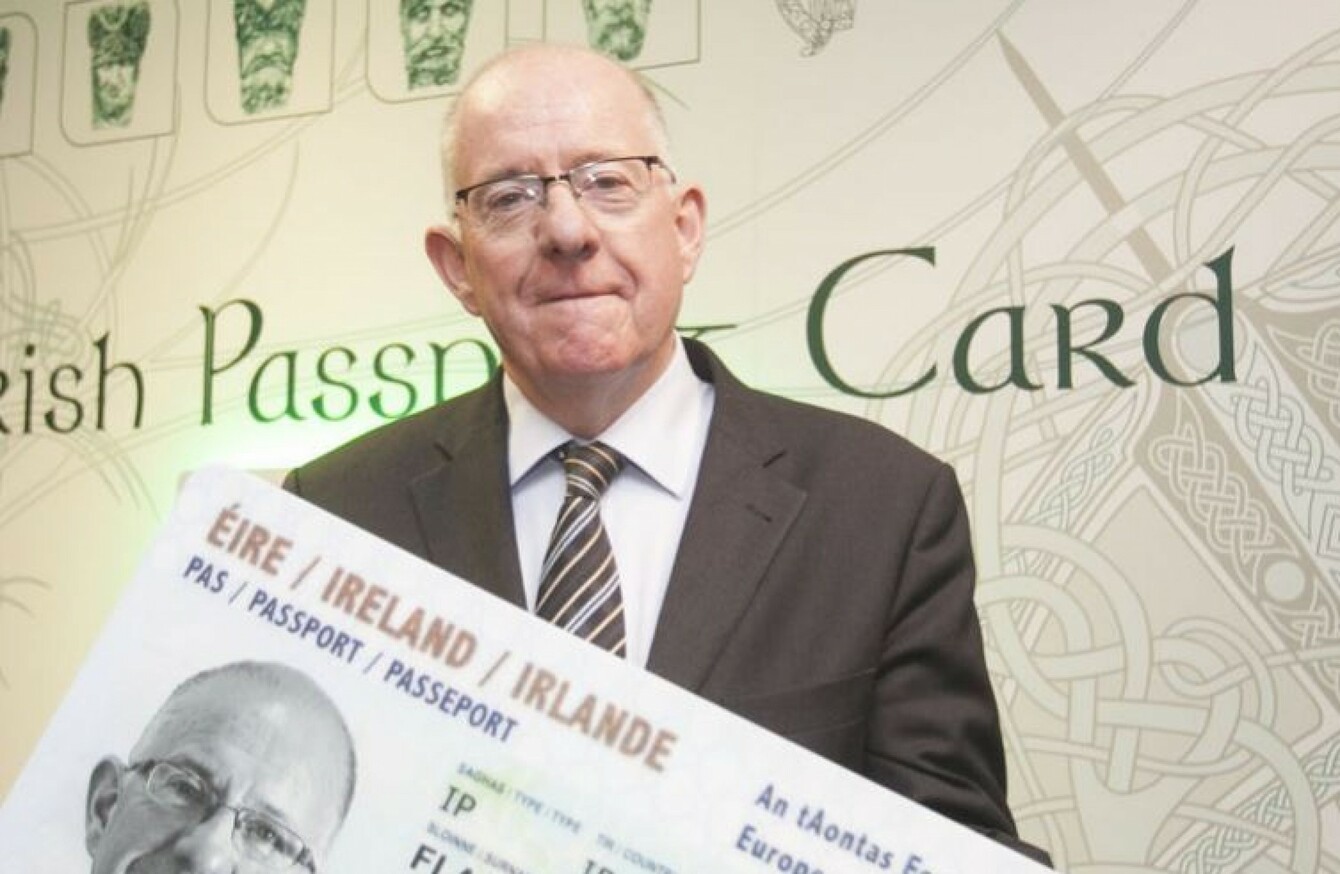 Minister Charlie Flanagan at the launch of the passport card in 2015
Image: Leah Farrell/RollingNews.ie
Minister Charlie Flanagan at the launch of the passport card in 2015
Image: Leah Farrell/RollingNews.ie
THE COST OF running the Passport Office surged by almost €4.3 million last year as demand for Irish passports increased in the wake of the Brexit referendum.
An additional 32 staff were hired to cope with the rise in applications for Irish passports during 2016, while a number of temporary clerical officers were also engaged during especially busy periods.
A total of 21,549 people applied for passports in the three months between July and September 2016 following the Brexit referendum on 23 June.
This was almost double the 10,959 applicants who sought passports during the same period in the previous year.
Almost 65,000 people in Britain applied for an Irish passport last year, representing an increase of 42% compared to 2015.
Figures released by Minister for Foreign Affairs Charlie Flanagan show that the cost of running the Passport Office increased by almost €4.3 million last year to €31,637,414.
During the same year, the number of full-time staff working in the Passport Office increased from 269.7 to 301.7 in response to increasing demand. The figures include salary costs but exclude accommodation costs in respect of the offices.
The data was provided by Flanagan in response to a parliamentary question by Fianna Fáil TD Darragh O'Brien.
Passport cards
Separately, the minister also revealed that 42,227 new passport cards have been issued since they were introduced in October 2015.
The cards are available to all Irish citizens who hold valid passports and are over the age of 18. They can be used in place of a passport for travel to and from 31 countries in Europe.
"The convenience of the card in travelling to countries in Europe, along with its portability and innovative security features, have clearly resonated with the public and I am very pleased with its success to date," Flanagan said.
I will launch a new online service for adult passport renewals shortly. As part of this service, citizens will be offered an option to apply for a passport card and passport book at the same time and at a reduced fee.
"I expect that the ease with which citizens will be able to apply for a passport card while renewing their passport book online will further drive strong uptake of the card," he added.