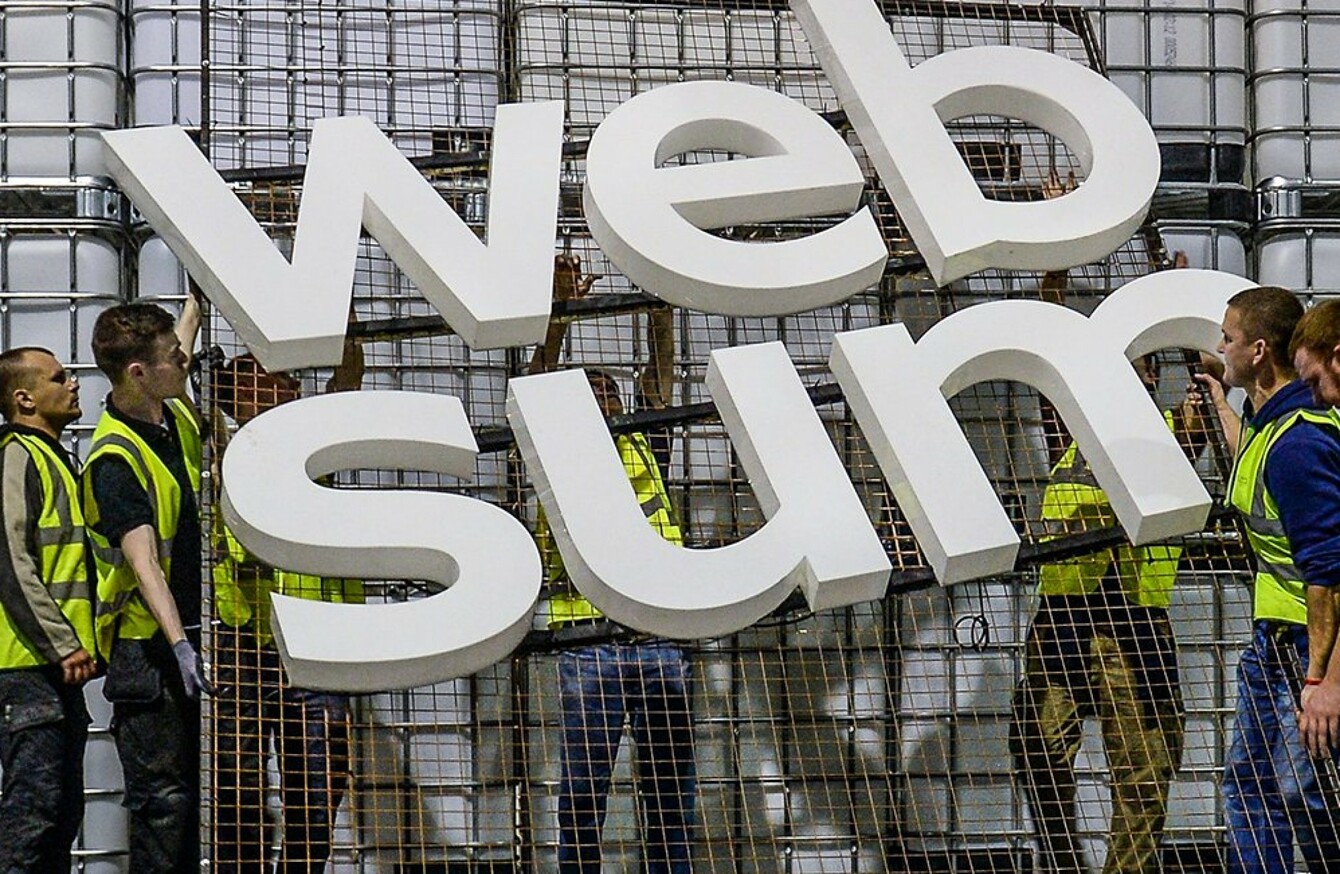 Image: Web Summit
Image: Web Summit
WHEN WEB SUMMIT said goodbye to Dublin last year it left an almighty hole in the Irish tech events scene.
But with what was the city's flagship conference shifting to Lisbon this year, a number of new events are vying to fill the gap.
One of the new players jockeying for position is Sports and Tech, which will be held in the RDS this November.
It was launched on a small scale last year by Ross Dwyer and Richard Barrett of sports website Pundit Arena, NASC Connect's Clyde Hutchinson and Sport for Business's Rob Hartnett.
The small gathering held during Web Summit drew a crowd of just over 300 people. This year, the group has ambitious plans to hit the 5,000-attendee mark.
Hartnett said the decision to launch the event came about because the group saw an appetite for more niche conferences.
"Ten years ago technology was just the IT department. People didn't want to know how it worked; slowly technology began to merit its own conferences," he said.
"But now technology is everywhere. Now technology is too broad for just one conference."
https://www.facebook.com/sportstechhq/photos/a.980106365363949.1073741828.969203086454277/980107085363877/?type=3&theater
Getting content right
Harnett said Sports and Tech would feature insights from leaders in sports technology like Adidas and Under Armour and would also highlight areas in sport where entrepreneurs could possibly take advantage.
He said the benefit of more industry-focused events was that attendees were aware what they had signed up for and got an event specifically catering to their area of interest.
However another newcomer, called Dublin Tech Summit, isn't taking the niche route. The event, slated for the Dublin Convention Centre in February 2017, was founded by Business and Finance magazine publisher Ian Hyland and former Accenture consultant Ben English, who are targeting 200 speakers.
English said the conference would focus on trends in areas such as fintech, the Internet of Things and med-tech, and it would also showcase Dublin as a tech hub for both multinationals and startups.
He said Web Summit leaving for Lisbon was the catalyst that led to the creation of the new event.
"This is something that really crystalised upon there being no global summit that Dublin was going to be able to host," English said.
"We need to bring people together and start talking about something new like 'why is Dublin great?'"
Events for anyone
Another entrant into the tech events market is Launch'd. A spin-off conference from the annual CoderDojo Coolest Project awards, it will be held in the RDS in June and is free to attend. Over 1,000 tickets have been claimed so far.
Co-founder Noel King said he hoped Launch'd could remain free, but that may not be viable in the long term.
"It's important that the event is accessible, (but) in years to come with scale we won't be able to fit everybody in so potentially a cost could come in."
Source: coderdojo/YouTube
For their parts, Dublin Tech Summit and Sports and Tech will both be charging for tickets. A two-for-one deal for the sport conference is priced at €495, while entry for Dublin Tech Summit starts at €395.
Despite charging entry, English said he didn't want participation at the Dublin Tech Summit to be beyond anyone's means.
"We can't be having a conversation about putting Dublin on the map and then having people say they don't want to come because the event is too pricey."
#Open journalism No news is bad news Support The Journal

Your contributions will help us continue to deliver the stories that are important to you

Support us now
Pulling a crowd
Building momentum for a new event can, however, prove tricky, especially without any confirmed speakers to promote so far.
English said a series of launch events in cities like London and San Francisco would be held to show what Dublin Tech Summit was all about.
"The launch events will showcase each of our core themes. For example, the first one is around fintech at the London Stock Exchange and we're working with people like Level 39 … Europe's largest fintech accelerator.
"Having these events is about shaping the conversation ahead of the event. We are focusing not on an event but creating a global network of engagements leading up to the Dublin Tech Summit."
Next year, Dublin Tech Summit want to bring over 10,000 people to Dublin, where as Sports and Tech are looking to hit the 5,000 attendee mark.
Harnett said he is aware that this is a big leap to make for only the second year of his team's conference.
"It is a big reach for us, but we know from the people that we have spoken to already that the foundation and willingness is there.
"We're not asking people to fly in from San Francisco, Australia and London to go to the pub; there will be a social side of this as well, but primarily they are coming here to do business."
King said Launch'd has plans to reach 10,000 attendees in its first year. He said the speakers who had been selected were picked to inspire young entrepreneurs and their quality would help organisers achieve their attendee targets.
"There's two ways we are managing the content side … there are a host of speakers focused on inspiring the younger people. And second, by far the majority of the speakers are for people who are about to launch a product or delivered a product," he said.
"That includes San Francisco-based Lean enterprise expert Barry O'Reilly to talk about how to optimally run a business and MasterCard's innovation officer Garry Lyons to talk about bring products to market."
Written by Killian Woods and originally published on Fora, a new business publication for Irish startups and SMEs.