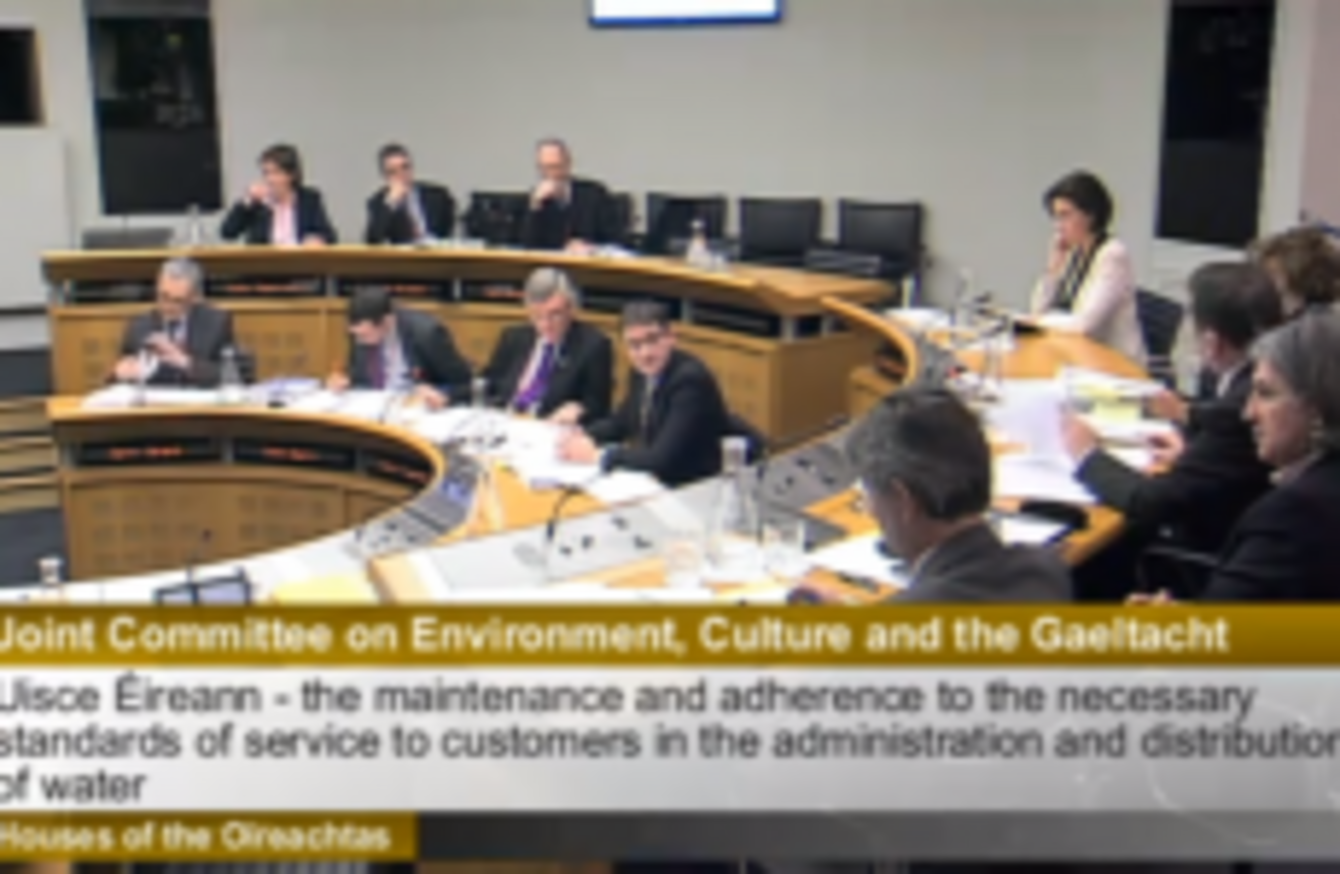 Irish Water and the CER appearing before the Oireachtas Environment Committee today
Image: Screengrab via Oireachtas TV
Irish Water and the CER appearing before the Oireachtas Environment Committee today
Image: Screengrab via Oireachtas TV
DETAILS OF HOW much householders will have to pay for water are likely to become clear in August with those who experience a lower quality of supply likely to pay less, an Oireachtas committee has heard.
The Commission for Energy Regulation's (CER) Paul McGowan told the Oireachtas Environment Committee today that a public consultation on the structure of water charges and customer protection issues will take place in April following submissions from Irish Water by the end of this month.
By June, the energy regulator will hold a consultation on water charge levels based on submissions from Irish Water with a decision in July on the codes of practices and finally a decision on the structure of water charges and the level of water charges in August.
Cathy Mannion, director of the CER's Energy Retail and Water division, told the committee that the consultation process will examine the question of whether a person should pay the full cost of water if they can't drink it.
She said that while "we can't presume the outcome of the consultation" she would "expect" customers "to pay somewhat less as the quality is not the same as elsewhere".
115,000 water meters in the ground
McGowan admitted that though the energy regulator has experience of pricing controls through its work with Bord Gais and other utilities, there was an "additional complexity" as a result of Irish Water being a new utility.
He said that the CER will be looking at international best practice and benchmark against that, as well as establishing a "network of fellow water regulators around Europe" to learn from other countries' experience.
Earlier, Irish Water chief executive John Tierney outlined the improvements the new semi-state utility intends to make in the country's water infrastructure including reducing boil water notices by two thirds by the end of 2014.
He said that so far Irish Water's metering programme has seen some 115,000 water meters put into the ground, at a rate of around 27,000 a month, describing this as an "enormous achievement".
The issue of spending on consultancy – which caused controversy last month – arose at the meeting, with Irish Water's John Barry insisting that the €44 million spent on external services from IBM "compares well with what has been spent in other jurisdictions".