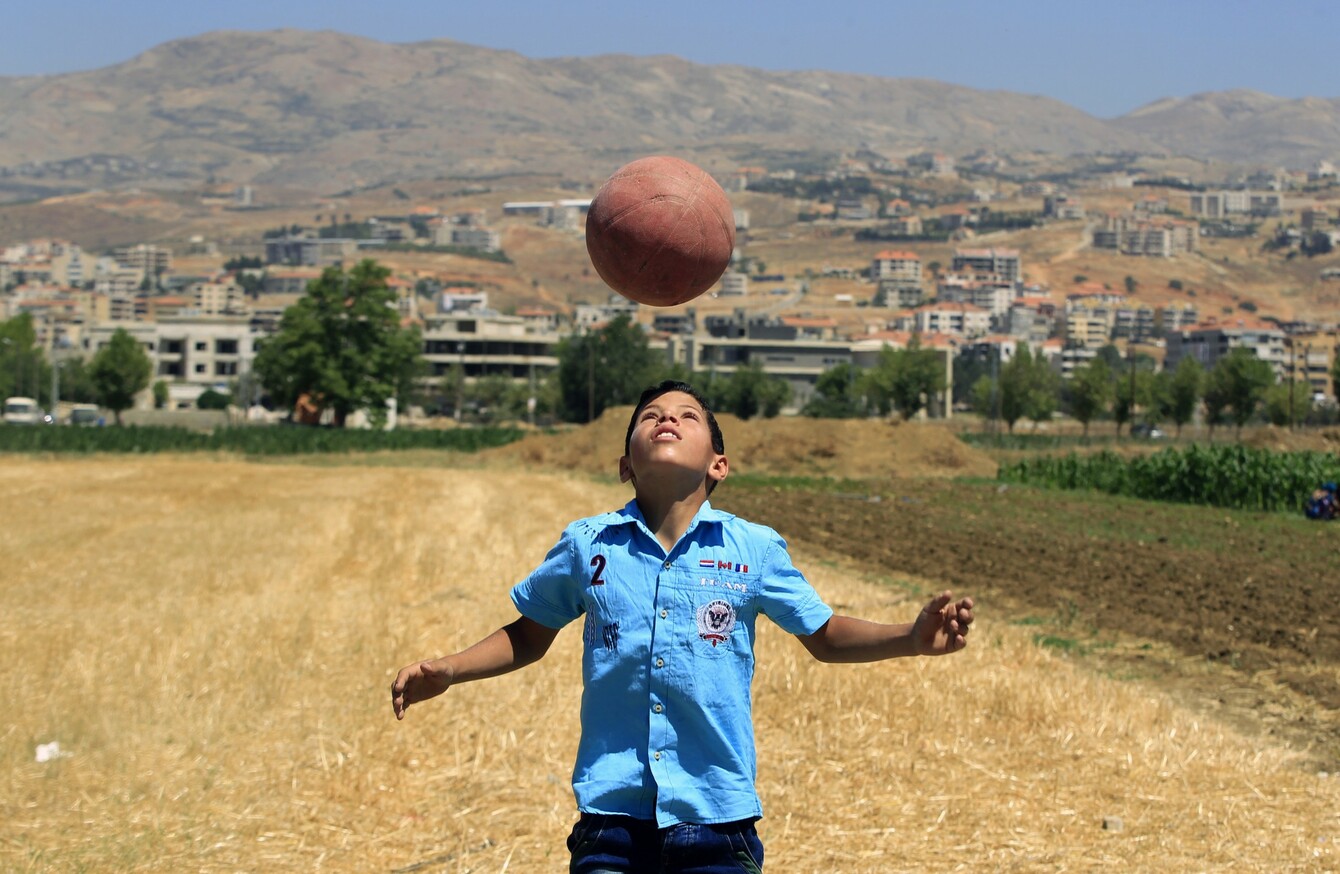 Syrian schoolchild Mouhannad al-Jassem, 11, who fled with his family from Idlib, plays soccer at a refugee camp in Saadnayel, in the Bekaa Valley in Lebanon.
Syrian schoolchild Mouhannad al-Jassem, 11, who fled with his family from Idlib, plays soccer at a refugee camp in Saadnayel, in the Bekaa Valley in Lebanon.
CHILDREN rush out into the schoolyard for break time on the first day of classes in the Syrian town of Manbij, ignoring the Islamic State insignia on a nearby wall.
They savour more than just the late September sun: it is their first normal schoolday after two years of brutal jihadist rule over their hometown.
"We were so happy when we came back to school and we hope we can come every day," said nine-year-old Ghefran, sporting a low ponytail and light pink sweater.
IS overran Arab-majority Manbij in early 2014, imposing the hardline interpretation of Islamic law it has adopted across its self-styled "caliphate" straddling Syria and Iraq.
The group shut down traditional classes at Ghefran's Bayram school, painting their black-and-white flag around the place and briefly holding religious courses there.
They renamed it the Abdullah Azzam School after the so-called founding father of global jihad.
Irish volunteers
"When the Islamic State was here, they wouldn't let us come to school," Ghefran said.
We missed our teachers And we missed our books.
The jihadists shut hundreds of schools in Manbij and surrounding villages, leaving about 78,000 children without formal education for two years, said the town's education coordinator Hassan Harun.
But in August this year, a US-backed alliance of Kurdish and Arab fighters called the Syrian Democratic Forces recaptured the town.
They were helped by the Bob Crow brigade, a group of British and Irish volunteers embedded with Kurdish forces in northern Syria.
Harun and his team immediately began inspecting all the schools to see which ones could be renovated and used, and which were damaged beyond repair.
Out of 390 schools in Manbij and the surrounding villages, 192 schools reopened this year, while 59 are still being restored.
The other schools are in areas still under IS control, Harun said.
Dark memories
"The opening of the school year was really beautiful," Harun said, shaking his head and smiling.
Wherever I used to go, everyone used to ask me: when will the schools open? Everyone was so excited.
He has dark memories of IS's rule, telling AFP that six of his colleagues were beheaded by the group after accusations they had been "collaborating with the regime."
At the Bayram school, children took a break from classes to sprint around the courtyard with a deflated football or play a game with pebbles.
Inside, about two dozen students fidgeted on wooden benches as a pair of young teachers explained how they would squeeze two academic years into the next 10 months to help students catch up.
Little Rana al-Hussein beamed at the front of a sparse classroom, the meagre pile of books on her desk the only ones visible.
"When the Daesh guys were here I didn't study. I went to school for two or three days then I stopped," said the nine-year-old, using the Arabic acronym for IS.
It broke my heart when they used our schools to store mines.
#Open journalism No news is bad news Support The Journal

Your contributions will help us continue to deliver the stories that are important to you

Support us now
After two years without an education, she will complete her third and fourth years together.
But that has not dimmed her ambitions: "I hope to get a job as a doctor so I can help people and feed them," Rana said.
'No better feeling'
Tarek al-Sheikh, a thin teacher at Bayram, said it pained him to see schools in his hometown locked up during IS's rule.
"It was even more painful to see a kid trying to learn a trade, or walking down the street playing with a ball because he had nothing to do," Sheikh said.
While teachers are elated to be back in the classroom, they recognise there is much work to be done.
There are very few books and school supplies, and children are so behind that students of all ages are lumped in the same classroom.
"As you can see some of the students who were in third or fourth grade barely remember their letters," said Hassan Othman, a teacher in his 20s.
When schools were shut, it felt for teachers as if everything you worked for, all the labour you put in, was left behind as you sat at home.
"So you can imagine what it felt like for us to finally reap what we had sowed (when schools reopened). There is no better feeling."
- © AFP, 2016 with reporting from Darragh Peter Murphy.