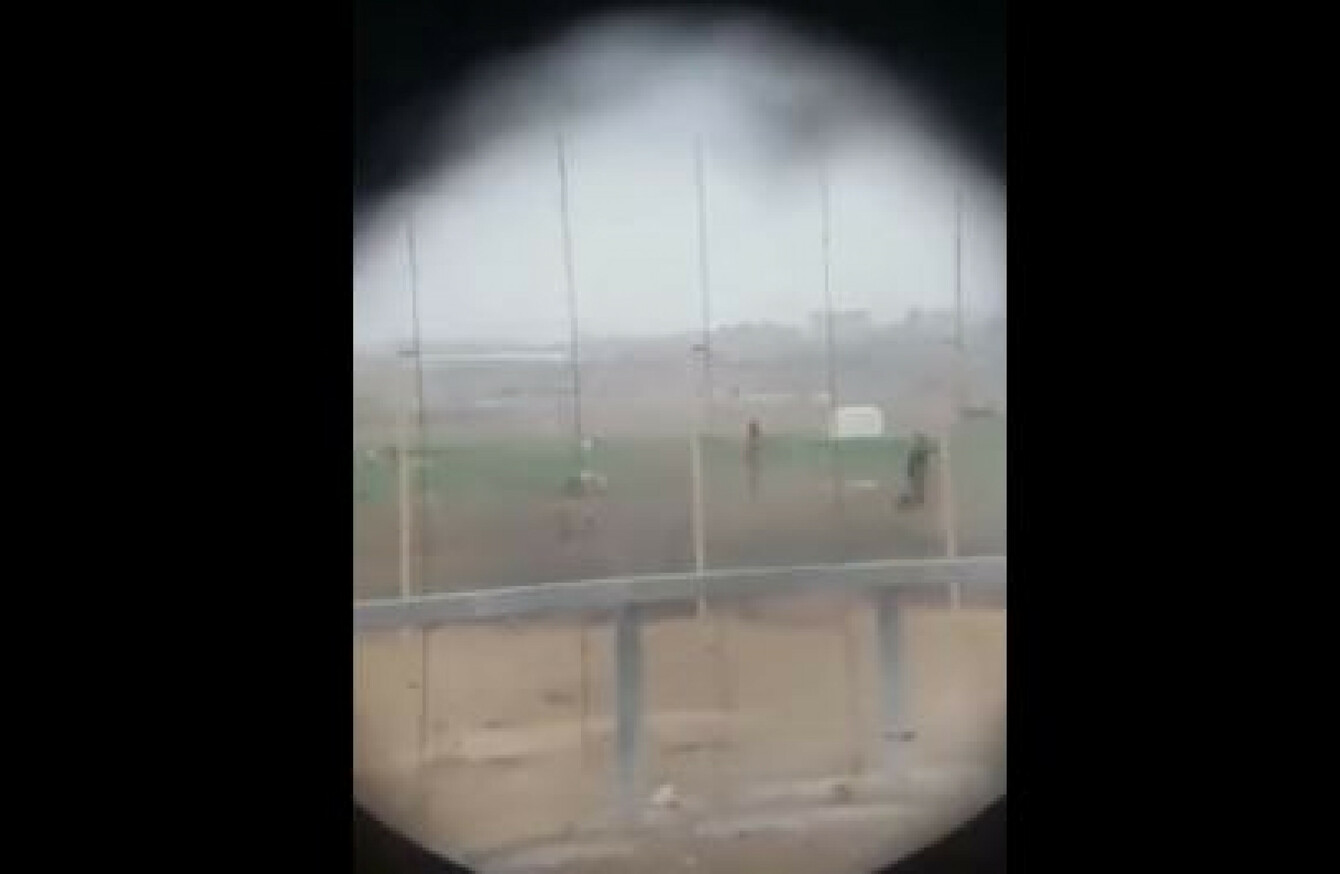 Image: YouTube
Image: YouTube
ISRAEL'S MILITARY SAID it is investigating footage that appears to show soldiers  cheering after one  shoots an unarmed Palestinian.
Today the military confirmed the authenticity of the video, which was apparently captured through a scope or binoculars. Filmed in December, it shows the soldier shoot the Palestinian along the Gaza Strip border. But the military alleges that the shot came following ongoing riots in the area and warnings from Israeli troops.
"Wow. What a video! Yes! That son of a bitch," one of the voices behind the camera says in Hebrew. The army says that the man who took the video was not part of the unit that fired the shot.
It claims that it had issued warnings that were ignored, and that "a single bullet" was fired at the man suspected of organising protests.
The man was hit in the leg and wounded, the military said in a statement.
Source: The Electronic Intifada/YouTube
Israeli far-right ministers have defended the actions of the soldiers, AFP reports, while Palestinians claim that the video shows people from Gaza being shot near the border despite posing no threat.
But the video has been condemned by senior Israeli political figures. "The IDF is a moral army, but immoral actions may be committed within it," said MK Nachman Shai of the left-wing Zionist Union party, The Times of Israel reports. "This incident and all incidents require an investigation."
Yehuda Glick, from the ruling Likud party, said the video was "very hard" to watch, describing it as "disturbing and disappointing."
"The video depicts a short part of the response to a violent riot, which included rock hurling and attempts to sabotage the security fence, and lasted about two hours," the military said.
During the riot, means were taken in order to disperse it, including verbal warnings and calls to halt, using riot dispersal means and firing warning shots into the air.
Israeli NGOs Breaking the Silence and B'Tselem claim that many similar shootings by Israeli soldiers have taken place.
News of this case comes at a time of heightened tensions at the Gaza border, with Israel facing mounting criticism as dozens of Palestinians have been shot at protests over the past two weeks.
With reporting from AFP.