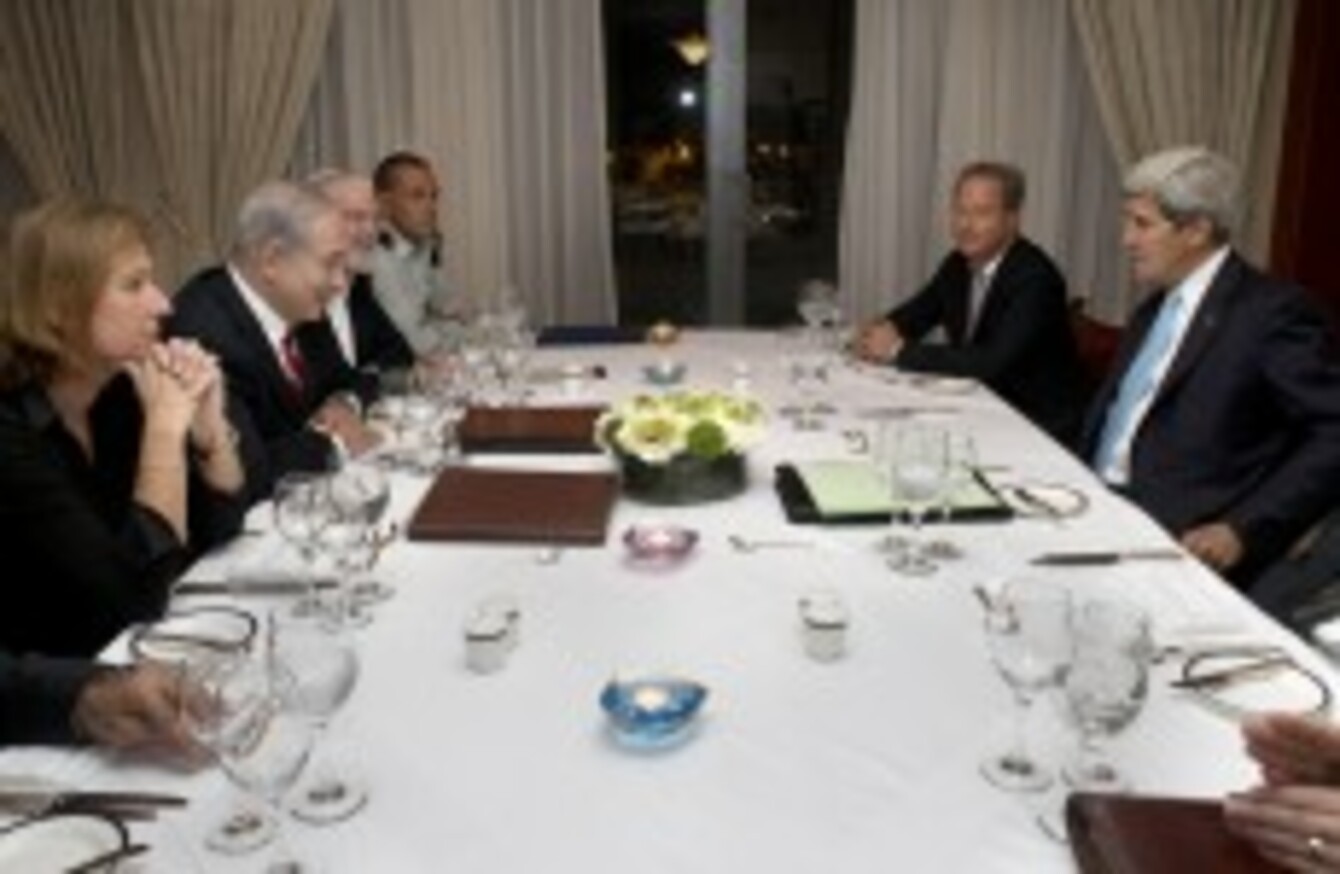 US Secretary of State John Kerry holding meetings with Israel's Prime Minister Benjamin Netanyahu and his officials last month
Image: Jacquelyn Martin/AP/Press Association Images
US Secretary of State John Kerry holding meetings with Israel's Prime Minister Benjamin Netanyahu and his officials last month
Image: Jacquelyn Martin/AP/Press Association Images
ISRAELI AND PALESTINIAN officials will resume direct peace talks today after a three-year hiatus, amid hopes US Secretary of State John Kerry's quiet diplomacy may this time carry some chance of success.
In a landmark agreement, the chief negotiators from both sides will meet face-to-face to draw up a plan for how the talks will proceed, State Department spokeswoman Jen Psaki said.
The dream of a Middle East peace deal has for decades been a chimera chased by US presidents but has stalled since September 2010, shot down by deep divisions and distrust between the two sides.
After months of dogged diplomacy, Kerry earlier this month, on his sixth trip to the region, wrested from both sides an accord setting out "the basis for resuming direct final status negotiations," Psaki said in a statement:
The meetings in Washington will mark the beginning of these talks. They will serve as an opportunity to develop a procedural work plan for how the parties can proceed with the negotiations in the coming months.
Israeli Justice Minister and chief negotiator Tzipi Livni, as well as legal aide Yitzhak Molcho, will first meet later today with Palestinian chief negotiator Saeb Erakat and senior official Mohammad Shtayyeh for an Iftar dinner hosted by Kerry to break the fast observed during the Muslim holy month of Ramadan.
"Initial meetings are planned for the evening of Monday July 29 and Tuesday July 30, 2013," Psaki said in her statement.
"Both leaders have demonstrated a willingness to make difficult decisions that have been instrumental in getting to this point. We are grateful for their leadership," Kerry added in the statement.
Prisoner release
The announcement came shortly after Israel announced plans to release 104 Palestinian prisoners – some of them convicted for attacks on Israelis.
Israeli Prime Minister Benjamin Netanyahu's cabinet met yesterday as he battled to convince some of his coalition partners to accept the prisoner release and to approve the resumption of talks.
Israeli public radio reported the 22-member cabinet had only approved the release by a vote of 13 in favor, seven against and two abstentions.
The chief Palestinian negotiator welcomed the Israeli vote. "We consider this an important step and hope to be able to seize the opportunity provided by the American administration's efforts," Erakat told AFP.
While the names of the prisoners have yet to be published or even revealed to ministers, they reportedly include militants convicted of killing Israeli women and children or of killing Palestinians suspected of collaborating with Israel.
"This moment is not easy is for me, not easy for the ministers, and especially not easy for the bereaved families," Netanyahu's office quoted him as telling ministers.
The last round of direct peace talks between Israel and the Palestinians, shepherded by US President Barack Obama, broke down in 2010 over the issue of Israeli settlements in the West Bank and east Jerusalem.