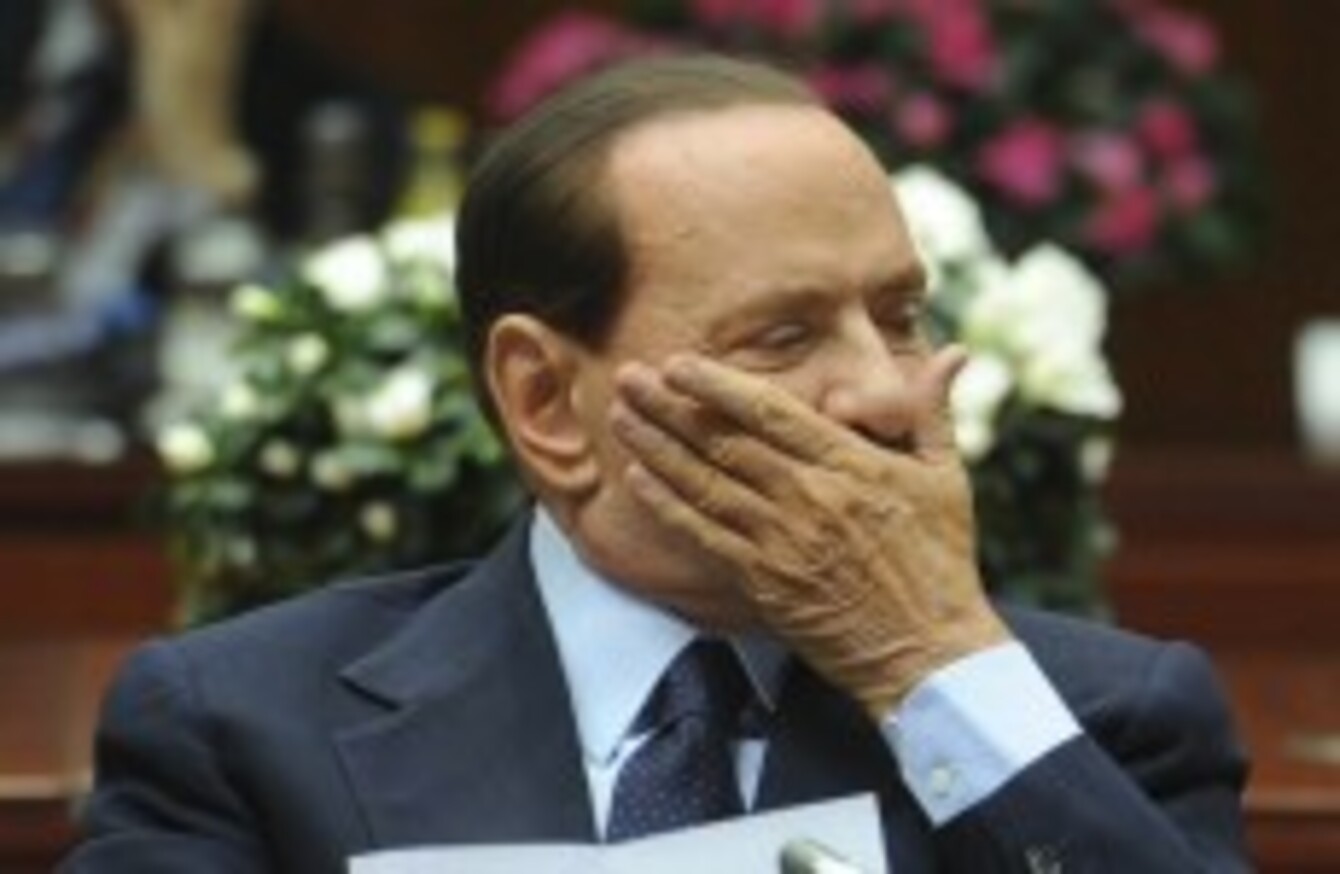 Silvio Berlusconi's coalition partners are dragging their heels on allowing the government to enact reforms demanded by the EU.
Image: Geert Vanden Wijngaert/AP
Silvio Berlusconi's coalition partners are dragging their heels on allowing the government to enact reforms demanded by the EU.
Image: Geert Vanden Wijngaert/AP
ITALY'S RULING COALITION, and the broader European plan to save the euro, are both at risk this evening – with Italian prime minister Silvio Berlusconi locked in a high-stakes battle with coalition partners to muster support for emergency growth measures demanded by the EU.
Markets are looking to the EU's grand plan — promised in time for tomorrow's EU summit — for a turnaround in the debt crisis that will avert a potential global recession.
But the plan risked being delayed, yet again, as European governments are still failing to agree on details. Berlusconi's government, meanwhile, showed little sign of meeting the EU's demands for reforms, a prerequisite for the grand plan to go ahead.
The summit of EU leaders, meant to be a confidence-building day, risked going down as another failure in Europe's fight to stem its two-year debt crisis.
EU officials say they will not present their comprehensive plan if Italy doesn't agree to new economic measures they asked for at Sunday's summit.
But Berlusconi has been unable to get his key ally in parliament, the Northern League, to swallow an increase in the pension age. The Northern League says it will alienate its constituency of workers in the productive north.
Northern League leader Umberto Bossi conceded the government is at risk. "Let's say the situation is difficult, very dangerous," he told reporters in Rome.
The head of Berlusconi's People of Freedom Party, Angelino Alfano, suggested Berlusconi's party had reached a deal with the Northern League — but no details were announced and the premier's office remained silent.
"We hope to have identified a point of balance with the League that allows us to give a response to the European Union also on pensions," Alfano said during the taping of an evening talk show, the news agency ANSA reported.
No news is bad news
Berlusconi has survived scandals, court cases and dozens of confidence votes, but experts say the economic plan he needs to get approved will be one of the most critical tests yet of his grasp on the country's leadership.
"Berlusconi has an immovable object at home which is Bossi and the Northern League, and an unstoppable force abroad which is the European Union, so he's in a very, very difficult position," said James Walston, a political science professor at American University in Rome.
A Cabinet meeting to draft the emergency growth measures ended Monday evening in silence — a clear indication of discord within the government majority.
The EU wants Italy to raise its standard pension age from 65 to 67, change the legal system to encourage investment, and pass other reforms to improve growth. All are measures that have been talked about for years in successive governments, but there has been little political will to see through the unpopular decisions.
Bossi has said the Northern League will not support any increase in the pension age.
The outgoing governor of Italy's central bank, Mario Draghi, has already expressed concern that rising borrowing costs are threatening to eat up a chunk of the euro54 billion in austerity measures approved by parliament last month. For weeks, the ECB has been buying up billions in Italian bonds, trying to keep Italy's borrowing costs down.
Italy's fate is crucial to the eurozone because it is the bloc's third-largest economy and would be too expensive to rescue.
To avoid that scenario, the EU is working on a three-part plan — writing off more of Greece's debt, raising ailing European banks' capital levels so they can deal with those losses on Greek bonds, and boosting the bailout fund's powers.
All three measures need to be agreed together in order to work, but it appeared that agreeing on the Greek writedowns and the bailout fund would take longer than expected.
The 10 EU countries outside the Eurozone won't sign off on the move to force banks to raise new capital without the other two parts of the plan in place. They demanded the postponement a meeting of finance ministers due to take place tomorrow, which was to iron out the technical details of the plan ahead of the leaders' summit later in the day.
Without the finance ministers' meeting, it is likely that tomorrow's summit's will only reach vague conclusions, if any.