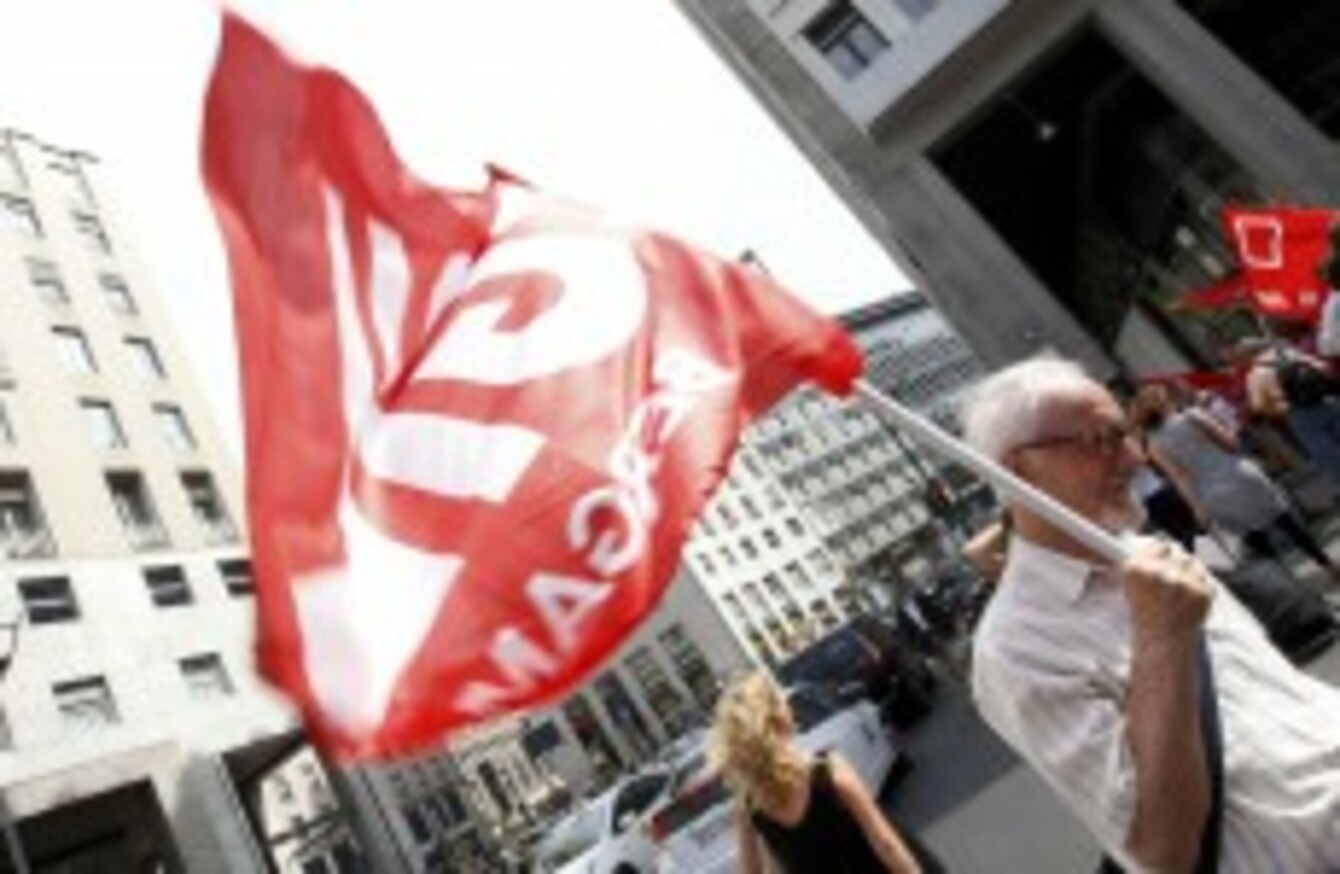 An aged Italian CGIL trade unionist holds a flag during a demonstration against the government in downtown Milan this week
Image: Luca Bruno/AP/Press Association Images
An aged Italian CGIL trade unionist holds a flag during a demonstration against the government in downtown Milan this week
Image: Luca Bruno/AP/Press Association Images
ITALY'S  LOWER HOUSE of parliament faces a vote today on a crucial €70 billion austerity package aimed at convincing investors that the eurozone's third-largest economy won't be swept into the debt crisis.
Premier Silvio Berlusconi's government had fast-tracked approval of the austerity measures and increased their size after markets plummeted this week on worries over Italy's financial stability. The measures already passed 161-135 in the Senate on yesterday.
Still, Finance Minister Giulio Tremonti warned that country-specific measures were not enough — even for larger countries like Italy— and said that Europe needed a stronger regional plan if it was to stamp out the debt turmoil for good.
"Like on the Titanic, not even first-class passengers will be saved," Tremonti said.
The fate of the Italian economy is crucial to Europe's hopes of defeating the debt crisis, because it is many times larger than the economies of Greece or Portugal or Ireland — countries that have already gotten massive bailouts — and would be far too expensive to rescue.
The extent of investors' fears was apparent yesterday when Italy saw its borrowing rates hit a record high in a sale of €4.96 billion in 5- to 15-year bonds.
Yields on the 5-year bonds reached 4.93 percent, the highest for that debt since the launch of the euro and up from 3.9 percent at the last such auction in June.
Under pressure
Italy is under pressure to show markets it can bring its accounts in order and promote growth, or risk being dragged into the debt crisis that is pummeling Greece, Ireland and Portugal.
Tremonti told the Senate that the austerity package seeks to balance the budget by 2014 and contains 16 measures to spur growth.
"Without the balanced budget, the monster of debt, which comes from the past, would devour our future and that of our children," he said.
But while Italy's debt is among the highest in the eurozone at nearly 120 percent of GDP, poor growth is viewed by many as the overriding issue.
Tremonti said credits for research, reforms to civil justice and measures to promote tourism and help young entrepreneurs would bolster economic growth.
The package also includes cuts to political spending, although analysts have criticized the measures for being backloaded onto the next legislature after Berlusconi's term expires. Italy will also look into privatizing state-owned companies, like the state railway or postal services, once the crisis eases.
"The measures were necessary. What is still missing are cutting political costs and measures to stimulate growth," said Bocconi University economist Franco Bruni, adding that the political cuts are insufficient. "They need to cut more spending, and raise the taxes less."
Government members, meanwhile, dismissed persistent rumors that Tremonti would leave his post over tensions with Berlusconi, who last week was quoted as saying Tremonti was "not a team player."
- AP