Image: Luca Bruno/AP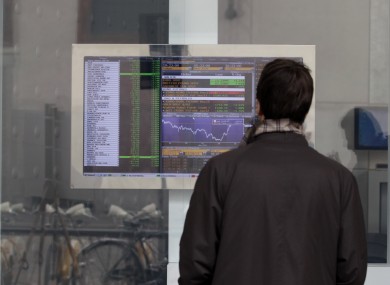 Image: Luca Bruno/AP
THE EUROPEAN DEBT crisis has shown no signs of abating, as the Italian treasury was forced to pay another round of eye-watering interest rates in order to access money on the open markets.
The country successfully raised €7.5bn through the auction of various bonds this morning, but paid interest rates vastly above what was demanded on similar occasions in the past.
While demand for €3.5bn of bonds, maturing in three years' time, was high, Italy was still forced to pay 7.89 per cent interest – up from 4.93 per cent charged when it auctioned similar bonds on October 28.
Italy also paid record rates for borrowing on a longer basis: the treasury sold €2.5bn of bonds maturing in 2022, with an average yield of 7.56 per cent, up from 6.06 per cent when the last round of similar debt was sold.
The other bonds, maturing in 2020, sold at a yield of 7.28 per cent – up from 5.47 on the last similar occasion.
The auction, though successful, follows similarly downbeat auctions by Belgium and Germany in the last few days.