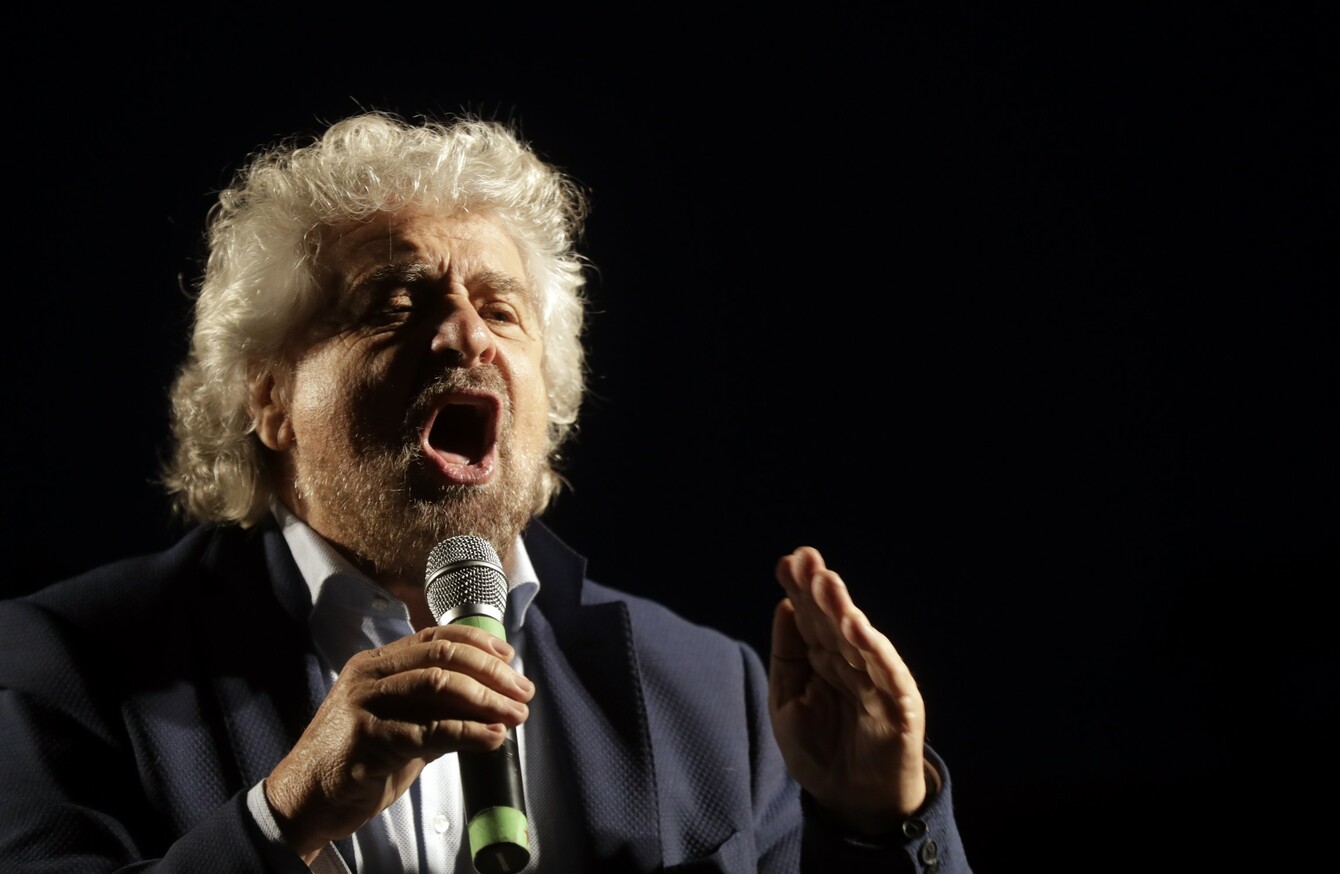 Beppe Grillo of the Five Stars Movement is campaigning for referendum No vote.
Image: AP/Press Association Images
Beppe Grillo of the Five Stars Movement is campaigning for referendum No vote.
Image: AP/Press Association Images
AFTER VOTERS IN the UK and the US firmly rebuked the political classes with Brexit and the election of Donald Trump, Italians could be next to deliver a bloody nose to the political establishment.
The EU's fifth largest economy goes to the polls in a referendum tomorrow that will decide on some major changes to their political system.
In short, Italians are being asked whether to greatly reduce the power of their upper house, the Senate.
In Italy, the Senate's power is greater than in similar parliamentary democracies with two houses, like Ireland, and critics of the Senate have argued that it adds to the notorious political instability in the country.
It's proposed that members of the Senate will be drastically cut from 315 to 100 and that all members will be appointed rather than elected.
The proposals for the Senate from Prime Minister Matteo Renzi go hand-in-hand with a new electoral reform law designed to ensure elections produce winners with clear majorities.
Arguing for a referendum Yes vote in the Financial Times, Italian Foreign Minister Paolo Gentiloni said that:
There is no question that amendments to our constitution are necessary in order to make our institutions more efficient: no other European country has two chambers with duplicated functions; it is clear that there are far too many members of parliament.
"The value of the proposed amendments is so obvious that regular attempts have been made to introduce them since the 1980s."
As ever though with referendums, campaigns are rarely fought on the issue at hand alone and Prime Minister Renzi has perhaps unwisely made this explicitly the case.
The centre-left leader has suggested he will step down if voters reject the referendum, giving fuel to opponents who seek to make the vote about his premiership.
They argue that constitutional fine-tuning is far from being an obvious priority in a country with high unemployment and declining real incomes.
Former comedian-turned-politician Beppe Grillo is among those opposed to the referendum with his Five Star Movement arguing it would give greater power to politicians.
The populist party was founded just seven years ago but has established itself as the biggest rival to Renzi's  Democratic Party. Its representative Virginia Raggi is currently the mayor of Rome and the party is targeting a place in government.
Grillo came to political prominence in 2007 when her organised Vaffanculo Day, or 'Fuck Off Day', across Italy in opposition to other political reforms.
The fear from Renzi and others who are campaigning for the referendum is that Italians will send a similar message tomorrow.
The Five Star Movement are far from being alone in opposition to the referendum though. The separatist Northern League are campaigning for a No vote as is four-time Prime Minister Silvio Berlusconi.
The fear from Brussels ahead of tomorrow's referendum is that a defeat would mean a collapse of the government and potential political chaos in Italy.
If voters reject proposals, Renzi has said:
There will still be a government, whether it istechnical, political, super technical or super political.
"We will do everything that has to be done to ensure Italy is ready to face its challenges," he added.
Renzi was speaking as he presented his 2017 budget plans to the media after winning backing for them last week from the Chamber of Deputies.
The budget includes plans to loosen the fiscal strings to finance tax cuts, increased health and education spending and measures to help smaller companies and the country's earthquake-hit areas.
The freeing up of spending plans has already put Renzi on a collision course with the European Commission, so further disagreements aren't what Brussels wants.
An opinion poll earlier this month showed that 32% of Italians plan to vote No and 26% are leaning towards Yes. It means that the referendum may well be defeated but undecided voters will be crucial.
- With reporting by © – AFP