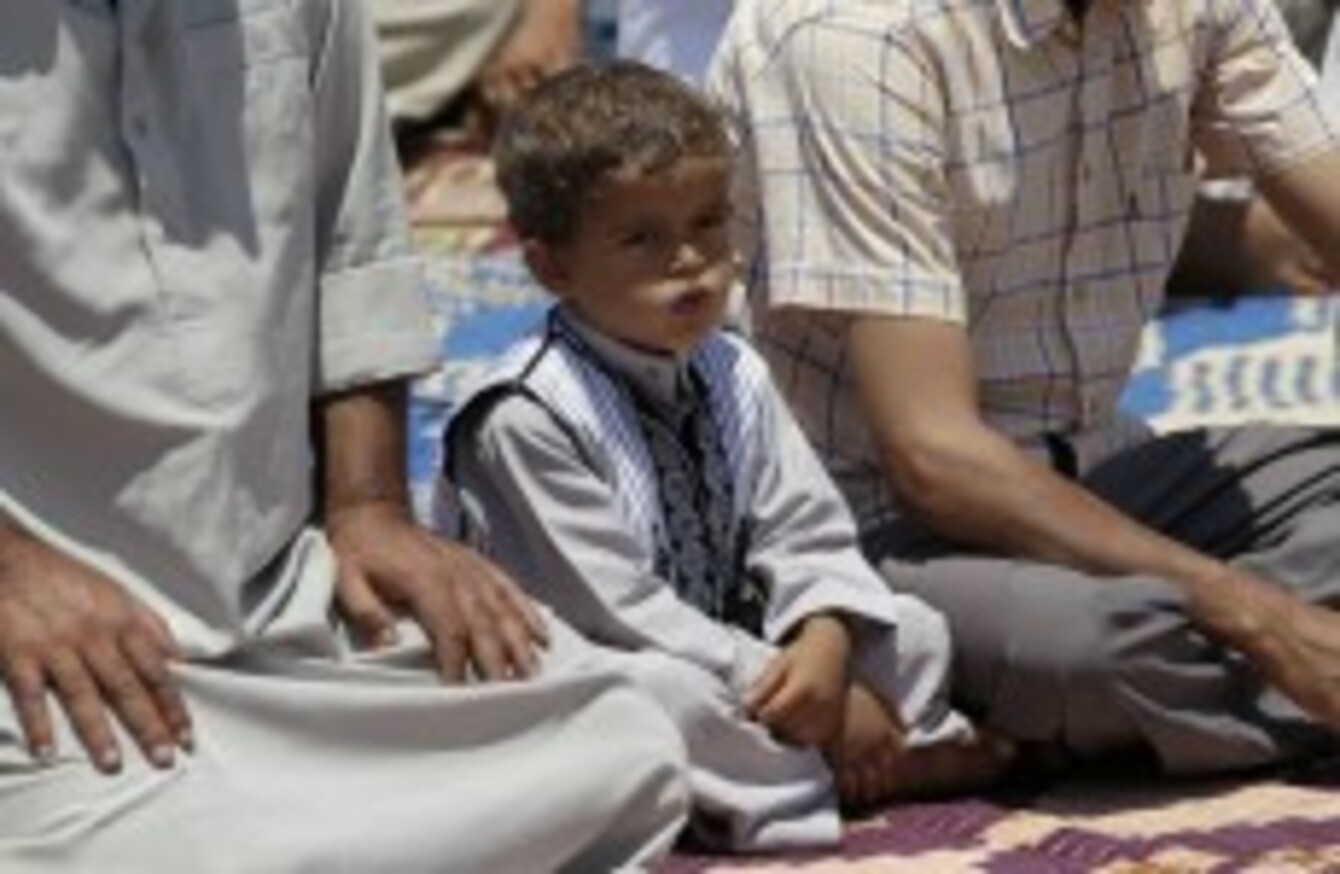 A Libyan child attends the Friday prayers with his father in Misrata today
Image: Hassan Ammar/AP/Press Association Images
A Libyan child attends the Friday prayers with his father in Misrata today
Image: Hassan Ammar/AP/Press Association Images
ITALY HAS SIGNED an agreement with Libyan rebels meant to stem a stream of migrants fleeing unrest, prompting concerns at the U.N. refugee agency that people seeking asylum won't have proper protection.
The Italian Foreign Ministry said the accords call for cooperation to fight "clandestine immigration" by exchanging information on the smugglers' groups that organizes it, on the routes across the Mediterranean used by the human traffickers and groups specializing in falsifying passports and other documents.
Under the deal, the rebels essentially agree to honor several accords signed since 2000 by Rome and Colonel Muammar Gaddafi's regime. Among them are pledges for "reciprocal assistance and cooperation in the fight against illegal immigration, including the deportation of immigrants" without proper status.
About 20,000 migrants have arrived so far, and Rome has complained that it alone is bearing the brunt of the influx of refugees fleeing violence in Libya and uprisings in North Africa.
Signing the agreement were Foreign Minister Franco Frattini and Mahmoud Jibril, the head of the executive committee of Libya's rebel group, the Transitional National Council, at a conference on the "Arab Spring" in Naples.
Frattini said:
We are confirming the collaboration accords between Italy and Libya, represented, however, no longer by a regime that has lost all credibility and legitimacy, but by a governing body that Italy has recognized.
Frattini indicated Italy would supply the CNT, "which represents Libya and the future of the country" what it needs to patrol Libya's coastline in areas controlled by the rebels. That is similar to an agreement it made earlier this year with Tunisia, to stop the flood of tens of thousands of young Tunisian men seeking jobs in Europe after the upheaval there.
Frattini has said that Italy is collecting evidence to show that Gadhafi's regime is forcing many migrants to make the dangerous journey across the Mediterranean as retaliation against Europe for the NATO bombing. He again suggested that forced migration might constitute a crime against humanity.
"Utilizing these (sea) voyages as a form of retaliation against Western countries ought to be fodder for the international criminal court prosecutor," Frattini told the reporters in Naples for the signing ceremony.
Laura Boldrini, spokeswoman in Italy for the U.N. High Commissioner for Refugees, said the agency is worried that any agreement with the rebels would prevent refugees from being properly screened for asylum claims.
"We are against push-back on the seas," she told The Associated Press.
The agency has accused Italy in the past of returning migrants intercepted at sea without screening them first for asylum.
In 2008, Gaddafi and Italian Premier Silvio Berlusconi signed a friendship treaty that included a pledge by Rome to pay Libya US$5 billion as compensation for its 30-year colonial rule. Libya in return promised to help Italy crack down on illegal immigrants.
With the outbreak of civil war in Libya, Italy had said the treaty is "suspended."
- AP