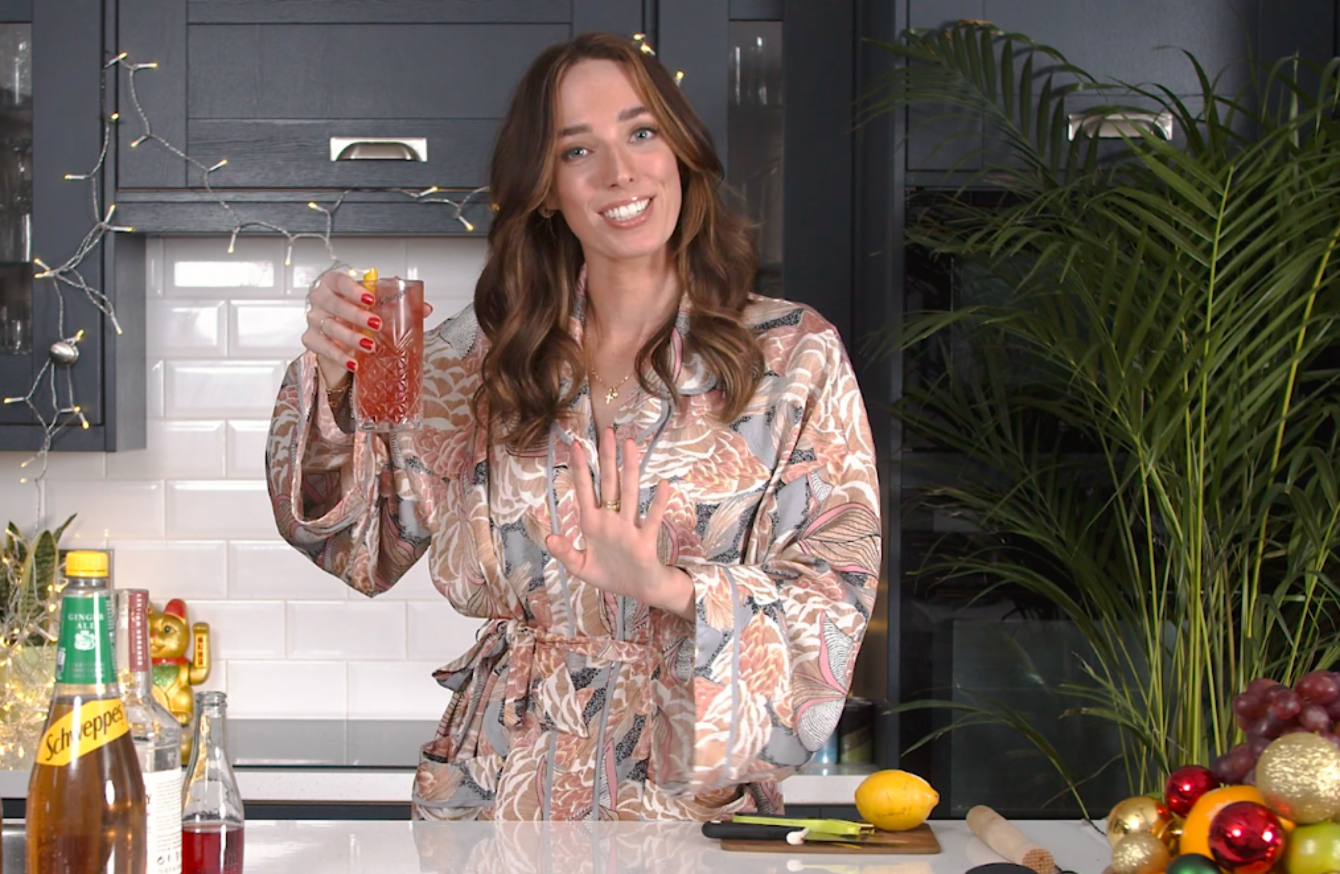 Image: Schweppes/Journal Media
Image: Schweppes/Journal Media
Source: Journal Media Studio/YouTube
HAVE YOU EVER looked forward to a cosy night in by the fire more than a big night out on the town?
Sometimes the best evenings are the ones you spend on the sofa in your favourite PJs – and this year, there's more reason than ever to make sure your snuggled-up nights are something special. 
This Christmas, we've teamed up with Schweppes and cocktail lover Ciara O'Doherty to bring you an anyone-can-do-it guide to drinks that will create a little magic at home. Our mission: to bring bubbles to every festivity and add sparkle to every 'Sláinte', whether that's a night in with loved ones or a Zoom catch-up with your crew.
Over the next few weeks, Ciara will be sharing some inspiration for every occasion – from an impromptu G&T, to a festive get-together (over video, of course). And today she is selecting some serves that are just perfect for when it's cold outside, but cosy indoors.
As a big fan of making quiet nights special – "I love nothing more than a cosy night in with movies and refreshments," says Ciara – here are her go-tos.
1. The Bourbon Blush
"As someone who loves bourbon, this is just a fantastic festive drink," says Ciara. "The cranberry juice gives this serve its gorgeous blushed colour, and the ginger ale adds the perfect amount of fizz. It's so refreshing!"
35ml Bourbon
45ml Cranberry Juice
150ml Schweppes Classic Ginger Ale 
Fill a highball glass with cubed ice. Add the bourbon, cranberry juice and Schweppes Classic Ginger Ale and serve. Enjoy with a good movie – and ideally a roaring fire.
2. Golden Spice
A fresh ginger garnish adds an extra warming twist to this classic combination. 
35ml Irish Whiskey
200ml Schweppes Classic Ginger Ale
Freshly sliced ginger and lime wheel
Take a highball glass and fill it with block ice all the way to the top. Pour Irish Whiskey over the ice and fill the glass to the top with Schweppes Classic Ginger Ale. To complete, slice your ginger and lime and drop into the top of the glass. Cheers! 
3. Cuban Christmas
A simple but fabulous combination that gets a little lift of sophistication from the fresh mint sprig.
35ml Golden Rum
200ml Schweppes Classic Ginger Ale
Lime wedge and mint sprig
Fill a highball glass to the top with ice, then add the Golden Rum. Mix with Schweppes Classic Ginger Ale. Then cut two wedges of lime. Squeeze one into the glass, and drop the other in whole. Finally, gently tap the sprig of mint on the back of your hand to release the aromatics and use it to decorate your drink. Perfection.
Whether you want to add fizz to a festivity or sprinkle some sparkles on a cosy night in, there's a Schweppes serve for you this Christmas. We've got the tonic, you've got the spirit. For more inspiration check out our In The Mix cocktail hub, or visit instagram.com/SchweppesIreland.