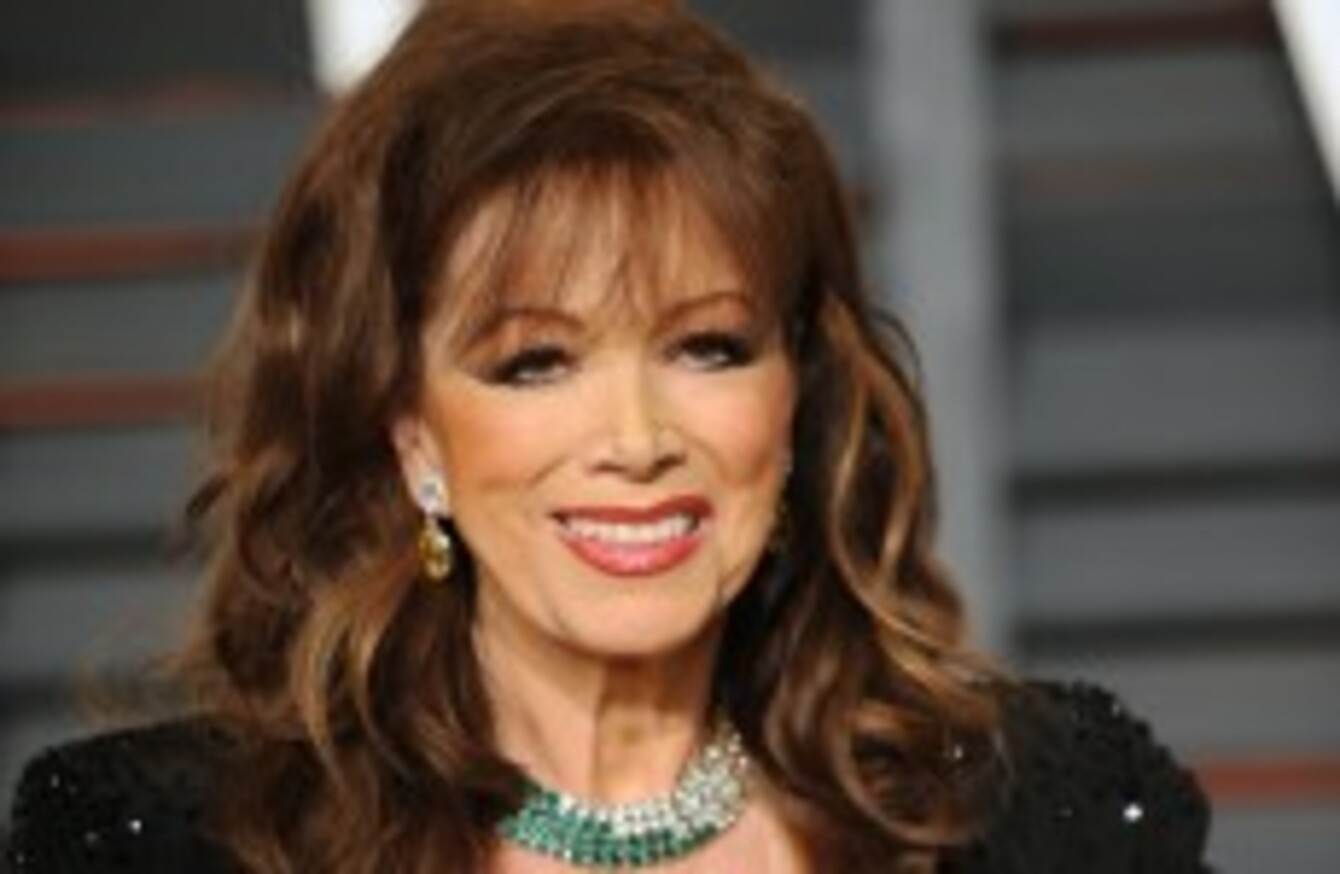 Jackie Collins at the Vanity Fair Oscar Party early this year.
Image: AP/Press Association Images
Jackie Collins at the Vanity Fair Oscar Party early this year.
Image: AP/Press Association Images
Updated 1.59 pm
BRITISH NOVELIST JACKIE Collins has died at the age of 77.
The writer and media personality has died after a private battle with breast cancer her publicist confirmed this morning.
Her family has described her as a "trailblazer for women in fiction".
"It is with tremendous sadness that we announce the death of our beautiful, dynamic and one of a kind mother, Jackie Collins, who died of breast cancer today," her family said in a statement on her Facebook page.
"She lived a wonderfully full life and was adored by her family, friends and the millions of readers who she has been entertaining for over four decades. She was a true inspiration, a trailblazer for women in fiction and a creative force. She will live on through her characters but we already miss her beyond words."
Collins told People magazine, which first reported her death Saturday, in her final interview last week that she had been diagnosed with breast cancer over six years ago, but she had chosen to keep the news among family, confiding mainly in her three daughters, 54-year-old Tracy, 48-year-old Tiffany and 46-year-old Rory
Her older sister, author and actress Joan Collins,  has also posted her own tribute this morning.
Born in 1937, Jackie Collins began her writing career in the 1960s.
Her novels dramatised the lives of the most elite people and places, but they were read by everyone, everywhere — from airports to beaches to, sometimes, under the covers with a flashlight to hide from disapproving parents and partners.
Collins, whose books like "Hollywood Wives" were as brazenly sexual as they were proudly pulpy, sold hundreds of millions of novels in dozens of countries, and it led to a level of wealth, celebrity and glamour that in many ways surpassed her own characters, and arguably matched that of her older sister, "Dynasty" actress Joan Collins.
Collins' tales of sex, glamour, power and more sex were a forerunner to the culture of "Desperate Housewives" and "The Real Housewives of Beverly Hills."
Her books provided at first more than some wanted to hear, but she became the kind of author from whom readers could never get enough, providing forbidden fodder for housewives and for teenagers raiding their parents' bookshelves.
Collins told The Associated Press in a 2011 interview that she "never felt bashful writing about sex."
"As a writer, you can never think about who is going to read your books. Is it going to be my mom? My children? A lot of people say to me, 'Oh, I read your books under a cover with a flashlight when I was really young and I learned everything I know about sex from you.' "
She was born Jacqueline Jill Collins in London in 1937, the daughter of a theatrical agent and a dance teacher.
Her first novel, "The World is Full of Married Men," was a story of sex and show business set in "Swinging London" in the mid-1960s. It came out in 1968 and became a scandalous best-seller, banned in Australia and condemned by romance writer Barbara Cartland.
Collins followed in the 1970s with books like "The World is Full of Divorced Women" and "Lovers & Gamblers."
By the 1980s, she had moved to Los Angeles and turned out the 1983 novel she is still best known for, "Hollywood Wives," which has sold more than 15 million copies. It came at the same time that her sister hit the height of her own fame on "Dynasty."
"Dynasty" producer Aaron Spelling would also produce the 1985 hit TV miniseries of "Hollywood Wives," which featured Candice Bergen, Angie Dickinson and Suzanne Somers, among others.
The books made Jackie Collins a celebrity in her own right, and she loved the part, looking, living and behaving more like an actress than an author. In many ways, her own persona was her greatest character.
Collins embraced Twitter in her later years and many have been going online to pay tribut to the author.
Collins' books didn't stick strictly to Hollywood. She penned a series of mafia novels documenting the lives of the Santangelo family, focusing on its patriarch Gino and his daughter Lucky. She wrote nine novels based on the family that included her last, "The Santangelos," published this year.
Collins was married twice, the second time to art gallery and nightclub owner Oscar Lerman in 1965. Lerman died in 1992. She was then engaged to Los Angeles businessman Frank Calcagnini, who died in 1998.
Asked by the AP in 2011 if she was dating anyone, Collins said "I have a man for every occasion."
- Additional reporting by Rónán Duffy