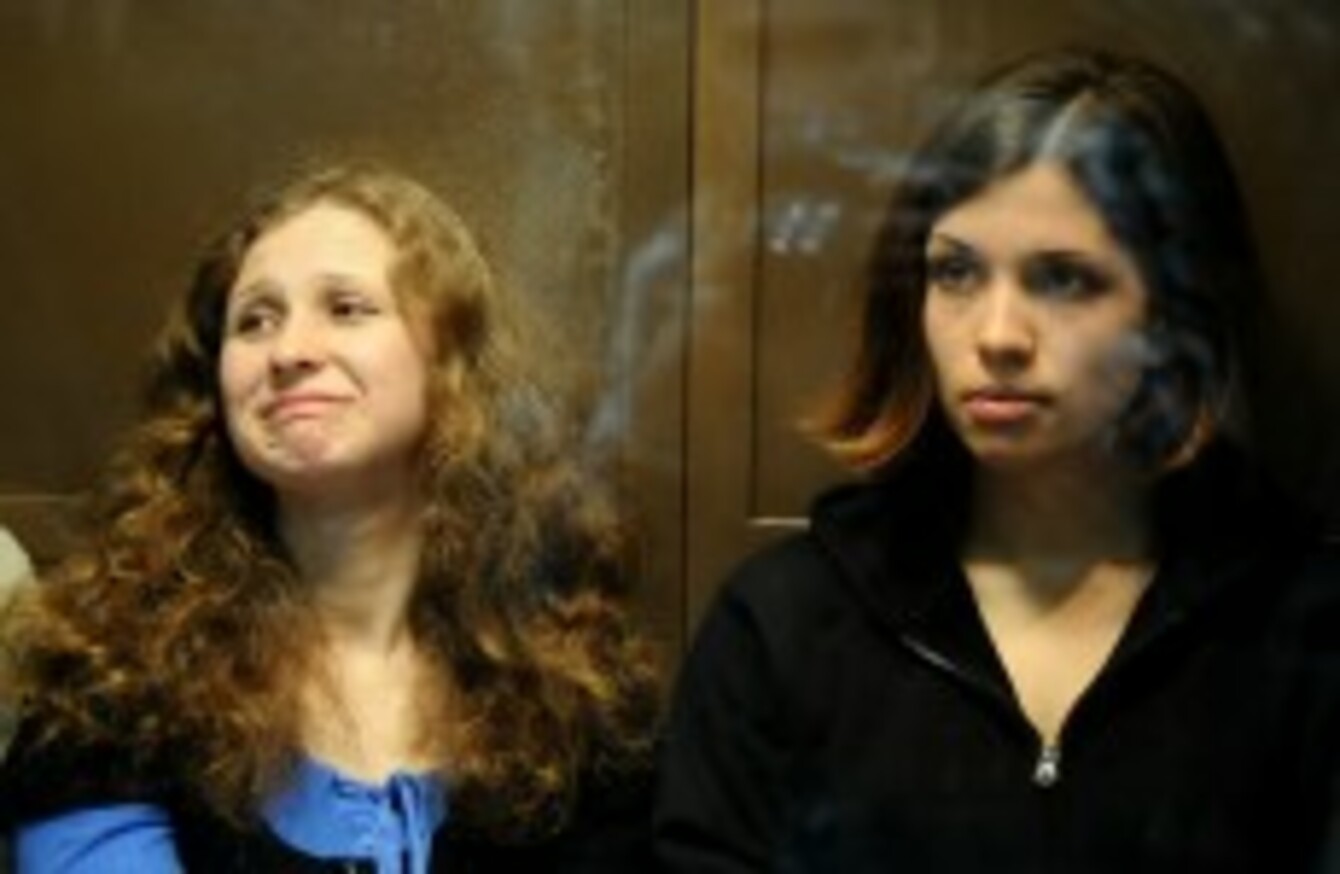 Maria Alyokhina with fellow Pussy Riot member Nadezhda Tolokonnikova last year.
Image: Stanislav Krasilnikov/Photas/Tass/Press Association Images
Maria Alyokhina with fellow Pussy Riot member Nadezhda Tolokonnikova last year.
Image: Stanislav Krasilnikov/Photas/Tass/Press Association Images
A JAILED MEMBER of the Pussy Riot radical rock group says she is going on hunger strike in protest over the authorities' failure to allow her to attend a parole hearing in person.
Maria Alyokhina told a Berezniki court by video link that she was going on hunger strike and ordering her lawyers to pull out of the parole hearing until she was brought to the court in person.
Alyokhina's announcement capped a sometimes farcical first day of the parole hearing which was marked by frequent breaks to decide on legal technicalities and almost no examination of the legal substance.
The 24-year-old is one of two members of the opposition punk band serving two years in remote prison camps over an anti-Kremlin stunt in a church last year.
Alyokhina was not present in court and instead followed proceedings via a video link-up from her prison camp, which is also located in the Urals city of Berezniki.
"I declare a hunger strike and insist on my participation (in court). I forbid my lawyers to take part in the parole hearing until I am brought to court for the parole hearing," she is quoted on Twitter by the radical art group Voina (War) that supports her.
As a result of her intervention the hearing was adjourned until Thursday and the rest of the parole process will take part without her lawyers present.
"Usually (convicts) are taken (to court) for parole hearings and I do not know why the court has taken such a decision" for her to stay away, Alyokhina's lawyer Irina Khrunova told AFP.
Her presence in court is needed to have her opinion heard, the video link does not ensure this. The court can hear a parole request without the defence's participation. I will not take part in this process.
Judge Mikhail Shagalov had earlier rejected her request to be present, prompting Alyokhina to ask for the judge to be recused, a petition that was also rejected.
Alyokhina said her "rights were being violated by being prevented from attending in person", the Interfax news agency reported. As a result of her absence from the courtroom, she was forced to confer with her lawyer by telephone and send her legal petitions by fax from jail.
The hearing came a month after a court in the central Mordovia region rejected a parole request by the second Pussy Riot member held in a separate prison colony.
The court ruled at the time that Nadezhda Tolokonnikova did not deserve parole because she has not repented for her actions and has been given reprimands.
The prison camp where Alyokhina is being held has put forward similar arguments in favour of her staying behind bars, Tolokonnikova's husband Pyotr Verzilov told the Interfax news agency.
Alyokhina has a reprimand for not getting up on time and has not confessed her guilt.
Tolokonnikova and Alyokhina were given two-year sentences for hooliganism motivated by religious hatred over a short performance in the Cathedral of Christ the Saviour in February 2012 protesting Putin's close links with the Russian Orthodox Church.
A third woman, Yekaterina Samutsevich, was convicted but received a suspended sentence on appeal.
The 2012 trial of the trio grabbed worldwide attention, with stars such as Madonna, Sting and Yoko Ono voicing their support and their plight becoming a rallying cause for the anti-Putin opposition.