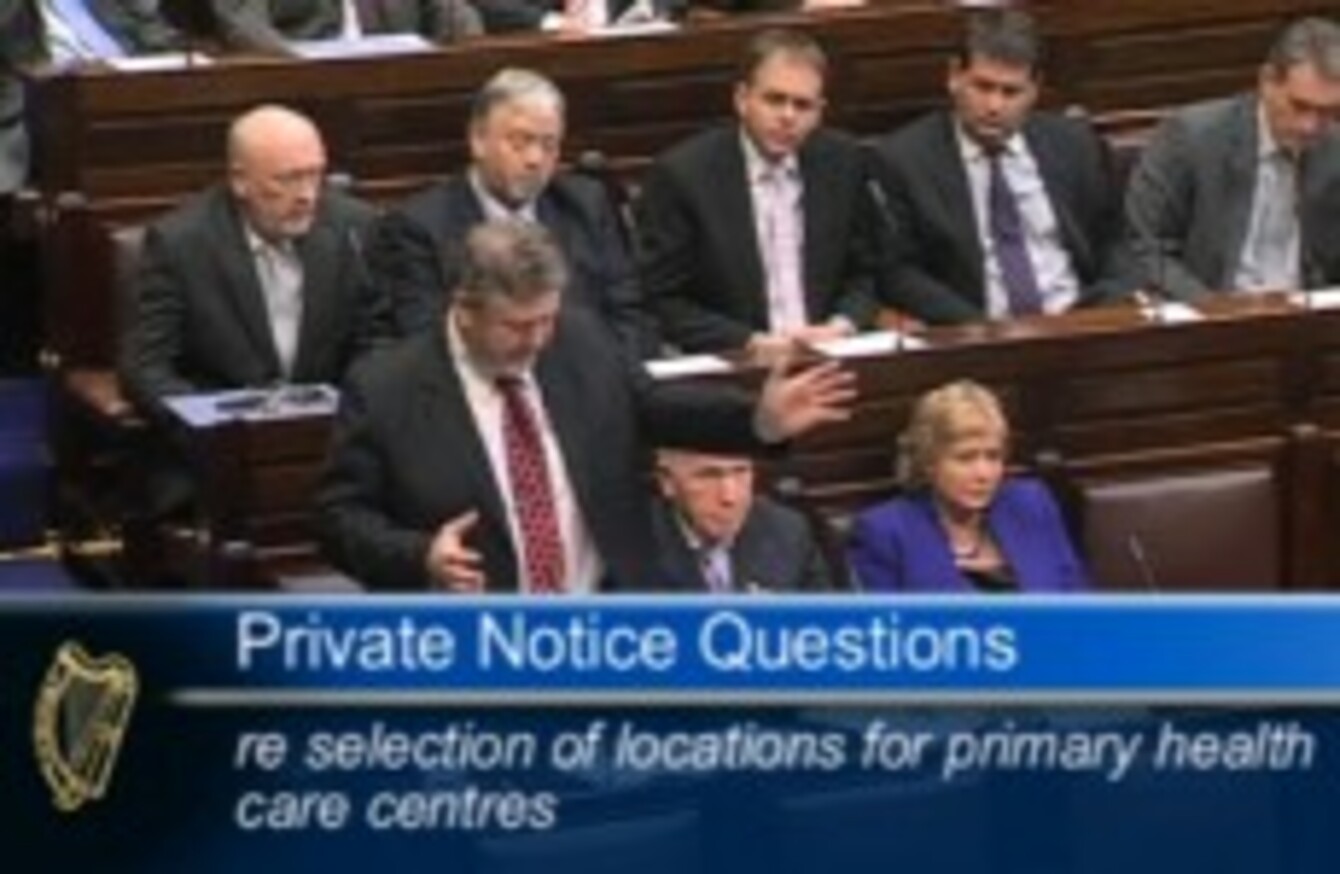 James Reilly speaking in the Dáil today.
James Reilly speaking in the Dáil today.
HEALTH MINISTER JAMES Reilly has reiterated that the selection of locations for proposed primary care centres was "appropriate" and strongly rejected criticism from the opposition in the Dáil today.
Reilly was speaking during a special private notice questions session in the Dáil this afternoon as the controversy over the addition of two sites in his constituency on a list of 35 locations for proposed primary care centres continues.
Reilly had earlier defended his link to a proposed site in Balbriggan in north Dublin which was owned by a long-term member of Fine Gael, Seamus Murphy, and told RTÉ the site had been chosen before he came to power.
However, speaking in the Dáil this afternoon Reilly admitted that this was not the case and in fact the Health Service Executive (HSE) identified this site last year, when he was Minister for Health, but he said this done by the HSE and the selection was approved by the board.
"This site is under the control of NAMA and therefore Mr Murphy doesn't gain, NAMA gains, if needed there is any gain," he said of the particular site which was chosen after a deal for another site in Balbriggan fell through in late 2010.
Reilly reiterated that there was a need for a primary care centre in Balbriggan due to its population growth and unemployment level.
He insisted that the HSE had identified the need for primary care centres in Balbriggan and Swords, another area in his constituency which was selected, as far back as 2007/2008.
'No connection'
He was repeatedly questioned about his relationship with the troubled developer, Seamus Murphy, and what consultations he had with senior Labour ministers about expanding the original list of 20 sites for primary health care centres to 35.
"I have no business connection to Mr Murphy," Reilly told the chamber saying that he had had no discussions with him about the site and adding: "I had absolutely no role over the selection of the site."
He said he consulted with several Labour ministers but did not specify who beyond the Minister for Public Expenditure and Reform, Brendan Howlin.
Questioning the minister Socialist Party TD Joe Higgins, Fianna Fáil's health spokesperson Billy Kelleher, and Sinn Féin's Caoimhghín Ó Caoláin repeatedly shouted across the chamber indicating their dissatisfaction with Reilly's answers.
"You made these decisions on your own bat, without any regard to criteria," Kelleher claimed saying that he could not understand how the Minister could have "so glibly passed this by".
Reilly insisted: "I had no hand act or part in this" and called on Kelleher to withdraw earlier claims that the Minister had conferred financial gain on individuals who he was involved with.
Ó Caoláin said "the whole thing suggests that it was a cobbled together exercise" and called on Reilly to outline his exact working relationship with the now departed Minister of State for Primary Care Róisín Shortall.
Reilly expressed frustration with the "awful lot of repetition" of questions saying: "Most all of them have been answered in my original statement last week and again here today."
He said that to suggest an inpropriety is "wrong" and "baseless".
"If I had it to do again, I would not turn my back on the people of Swords and Balbriggan whose needs were identified in 2008," Reilly added.