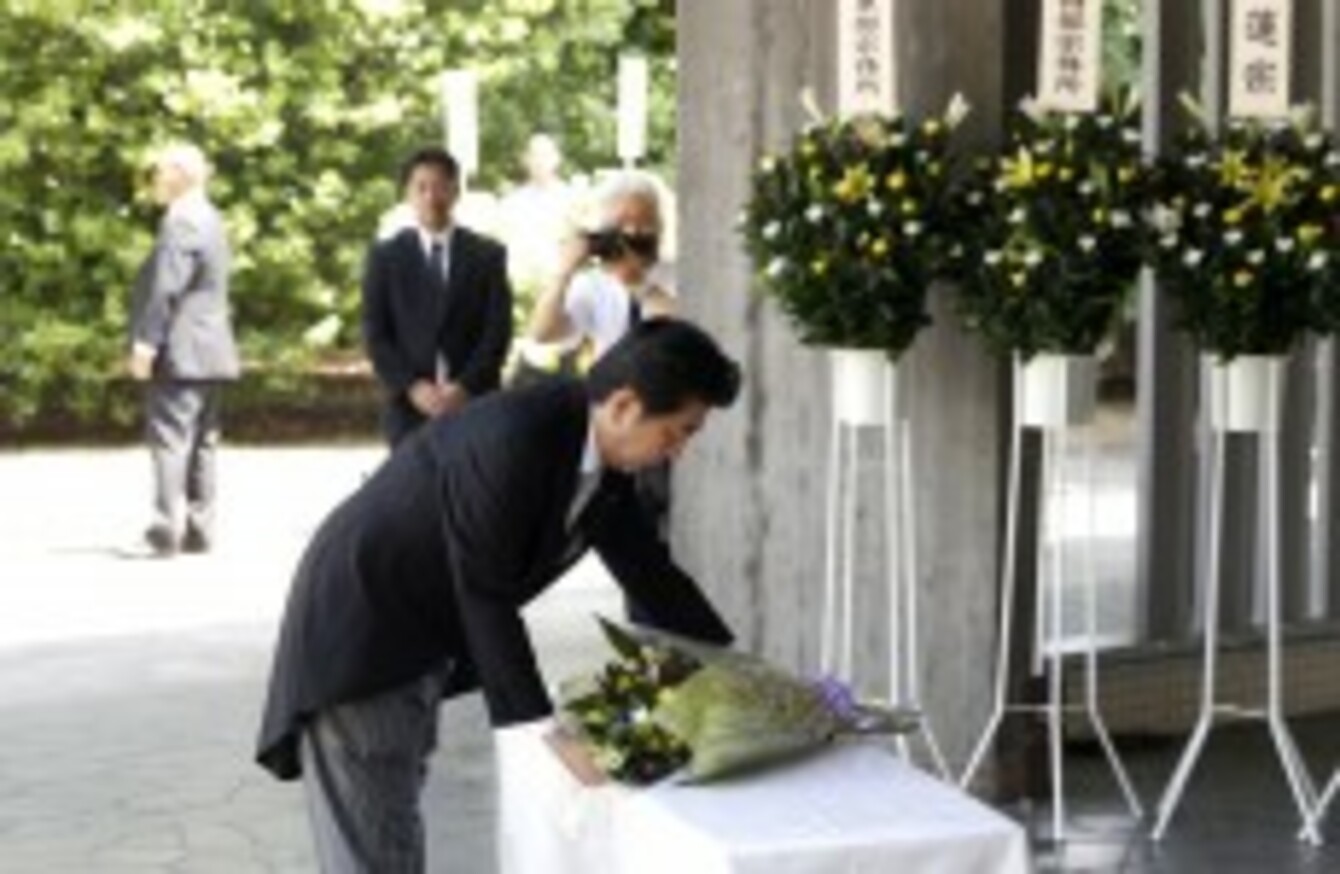 Japannese PM Shinzo Abe laying a bouquet of flowers for those that died during World War II
Image: AP Photo/Shuji Kajiyama
Japannese PM Shinzo Abe laying a bouquet of flowers for those that died during World War II
Image: AP Photo/Shuji Kajiyama
JAPAN MARKED THE 70th anniversary of the end of World War II Saturday under criticism from China and South Korea which said nationalist Prime Minister Shinzo Abe's war anniversary speech failed to properly apologise for Tokyo's past aggression.
South Korean President Park Geun-Hye said his speech "left much to be desired" and stressed the need for Japan to resolve the issue of Asian women forced to work as sex slaves in Japanese military brothels.
In a move likely to further strain relations, a trio of cabinet ministers visited the controversial Yasukuni shrine, which neighbouring countries see as a symbol of Tokyo's militarist past.
Memorial services on the day Japan surrendered to the Allies in 1945 come after Abe on Friday delivered a closely watched speech that expressed regret but also said future generations need not apologise for Japan's war record.
His remarks were welcomed by the US but blasted by China as a non-apology, while Pyongyang derided it as "an unpardonable mockery of the Korean people".
Nations welcoming the remarks
The Philippines, another wartime foe, however said it had rebuilt a "strong friendship" with Tokyo.
Likewise, Australia's Prime Minister Tony Abbott said Abe's remarks "should make it easier for other countries to accept Japan's commitment to a better future for all, and to strengthen their own friendships with Japan".
In a speech for Saturday's war commemorations, Emperor Akihito said he felt "profound remorse" over the conflict Tokyo fought in the name of his father Hirohito.
Some Japanese media said it was the first time the 81-year-old, a symbolic figurehead, had used those words at the annual memorial.
Earlier, Haruko Arimura, minister for women's empowerment, entered the gates of Yasukuni, which is dedicated to millions of Japanese who died in conflicts — but also includes more than a dozen war criminals' names on its honour list and a museum that paints Japan as a victim of US aggression.
It makes scant reference to the brutality of invading Imperial troops when they stormed through Asia — especially China and Korea — in the 20th century.
The speech
But on Friday, Abe — who has been criticised for playing down Japan's war record and trying to expand its present-day military — said future generations should not have to apologise.
"We must not let our children, grandchildren and even further generations to come, who have nothing to do with that war, be predestined to apologise," he said.
He also reiterated his desire to meet with Chinese President Xi Jinping, possibly early next month. His speech made specific reference to the suffering of Chinese people at hands of Japanese soldiers.
Analysts said Abe was appealing to allies and neighbours while sticking to his nationalist convictions.
The Global Times newspaper, closely tied to the Chinese Communist Party, said the contradictory nature of Abe's speech meant that "what is left may be basically nothing".
"The speech will not trigger a worsening of Sino-Japanese ties, nor will it help to significantly improve the relations," it said.