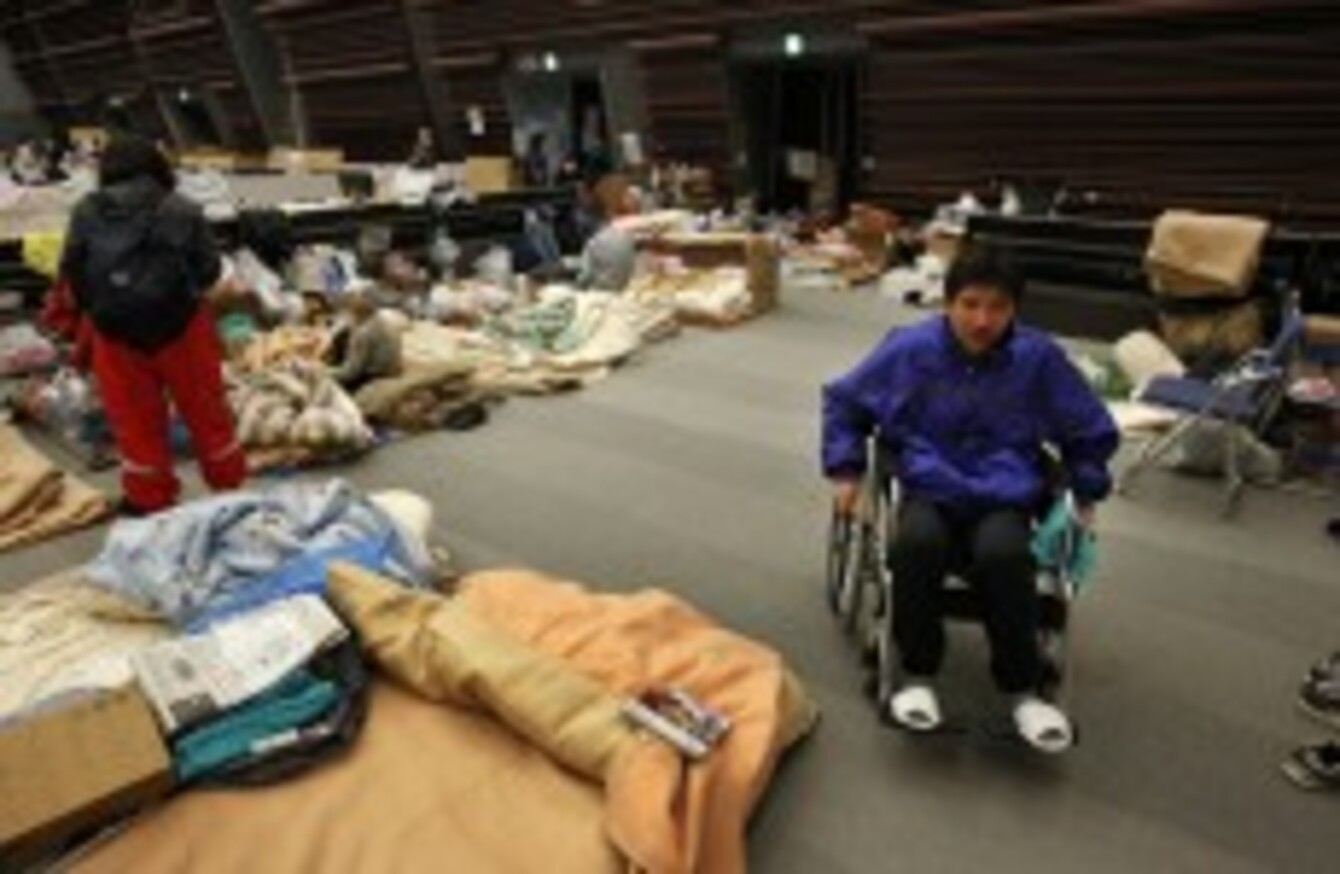 Eiji Kawabata, 33, said his legs were injured when he was washed away by the tsunami while driving his car
Image: Hiro Komae/AP/Press Association Images
Eiji Kawabata, 33, said his legs were injured when he was washed away by the tsunami while driving his car
Image: Hiro Komae/AP/Press Association Images
WHEN THE EARTHQUAKE hit Japan on 11 March 2011, it triggered a powerful tsunami that spread throughout the country's northeastern coast.
Knocking down buildings, slamming into homes, engulfing entire towns and cities, it wreaked absolute havoc.
But amongst the damage and destruction, there emerged incredible tales of survival and luck.
GQ tells the story of Hiromitsu Shinkawa, a 60-year-old man who was in his lumberyard when the earthquake hit.
When the tsunami quickly followed, he was swept away, and ended up clinging to the roof of a house adrift on the sea. He was found after three days, dehydrated but alive. His wife, who was in their house next to the lumberyard, has never been found. (Video via Dailynewsandnature)
The birth of a child led to his parents surviving the disaster. Reuters reported earlier this month on Kenji and Hiromi Sato, whose third child Haruse was born on 11 March 2011.
The parents were at the hospital in a port city near their hometown of Minamisanriku when the tsunami struck. The coastal city of Minamisanriku was devastated by the tsunami, with nearly all of the residents swept away. The Sato family – including grandmother Kazuko – survived because of Haruse's premature birth.
Nine days after the earthquake struck, an 80-year-old woman and her 16-year-old grandson were rescued in Noda. They had spent the days living off food from their fridge. (Via Al Jazeera)
When one of the most incredible videos of the tsunami emerged, it was assumed that the person filming it could not have survived. But he did, and told his story to ITN.
He was driving when the tsunami hit the road ahead, and an onboard video camera filmed the impact and its aftermath as the driver sat inside waiting to see what would happen. He explains what occurred next in the video below. (Via ITN News on Youtube)
It wasn't just humans who had lucky rescues – one dog was reunited with its owner more than three weeks after the tsunami. The dog was rescued off the coast of Kesennuma, and was so excited to be reunited with his owner he tried to help her drive the car home.
The dog was rescued from a roof after being spotted drifting in the sea. (Via RT on Youtube)
#Open journalism No news is bad news Support The Journal

Your contributions will help us continue to deliver the stories that are important to you

Support us now
These dogs weren't lucky enough to find their owners straight away- but at least they had each other.
The world was gripped by the tale of two dogs found amongst debris, with the healthier dog appearing to be looking after an injured dog. The animals were taken in by an animal charity. (Via LNeilB2)
A Japanese TV crew become rescuers when they spot a woman, man, and father with two children in need of help. They form a human chain and help rescue all five of them. (Via AmazingSoinam)