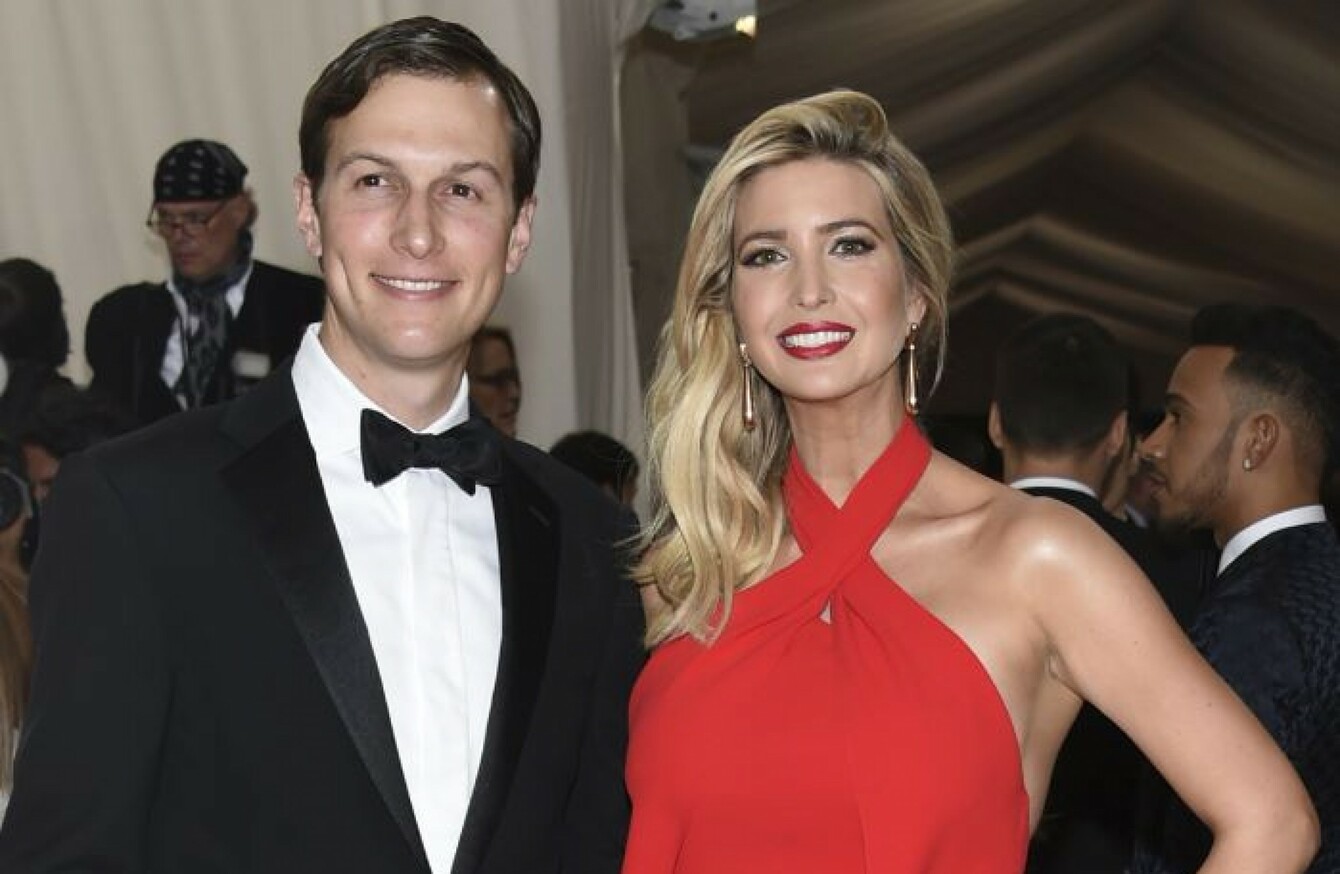 Jared Kushner and his wife, Ivanka Trump
Image: Evan Agostini AP/Press Association Images
Jared Kushner and his wife, Ivanka Trump
Image: Evan Agostini AP/Press Association Images
Updated 11pm
DONALD TRUMP HAS named his son-in-law Jared Kushner as a senior adviser to the president.
Kushner will join Trump in the White House, putting the young real estate executive in position to exert broad sway over both domestic and foreign policy.
Kushner, who is married to Trump's daughter Ivanka, must clear a series of hurdles before he takes any post in Washington.
He will need to argue that a federal anti-nepotism law barring officials from appointing relatives to government positions does not apply to him. He'll also need to eliminate potential conflicts of interest between his family's multi-billion dollar real estate empire and his government duties.
Kushner also owns Observer Media, which publishes the New York Observer.
Trump has come to rely heavily on Kushner, since the election he has been one of the transition team's main liaisons to foreign governments, communicating with Israeli officials and meeting last week with Britain's foreign minister.
He's also huddled with congressional leaders and helped interview Cabinet candidates.
Kushner's eligibility could be challenged but his lawyer Jamie Gorelick has argued that a 1967 law meant to bar government officials from hiring relatives does not apply to the West Wing.
She cited a later congressional measure to allow the president "unfettered" and "sweeping" authority in hiring staff.
Potential conflict of interests
Kushner, who will not be taking a salary, will resign as CEO of his family's real estate company and as publisher of the New York Observer, as well as divest "substantial assets", Gorelick said.
She said Kushner will recuse himself "from particular matters that would have a direct and predictable effect on his remaining financial interests".
Ivanka Trump, who also played a significant role advising her father during the presidential campaign, will not be taking a formal White House position, transition officials said.
She is the mother of three young children, and her immediate plans are focusing on her family's move from New York to Washington, though officials said her role could change in the future.
Officials also said Ivanka Trump would be leaving her executive roles at the Trump Organisation — her father's real estate company — and her own fashion brands.
The anti-nepotism law has appeared to be the main obstacle to both Kushner and Ivanka Trump joining the White House.
In arguing that the measure did not apply to the West Wing, Kushner's lawyer cited an opinion from two federal court judges in a 1993 case involving Hillary Clinton's work on her husband's healthcare law.
With reporting by © – AFP 2017