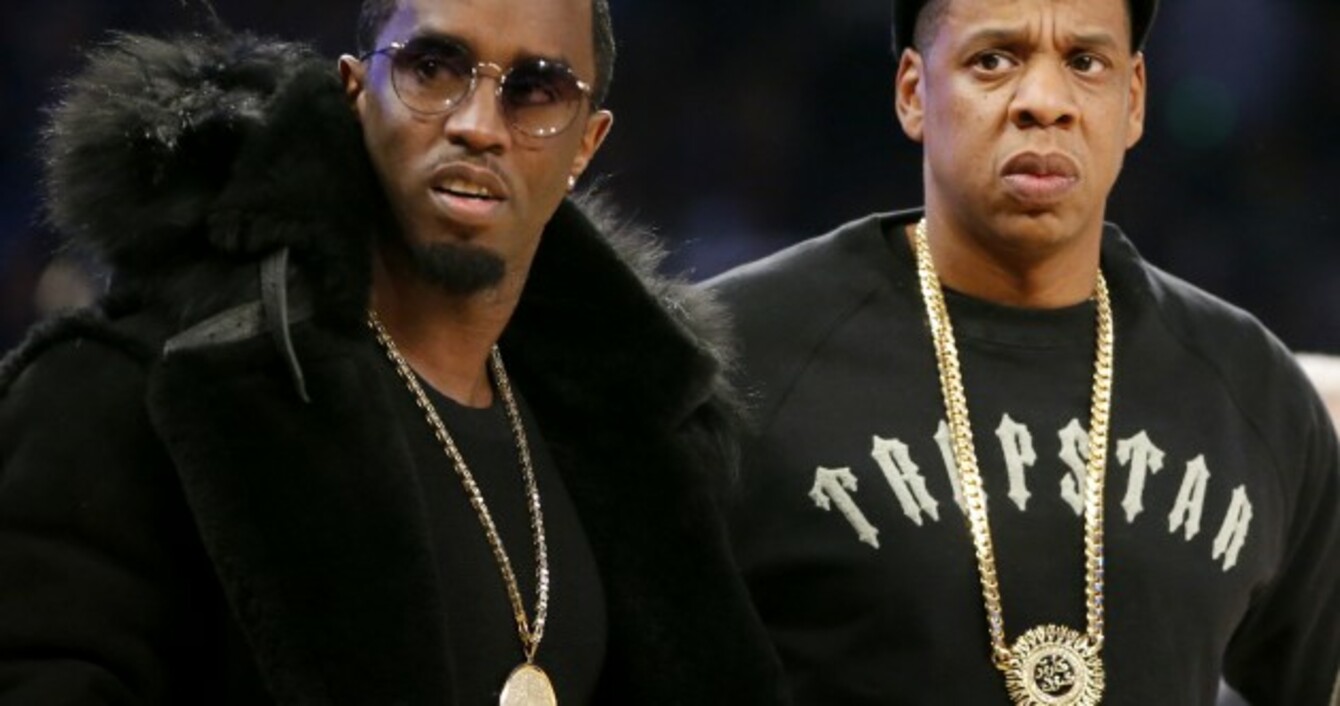 Jay Z and fellow music mogul Sean "Puffy" Combs
Image: AP Photo/Kathy Willens
Jay Z and fellow music mogul Sean "Puffy" Combs
Image: AP Photo/Kathy Willens
MUSIC MOGUL JAY Z has delivered a slap-down to music streaming rivals at an exclusive concert for subscribers of his embattled Tidal service.
Everyone from YouTube to Spotify and Apple came in for a verbal tirade from the microphone-wielding rapper at a show broadcast live for supporters.
In the performance, ironically uploaded to YouTube not long after the event, Jay Z also likened streaming sites to slavery and invoked the fight for equality:
You know n*****s die for equal pay right? You know when I work I ain't your slave right?," he rapped.
"You know I ain't shucking and jiving and high-fiving, and you know this ain't back in the days right?"
No Tidal wave
Tidal, which is co-owned by Jay Z, his wife Beyonce, Daft Punk, Alicia Keys and Madonna, with the support of other high-profile artists, has done little to dethrone the dominant players like Spotify or Youtube's since its launch in late March.
While it promises premium-quality audio and subscriber-only content, it comes with a high pricetag attached – up to €19.99 per month. That compares to Spotify's "freemium" model for which only about one-in-four of its 60 million global users pays anything.
In return for the extra cash, Tidal has been promising more money for artists – but that hasn't stopped performers like Mumford & Sons and Lily Allen branding it too pricey and elitist.
#Open journalism No news is bad news Support The Journal

Your contributions will help us continue to deliver the stories that are important to you

Support us now
In response, Jay Z has previously tweeted critics under the hashtag #TidalFacts.
Here's some more of what Jay Z's lyrics had in store for his rivals:
I take what's mine, you accept what they they give you, I get you;
I don't take no checks, I take my respect;
Pharrell even told me go with the safest bet;
Jimmy Iovine on for the safety net;
Google dig around a crazy check;
I feel like YouTube is the biggest culprit;
Them n*****s pay you a tenth of what you supposed to get;
You know n*****s die for equal pay right;
You know when I work I ain't your slave right?
You know I ain't shucking and jiving and high-fiving, and you know this ain't back in the days right?
Well I can't tell, how the way they killed Freddie Gray right?
Shot down Mike Brown, how they did Tray right?
Let them continue choking n*****s;
We gon' turn style, I ain't your token n*****."
And you can watch the performance here:
Source: MyHoodBK/YouTube