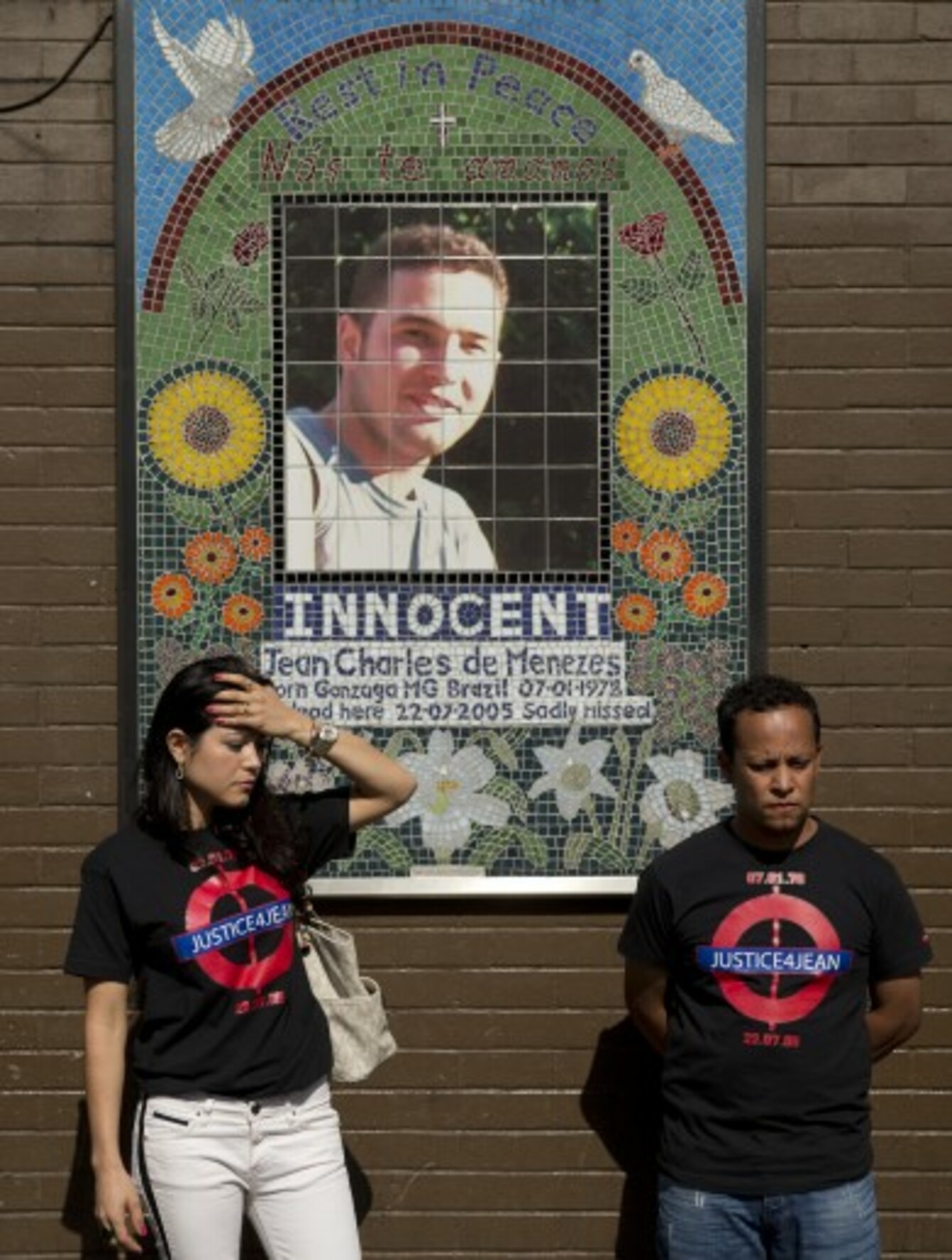 Cousins Alessandro Pereira and Vivian Figueiredo stand by his memorial on the 10-year-anniversary of the death last year.
Image: AP/Press Association Images
Cousins Alessandro Pereira and Vivian Figueiredo stand by his memorial on the 10-year-anniversary of the death last year.
Image: AP/Press Association Images
Updated 3.22 pm
THE EUROPEAN COURT of Human Rights has backed a decision by British authorities not to prosecute anyone after the shooting dead of a man wrongfully thought to be a terror suspect.
Jean Charles de Menezes was shot in the head seven times when he got on the London underground to make his way to work in 2005.
In 2006 the Crown Prosecution Service (CPS) – the English equivalent of the Director of Public Prosecutions – ruled against charging any of the officers involved in the killing.
The family of the 27-year-old Brazillian appealed that decision to the ECHR but the court has not found in their favour.
Instead, the court found by 13 votes to four that a thorough investigation was carried out into the case and that insufficient evidence was uncovered to prosecute any individual officer.
De Menezes was shot dead on 22 July 2005, two weeks after the 7 July suicide attacks that killed 56 people.
On 21 July, police found four unexploded bombs on three tube trains and a London bus.
Two suspects in those failed attacks lived in the same house as de Menezes and as he left for work on the morning of 22 July, he was followed by surveillance officers, who thought he might be one of the suspects.
Special Firearms Officers (SFOs) were dispatched to the scene with orders to stop him boarding any underground trains.
However, by the time they arrived, he had already entered Stockwell tube station. There he was followed onto a train and shot repeatedly in the head.
It was later confirmed that de Menezes had not been involved in the failed 21 July attacks and Met Police publicly accepted that he had been killed in error.
A 2006 report by the Independent Police Complaints Commission found that de Menezes had been killed because of mistakes that could and should have been avoided.
It also recommended a number of possible offences that might have been committed by the police officers involved, including murder and gross negligence.
Despite this, the CPS decided not to press criminal charges against any individual as it concluded that there was no realistic prospect of a conviction being upheld.
In particular, the CPS found that it would be difficult to prove that the SFOs who shot de Menezes had not genuinely believed that they were facing a lethal threat.
The complaint taken by de Menezes' cousin, Patricia Armani Da Silva, to the European Court of Human Rights argued, among other things, that the evidential test used by the prosecutors was too high.
Specifically, that it is was too high a threshold to decide that a conviction was "more likely than not".
Da Silva also took issue with the UK's definition of self-defence. The officers who shot de Menezes only had to show that they had an honest belief, as opposed to an honest and reasonable belief, that the use of force had been absolutely necessary.
The ECHR, however, found that the standard used for self-defence was "no significantly different". The court accepted that independent authorities had concluded that the officers could reasonably have believed that de Menezes was a suicide bomber who could have detonated a bomb at any second.
On the issue of the evidential test, the ECHR found that the UK courts were within their rights to decide on what burden of proof was required before prosecution.
De Menezes' family brought a civil action which resulted in a confidential damages settlement in 2009.