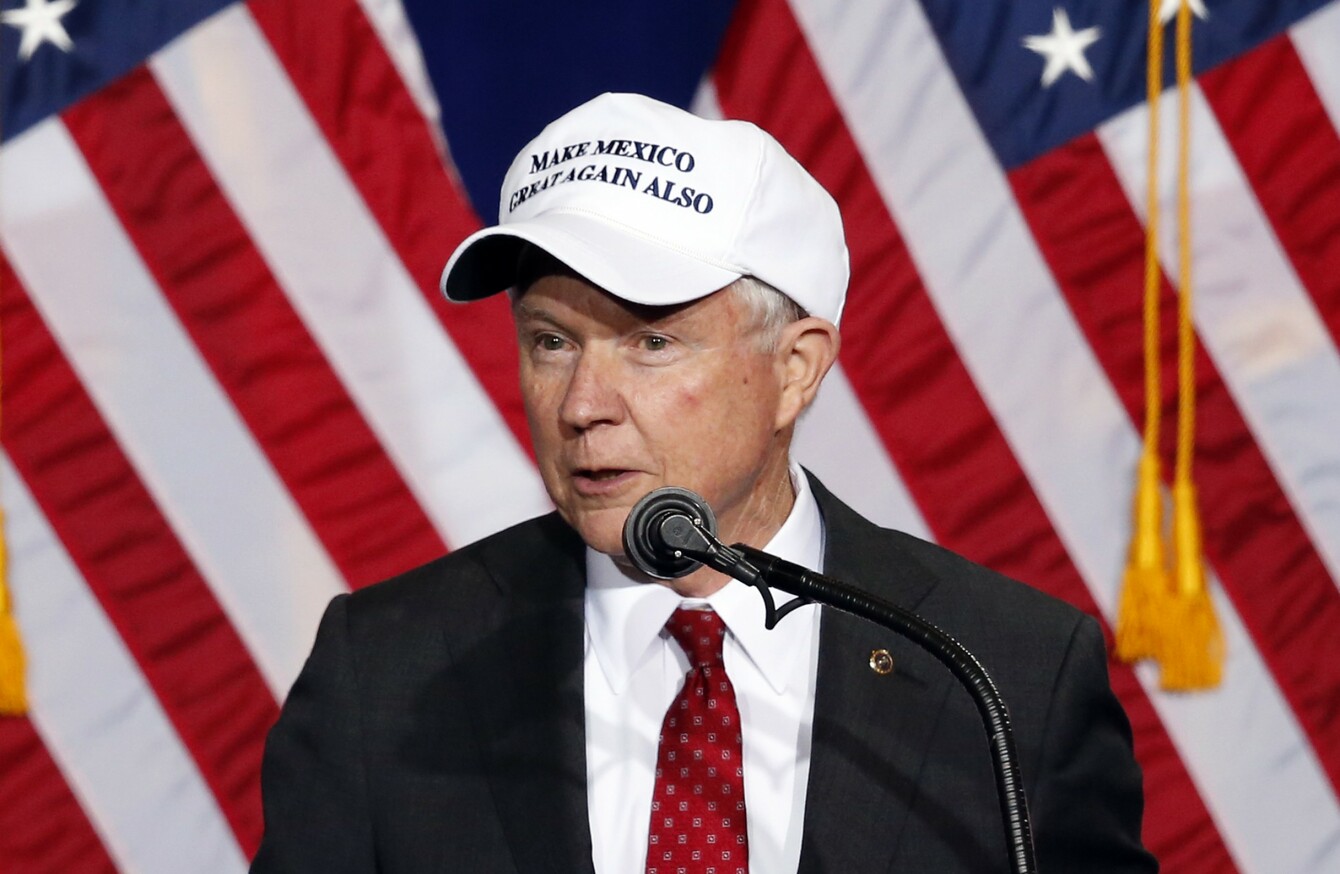 Sessions wears a "Make Mexico Great Again Also" hat at a Republican rally.
Image: Ross D. Franklin
Sessions wears a "Make Mexico Great Again Also" hat at a Republican rally.
Image: Ross D. Franklin
ALABAMA SENATOR JEFF Sessions, who once missed out on a federal judge's position after allegations that he was racist, is set to be Donald Trump's attorney general according to reports from the US.
Sessions was the first senator to back Trump during the campaign and is an architect of Trump's immigration, counter terrorism and trade policies.
However, the last time he had to face a Senate confirmation hearing 30 years ago, he was not confirmed and withdrew from consideration.
Nominated for a federal judgeship in 1986, Sessions was dogged by racist comments he was accused of making while serving as US attorney in Alabama. He was said to have called a black assistant US attorney "boy" and the NAACP "un-American" and "communist-inspired."
"Jeff Sessions is a throwback to a shameful era, which I know both black and white Americans thought was in our past," the late Massachusetts Democrat, Senator Edward Kennedy said during the 1986 confirmation hearing.
During the hearing, a former assistant US attorney, Thomas Figures, who is black, said Sessions referred to him as "boy," and told him to be careful what he said to "white folks." Sessions said he never called Figures "boy," but Kennedy produced a letter from an organisation of black lawyers that said Figures made the allegation about Sessions to the organisation's investigators at least twice.
Sessions was also criticised for joking in the presence of an attorney with the Justice Department's Civil Rights Division that the Ku Klux Klan was "OK" until he learned they smoked marijuana. During his confirmation hearing, he said his comment about the Klan "was a silly comment, I guess you might say, that I made."
Sessions told the committee he made the joke while his office was investigating the 1981 murder of Michael Donald, a black man who was kidnapped, beaten and killed by two Klansmen who slit his throat and then hanged his body in a tree in Mobile, Alabama. The two men were later arrested and convicted.
Sessions said he never meant the joke to suggest he supported the Klan. He said the joke was intended to convey that he thought it was "bizarre" that Klansmen had smoked marijuana after one of their meetings.
Sessions would face confirmation as a member of the chamber. Senators often are deferential to current and former members who are nominated for Cabinet posts. The last time the Senate rejected one of its own was in 1989 when then-Sen. John G Tower, a Texas Republican, could not get confirmed as President George HW Bush's defense secretary amid reports of heavy drinking and womanising.
Elsewhere, Trump has tapped Mike Pompeo to be head of the CIA and former military intelligence chief Michael Flynn as national security adviser.