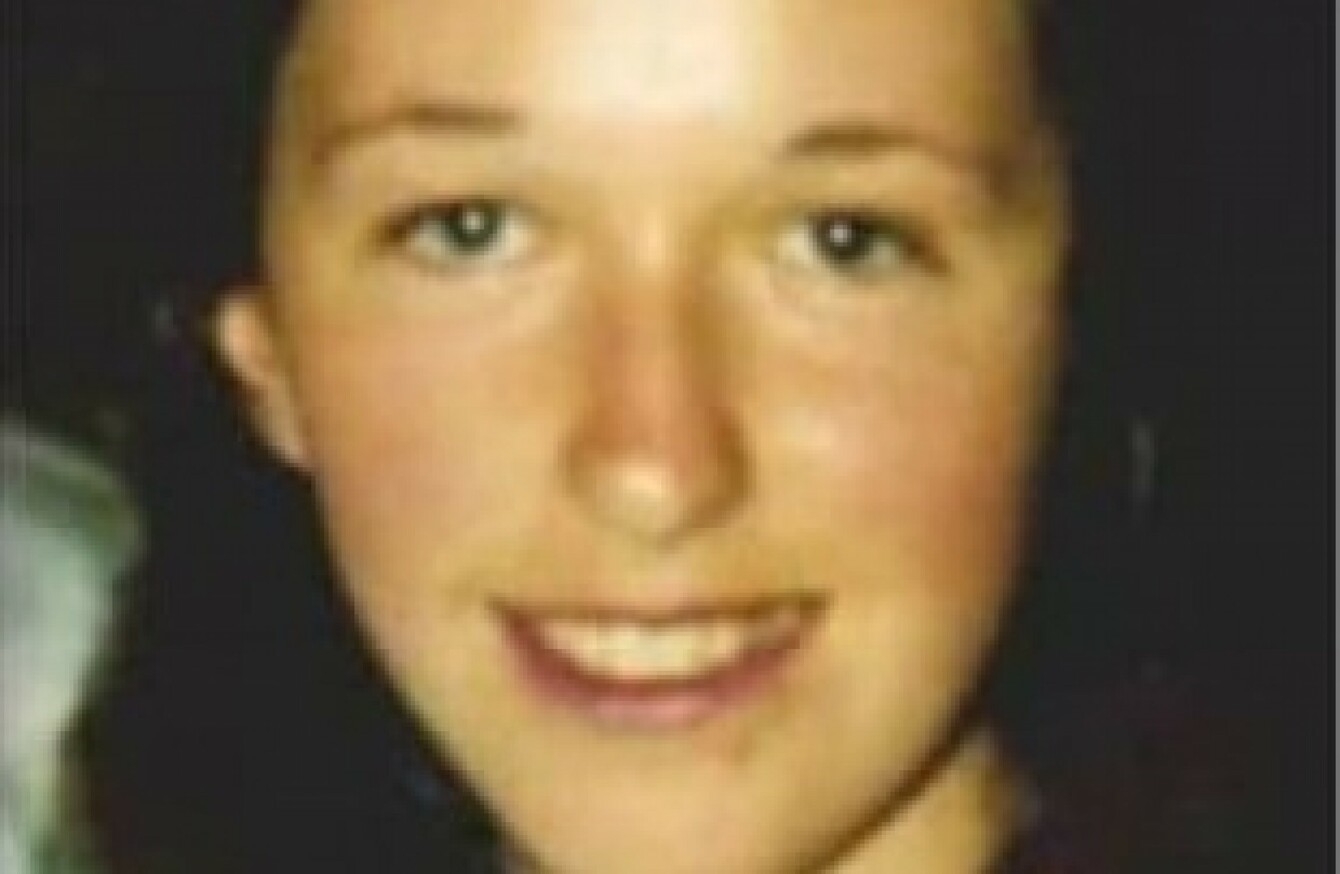 Jo Jo Dullard
Image: Kathleen Bergin
Jo Jo Dullard
Image: Kathleen Bergin
Updated Oct 19th 2020, 1:46 PM
GARDAÍ INVESTIGATING THE murder of Josephine 'Jo Jo' Dullard have said that "a small nugget" could open up the 25-year mystery surrounding her disappearance. 
Investigating officers were speaking today after they confirmed that the case is now being treated as a murder investigation. 
The move to treat her disappearance as a murder case comes following the involvement of the Serious Crime Review Team from February of this year, and a subsequent victimology process that ruled out other reasons for her disappearance.
The 21-year-old missed a direct bus home from Dublin to Callan in Kilkenny in November 1995. She managed to thumb lifts before being dropped in Moone in Co Kildare.
She was last seen making a phone call from a phone box in Moone. She told a friend on the phone that a car had pulled up, but was never heard from again.
Speaking today, Superintendent Martin Walker said a murder investigation was now appropriate:  
The Serious Case Review Team under the direction of Detective Superintendent Des McTiernan commenced an ongoing review of the case to date. We are satisfied as a result of our inquiries and those of the Serious Crime Review Team that Josephine Dullard came to harm on the night in question in Moone and we are reclassifying this investigation to that of murder. 
"If I could say one thing about this. This is about Jo Jo, this is about finding Jo Jo and is about getting justice for Jo Jo and her family," Walker added. 
And I would appeal to anybody and everybody out there who has any information, let us decide whether that information is important. Any information whatsoever about anything, please contact either ourselves at the serious crime review team on 01 666 3444 or the Garda Confidential line.
"I know it's 25 years that have elapsed but it's very important that they come forward. Examine their conscience and come forward and let us know what they have in relation to this investigation.
People may have something on their mind, some nugget of information that is very, very relevant today. 25 years have elapsed and they have this on their mind, they have it on their conscience, times have changed, associations, friendships have broken down, and they should feel free to approach us and be dealt with confidentially in bringing this matter to a conclusion.
Walker added that Sanyo cassette player that Jo Jo usually carried could be key to the case.
"She was in possession of that on the night in question and somebody may have seen this, it may have been taken and given to somebody as a present, it may have been found at a location near the phone box," he said. 
'No longer alive' 
Jo Jo's sister Kathleen Bergin said today that the family have 'known in our heart' that Jo Jo is no longer alive.
"We agree with the decision that has been made here to upgrade Jo Jo's appeals to a murder investigation," she said.
After all these years we have known in our hearts and have accepted that Jo Jo is not alive and we are hopeful that the team will be able to move this case along further and maybe please God find answers to our questions.
An update on the investigation will appear on Crimecall on RTÉ One at 9.35pm today.
#Open journalism No news is bad news Support The Journal

Your contributions will help us continue to deliver the stories that are important to you

Support us now
Source: RTÉ - IRELAND'S NATIONAL PUBLIC SERVICE MEDIA/YouTube
Appeal for information 
Detective Superintendent Des McTiernan of the Serious Case Review Team today said that anybody at all, even those who have previously given statements, will not be treated with suspicion if they come forward. 
"Anybody that has any information, or who gave information in the past, that maybe were afraid to give more or should give more detailed information. That door is now open to them. And I would appeal to them, encourage them to come forward," he said. 
McTiernan said there was no specific detail that meant the case was upgraded to a murder investigation but that it was due to the elimination of other potential causes for her disappearance. 
The victimology process involves looking at Jo Jo's life and determining that, for instance, Jo Jo didn't die as a result of suicide, we have to look at that option of that scenario. And it's about shutting down and closing off all other reasonable options that might explain her current demise.
"Jo Jo had plans for the future, she was starting a new job in Tallaght the following week. She was excited about life, she enjoyed it. She had plans and unfortunately those plans didn't work out," he added.
With reporting by Órla Ryan