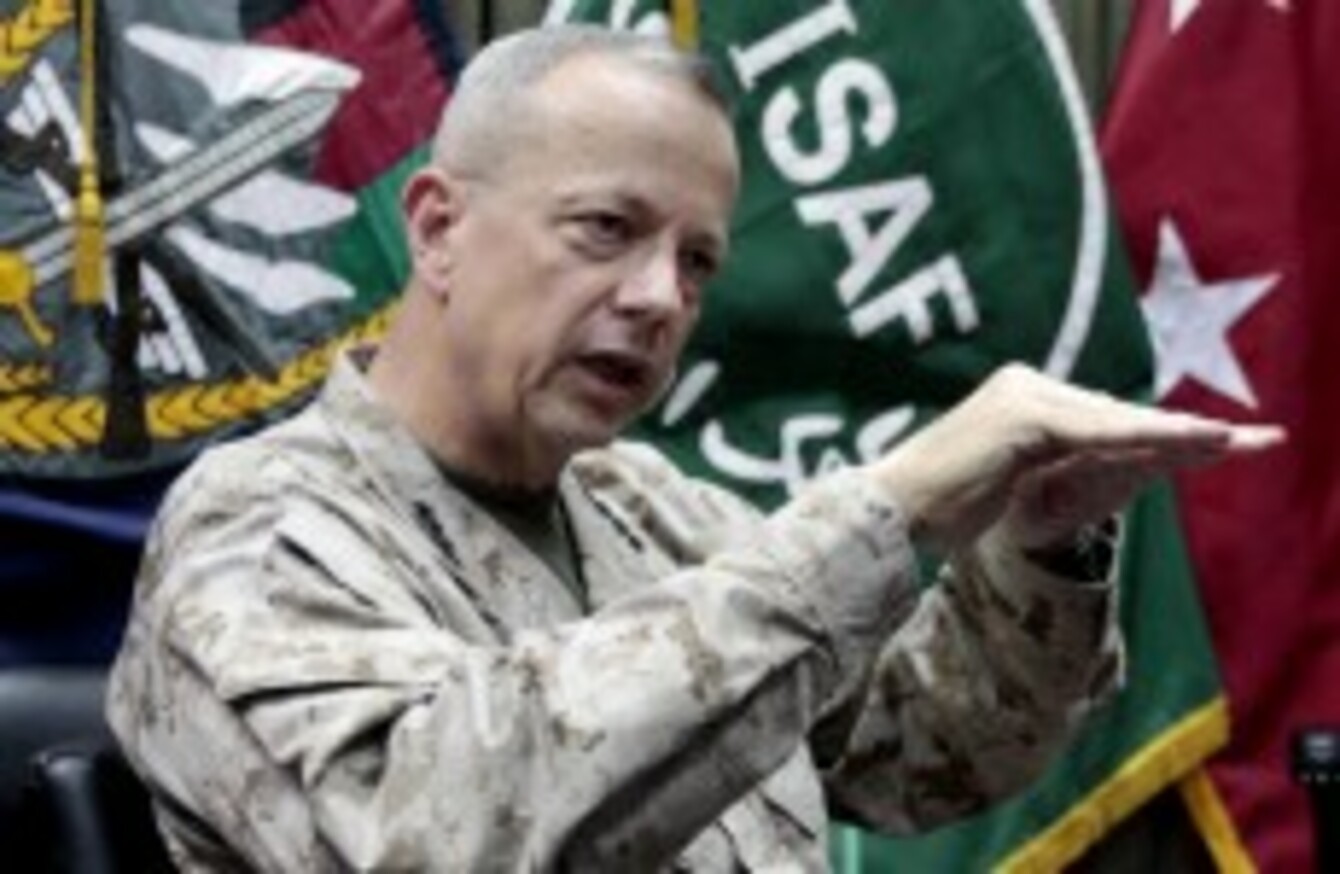 General John Allen is the top commander of the NATO-led mission in Afghanistan.
Image: Musadeq Sadeq/AP/Press Association Images
General John Allen is the top commander of the NATO-led mission in Afghanistan.
Image: Musadeq Sadeq/AP/Press Association Images
IN A NEW twist to the General David Petraeus sex scandal, the Pentagon said today that the top American commander in Afghanistan, General John Allen, is now under investigation.
He is being probed for alleged "inappropriate communications" with a woman who is said to have received threatening emails from Paula Broadwell, the woman with whom Petraeus had an extramarital affair.
Defense Secretary Leon Panetta said in a written statement issued to reporters aboard his aircraft, en route from Honolulu to Perth, Australia, that the FBI referred the matter to the Pentagon on Sunday.
Panetta said that he ordered a Pentagon investigation of Allen yesterday.
A senior defence official travelling with Panetta said Allen's communications were with Jill Kelley, who has been described as an unpaid social liaison at MacDill Air Force Base, Fla., which is headquarters to the US Central Command. She is not a US government employee.
Kelley is said to have received threatening emails from Broadwell, who is Petraeus' biographer and who had an extramarital affair with Petraeus that reportedly began after he became CIA director in September 2011.
Petraeus resigned as CIA director on Friday.
Allen, a four-star Marine general, succeeded Petraeus as the top American commander in Afghanistan in July 2011.
The senior official, who discussed the matter only on condition of anonymity because it is under investigation, said Panetta believed it was prudent to launch a Pentagon investigation, although the official would not explain the nature of Allen's problematic communications.
The official said 20,000 to 30,000 pages of emails and other documents from Allen's communications with Kelley between 2010 and 2012 are under review.
Jill Kelley leaves her home in Florida yesterday (Pic: Chris O'Meara/AP/Press Association Images)
'Allen disputes wrongdoing'
He would not say whether they involved sexual matters or whether they are thought to include unauthorized disclosures of classified information. He said he did not know whether Petraeus is mentioned in the emails.
"Gen. Allen disputes that he has engaged in any wrongdoing in this matter," the official said. He said Allen currently is in Washington.
Panetta said that while the matter is being investigated by the Defense Department Inspector General, Allen will remain in his post as commander of the International Security Assistance Force, based in Kabul. He praised Allen as having been instrumental in making progress in the war.
#Open journalism No news is bad news Support The Journal

Your contributions will help us continue to deliver the stories that are important to you

Support us now
The FBI's decision to refer the Allen matter to the Pentagon rather than keep it itself, combined with Panetta's decision to allow Allen to continue as Afghanistan commander without a suspension, suggested strongly that officials viewed whatever happened as a possible infraction of military rules rather than a violation of federal criminal law.
Allen was Deputy Commander of Central Command, based in Tampa, prior to taking over in Afghanistan. He also is a veteran of the Iraq war.
In the meantime, Panetta said, Allen's nomination to be the next commander of U.S. European Command and the commander of NATO forces in Europe has been put on hold "until the relevant facts are determined."
He had been expected to take that new post in early 2013, if confirmed by the Senate, as had been widely expected.
Panetta said President Barack Obama was consulted and agreed that Allen's nomination should be put on hold. Allen was to testify at his confirmation hearing before the Senate Armed Services Committee on Thursday. Panetta said he asked committee leaders to delay that hearing.
Panetta also said he wants the Senate Armed Services Committee to act promptly on Obama's nomination of General Joseph Dunford to succeed Allen as commander in Afghanistan.
That nomination was made several weeks ago. Dunford's hearing is also scheduled for Thursday.