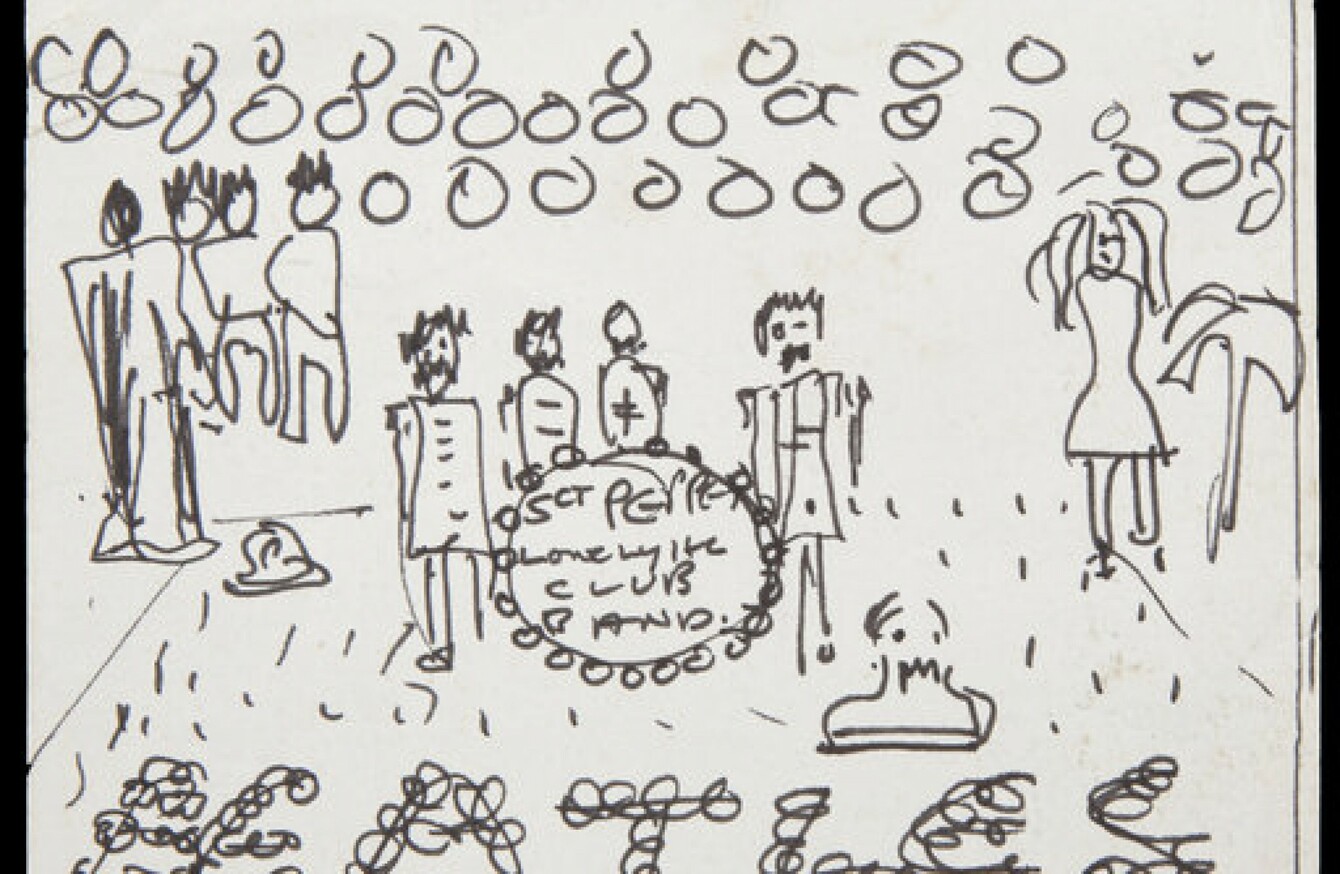 Image: Julien's Auctions via AP
Image: Julien's Auctions via AP
AN OLD SKETCH up for auction 20 May at the Hard Rock Cafe in Manhattan is a crude, ink-on-paper drawing of the iconic Sgt Pepper's Lonely Hearts Club album cover.
The artist is almost surely John Lennon. The significance is another story.
Julien's Auctions told The Associated Press that the sketch was discovered by a former resident of the house in Weybridge, England, where Lennon lived from 1964-68, when he was married to his first wife, Cynthia.
The artwork is clearly an outline for the Pepper cover, showing the Beatles gathered in the centre, the group's name spelled out in front of them and circles in the back that would be filled in by such famous faces as Bob Dylan's, Fred Astaire's and Oscar Wilde's.
The drawing is undated, and it could be a draft of the finished cover or an idle doodle from later on. Julien's estimates its worth as $40,000-$60,000.
"What we have here is nothing less than one of the most important artifacts in connection with the early development of what is considered by many to be the most important pop and rock album of all time," Perry Cox, author of Official Price Guide to the Beatles and other books, said in a recent email.
Sgt Pepper was released in June 1967, nearly 50 years ago, and there is no definitive account of the cover's creation. But until now, no one has suggested that Lennon was involved in the planning stages.
Jann Haworth, who with fellow pop artist and then-husband Peter Blake won a Grammy in 1968 for best album cover for Sgt Pepper, told the AP that "John was wholly absent from discussions about what the cover was to be".
The Sgt Pepper album was the most anticipated musical release of its time, and the cover was meant as a testament to the psychedelic wonders contained within.
Paul McCartney had all along taken the lead in wanting a "concept" album and told biographer Barry Miles that he submitted ink drawings that Blake and Haworth turned into the finished design.
Blake and Haworth have different memories. Blake has said he recalled a "vague" conversation with McCartney, while Haworth said a "funny little sketch" by Blake was the earliest "representation of the cover" and followed a discussion among herself, her husband, McCartney and art dealer Robert Fraser.
"Paul has a completely different tale to tell," Haworth added. "I would suggest his memory has morphed over time. The question is then have I (changed)? All I can say is I have a very strong memory and my 'story' has been consistent year upon year."
#Open journalism No news is bad news Support The Journal

Your contributions will help us continue to deliver the stories that are important to you

Support us now
The existence of the sketch isn't entirely surprising. Lennon, a former art student, was a compulsive drawer whose illustrations turned up in his books, solo album jackets, letters and postcards.
Biographer Philip Norman, who has written books on Lennon, McCartney and the Beatles, says Lennon may well have made a doodle of the Sgt Pepper cover after having seen the design and, characteristically, never showed it.
"If you know anything about John, it's that he didn't rate his own drawings or sketches very highly," Norman says. "He was always amazed when people liked his art and wanted to put in a book. He felt the same way about his music. He was never satisfied with what he had done."
The Beatles did make a notable and agreed-upon contribution to the cover: suggesting the celebrities and historical figures that would be pictured. Even here, their freedom was not unlimited.
Mahatma Gandhi was rejected over concerns some in India would object and "Bowery Boys" actor Leo Gorcey was cut because his agent insisted on a fee. Lennon, whose humour was ever the band's darkest, asked for Hitler.
"We edited that out," Haworth said.