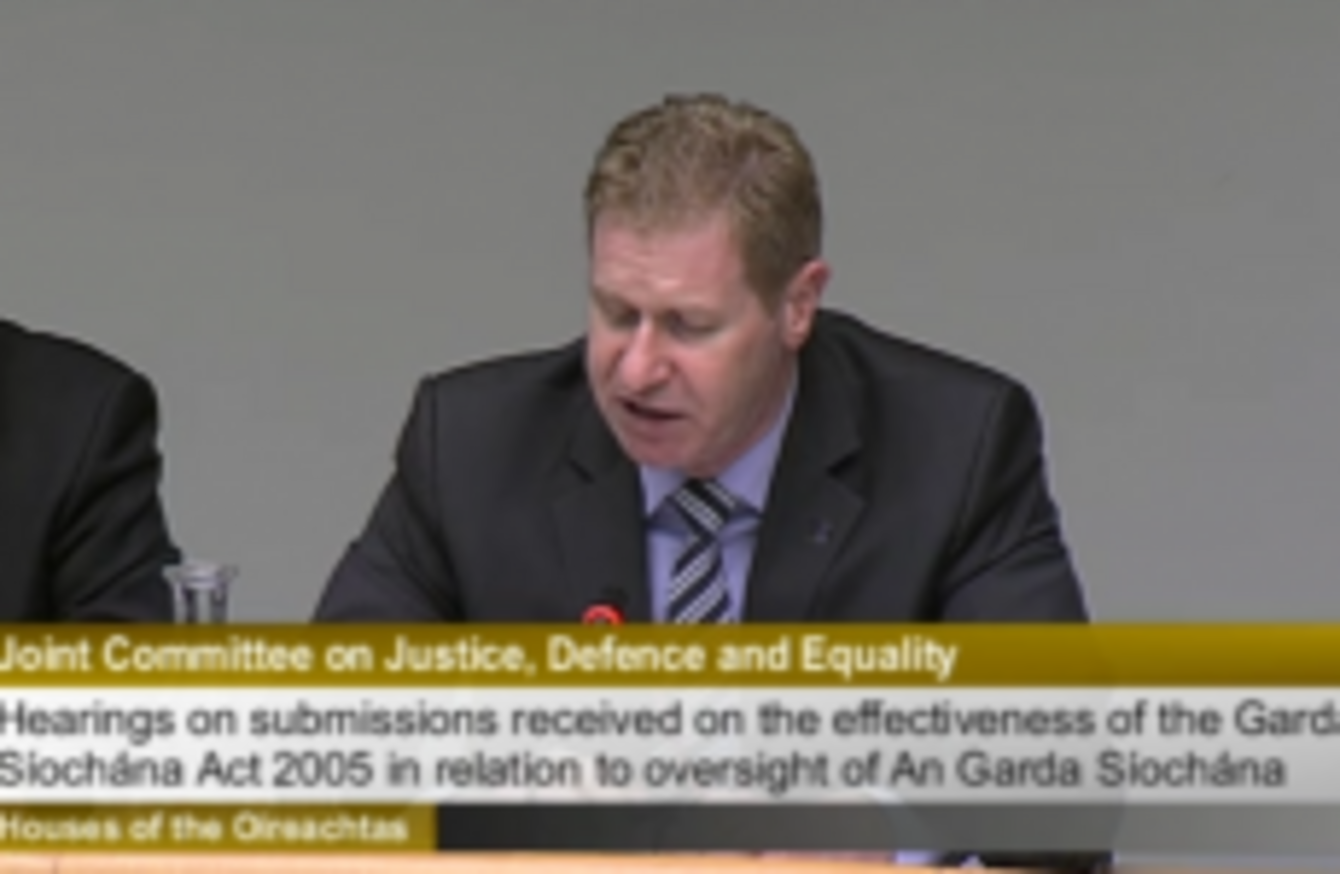 John Redmond
Image: Screengrab/Oireachtas TV
John Redmond
Image: Screengrab/Oireachtas TV
MEMBERS OF AN Garda Síochána are sometimes told to "suck it up" and apologise even when they are not in the wrong, the Oireachtas Justice Committee has heard.
John Redmond, head of the Association of Garda Sergeants and Inspectors (AGSI), said the Garda Síochána Ombudsman feels obliged to inform gardaí when a complaint has been made against them.
He said this is particularly frustrating in terms of "inadmissable" complaints as no information, other that the fact a complaint has been made, can be given.
In this instance, he believes the garda in question should not be informed at all.
I don't need to know. It's going to upset me. It's going to annoy me.
He said that in relation to minor complaints a situation may arise where a member of the force has to apologise even if they were not at fault, saying GSOC would tell them:
Accept this, it's no biggie – the complainant is happy and you just have to suck it up.
Redmond said he "at all times accepted the need for an oversight body" and has co-operated with GSOC since its establishment.
Reform
When Senator Katherine Zappone asked if the Garda Confidential Recipient role should fall under the remit of GSOC, as suggested by the Ombudsman's chair Simon O'Brien earlier today, Redmond said this would not be appropriate.
He noted that it "wouldn't sit right" with the force as GSOC "wouldn't be the first port of call for a garda with a complaint".
Redmond said that any meaningful reform of the force would take "twenty or thirty years"
Tony McGillicuddy of the Bar Council of Ireland also warned against rushing through any reforms of an Garda Síochána.
There might be an impetus to do things quickly but it's actually more important to do it properly.
He said it was worrying that there are so many issues of concern surrounding the Garda Síochána Act 2005 as it is "of recent vintage".
He advised those members of the force and the Department of Justice to look back to the recommendations of the Morris Tribunal and ask: "If it hasn't worked, why hasn't it worked?"
Robert Olson, Chief Inspector of the Garda Inspectorate, said the function of his organisation would be "significantly enhanced and made more efficient" if it had for "unimpeded access" to the PULSE system.
He added that the Inspectorate should be able to make unannounced site visits to Garda stations.
Current protocols require them to give advanced notice, something he said similar bodies in other countries don't have to do.