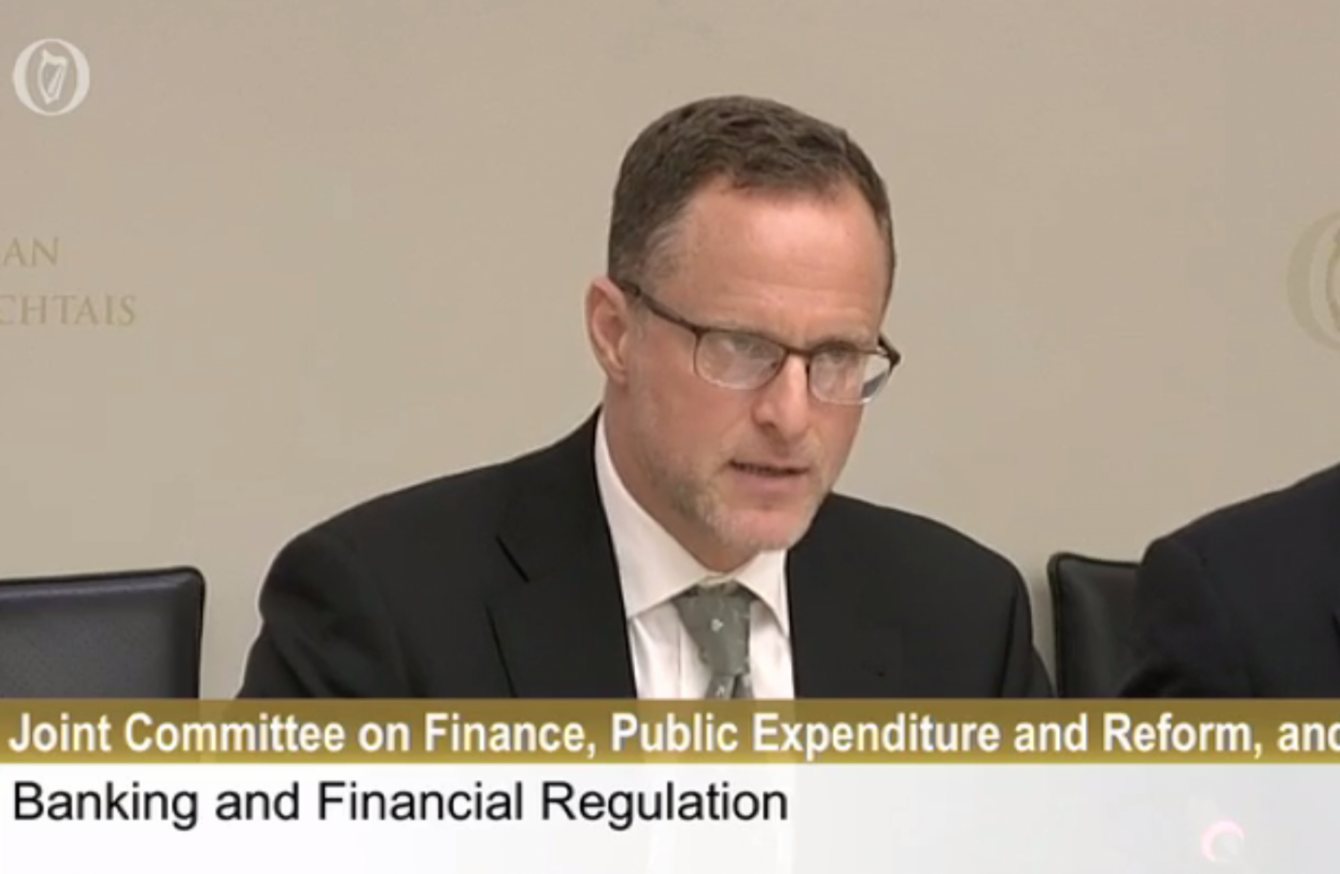 Image: Screengrab, Oireachtas.ie
Image: Screengrab, Oireachtas.ie
WHISTLEBLOWER JONATHAN SUGARMAN says that Irish authorities are still not properly policing banks and claims we could see a repeat of the fateful bank guarantee.
Sugarman was the risk manager at the Irish arm of Italian firm Unicredit, one of Europe's biggest banks. He joined in May 2007 but resigned within months.
He said that this was because Unicredit Ireland was repeatedly breaching liquidity rules, meaning that it did not have enough cash at hand to cover a reasonable share of its debts.
Speaking yesterday before the Oireachtas finance committee, Sugarman said that the Central Bank has not learned enough lessons from the financial crash to ensure there wouldn't be a repeat of the bank guarantee – which ended in the state bailing out the country's biggest lenders to the tune of €64 billion.
"Not when the Central Bank itself is admitting to weak regulatory reporting and regulatory breaches," he said.
We might wake up tomorrow and find that we need another guarantee. Some banks are still doing their calculations manually.
"Multibillion-euro banks are doing their calculations on the back of a coaster. This is happening in Dublin every day."
Oversight
Sugarman was referring to a report issued on Wednesday by the Central Bank which found that many foreign banks operating in Ireland were failing to meet their regulatory obligations.
The largest banks in Ireland, both foreign-based and indigenous, are under the direct control of the ECB's supervisory arm.
However the Central Bank's report covered financial institutions one tier below, which it directly regulates. It found a range of poor practices, such as a lack of expert staff, not enough proper documentation and errors in key financial calculations.
"I don't think anything has changed, and I think that this is confirmation of that," Sugarman said.
He also claimed that the Central Bank did not act quickly enough when he warned it in the middle of August 2007 that Unicredit Ireland was in breach of liquidity rules.
Sugarman said that this showed authorities' lax approach to enforcement and pointed to the banking crisis in 2008 as evidence of this.
The Central Bank has previously said that it investigated claims of a breach at Unicredit. It said that there was an "overnight liquidity breach" which was then rectified to the satisfaction of the Central Bank.
Unicredit Ireland is still trading profitably in Ireland, however Sugarman said that the issues he identified could have dragged the lender into crisis and should have been taken more seriously.
'Lucky escape'
Asked if Unicredit Ireland could have been threatened financially when breaches were identified, Sugarman said: "On that day, yes. Obviously now it is still alive and well in the IFSC.
Our entire balance (was worth) €28 billion, so I would say that the euro equivalent of a 20% breach would be between €4 billion and €5 billion.
He drew a parallel between Unicredit Ireland and Depfa, an Irish bank that was bought by German mortgage giant Hypo Real Estate in October 2007.
Depfa ran into serious liquidity problems in 2008, something which caused major issues at Hypo. Hypo itself ended up requiring a bailout, something which Depfa largely contributed to.
Source: TheJournal.ie/YouTube
As Depfa was owned by a Munich-based firm, it was German – rather than Irish – taxpayers who footed the bill. Germany ended up bailing out Hypo, a deal that cost the country €10 billion in rescue loans after more than €100 billion was guaranteed.
"Few people in Ireland have ever heard of Depfa. Although it was as German as a sauerkraut, it was the biggest bank in Ireland, bigger than AIB," Sugarman said.
It was complete luck that the German bank was sold (and) the Irish taxpayer had a lucky escape. The Depfa bailout could have been on top of the other bank bailout."
Sugarman also said that his life has been "utterly destroyed" since he reported the breaches at Unicredit.
"Official Ireland has absolutely and completely destroyed the lives of every single whistleblower who has come forward, from whatever walk of life they've come," he said.
"Those with their hands on the levers of power are immune, while those who do the right thing have their lives ruined."
Written by Paul O'Donoghue and posted on Fora.ie