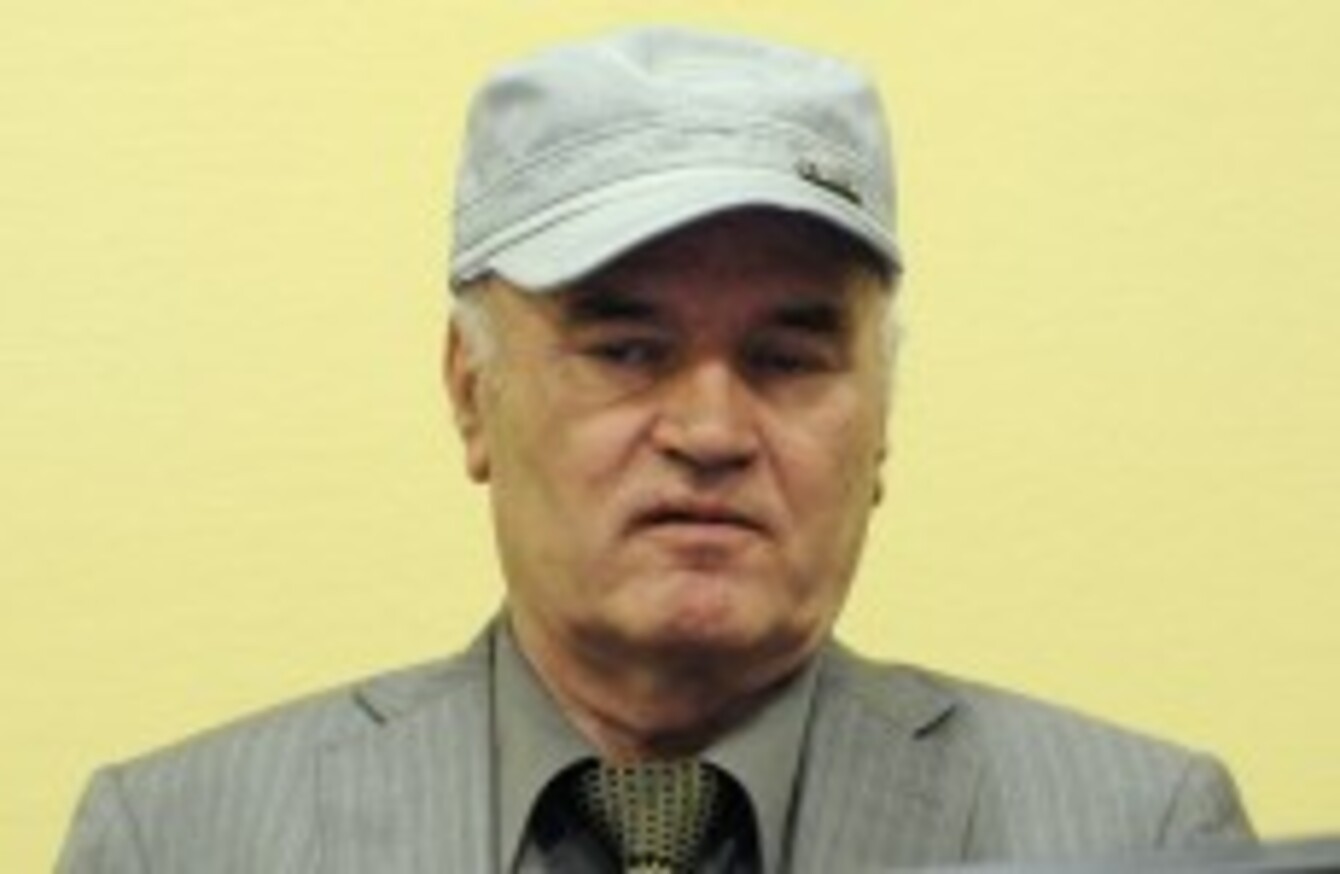 Image: Martin Meissner/AP/Press Association Images
Image: Martin Meissner/AP/Press Association Images
JUDGES AT THE war crimes trial of Ratko Mladić today entered a "not guilty" plea on behalf of the former Bosnian Serb general after ordering him out of the courtroom.
Appearing at the International Criminal Tribunal for the former Yugoslavia for the second time since his arrest in May, Mladić asked for more time to enter a plea but the request was rejected by the court.
Although he unexpectedly turned up to the hearing, he did not co-operate with the process and was eventually escorted out of the room.
Mladić wanted his chosen defence team approved before entering a plea but The Hague said it needs more time to give the OK to Milos Saljic and another unnamed Russian lawyer.
After this request wad refused, the courtroom became quite chaotic as Mladić was repeatedly reprimanded for interrupting proceedings by speaking out of turn.
Despite warnings, he continued to interrupt presiding judge Aphons Orie  with arguments that he should be allowed choose his own lawyers.
At one point, he shouted at Orie, "You want to impose my defense, what kind of a court are you?"
Eventually the hearing was adjourned for a short break and Mladić was removed from the arraignment.
After the break, Orie began reading out the 11 charges against Mladić, which include genocide, murder and other wartime atrocities, allegedly carried out during the Bosnian War between 1992 and 1995.
The indictment accuses the so-called Butcher of Bosnia of playing a lead role in the massacre of 8,000 men and boys in Srebrenica in July 1996.
He also faces charges for the shelling and sniping Sarajevo, during which thousands of civilians were killed and wounded.
The 69-year-old was extradited to The Hague on 31 May following his arrest in Serbia. He had been on the run for more than 15 years.
- AP