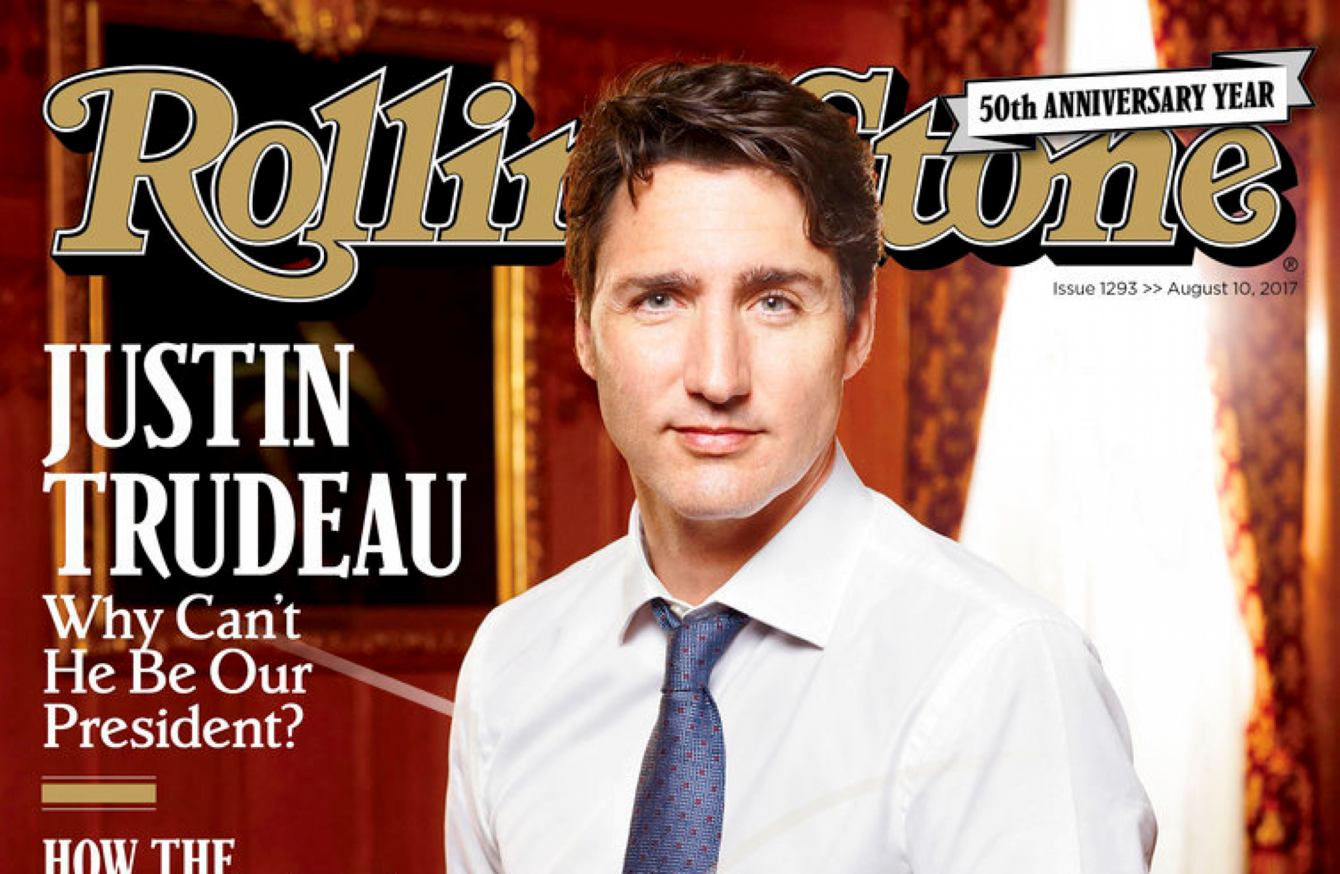 Image: Rolling Stone
Image: Rolling Stone
ROLLING STONE MAGAZINE has put liberal Canadian Prime Minister Justin Trudeau on the cover of its latest issue and asks: "Why Can't He Be Our President?"
Perhaps recognising that only American-born US citizens can become president, the magazine takes a different tack on its website. There, its headline for the article is: "Justin Trudeau: Is the Canadian Prime Minister the Free World's Best Hope?"
Trudeau is pictured with his shirt sleeves rolled up and perched on the edge of a desk.
In the profile, writer Stephen Rodrick outlines stark contrasts between Trudeau's liberal views on health care, marijuana legalisation and environmental policies and those voiced by US President Donald Trump.
Trudeau is quoted as saying he disagrees with Trump "on a whole bunch" of issues, but he also stresses that the two leaders have "a constructive working relationship."
Trudeau says that seeking to insult Trump "or overreact or jump at everything he says" on matters where they differ would not result in a constructive relationship.
The article goes on to contrast Trump and Trudeau's stances on immigration, most notably Syrian refugees. Trudeau met the first batch of Syrians to come to Canada in 2015 at the airport while Trump has issued bans on their coming to the US.
Trudeau, however, plays the answer off by paying tribute to the Canadian people.
"If we take in 40,000 Syrian refugees, it wasn't because the government sent a couple of planes and signed a decree.
"It was because communities opened up their homes, their churches, their community centres.
"Everyone said, 'Let's do our part to give some people in a terrible situation a better future.' We understand that bringing people here to build a better life for themselves makes the world a better place and makes our communities better as well. But I've only been able to do this because Canadians are open, generous and dream big for the country."