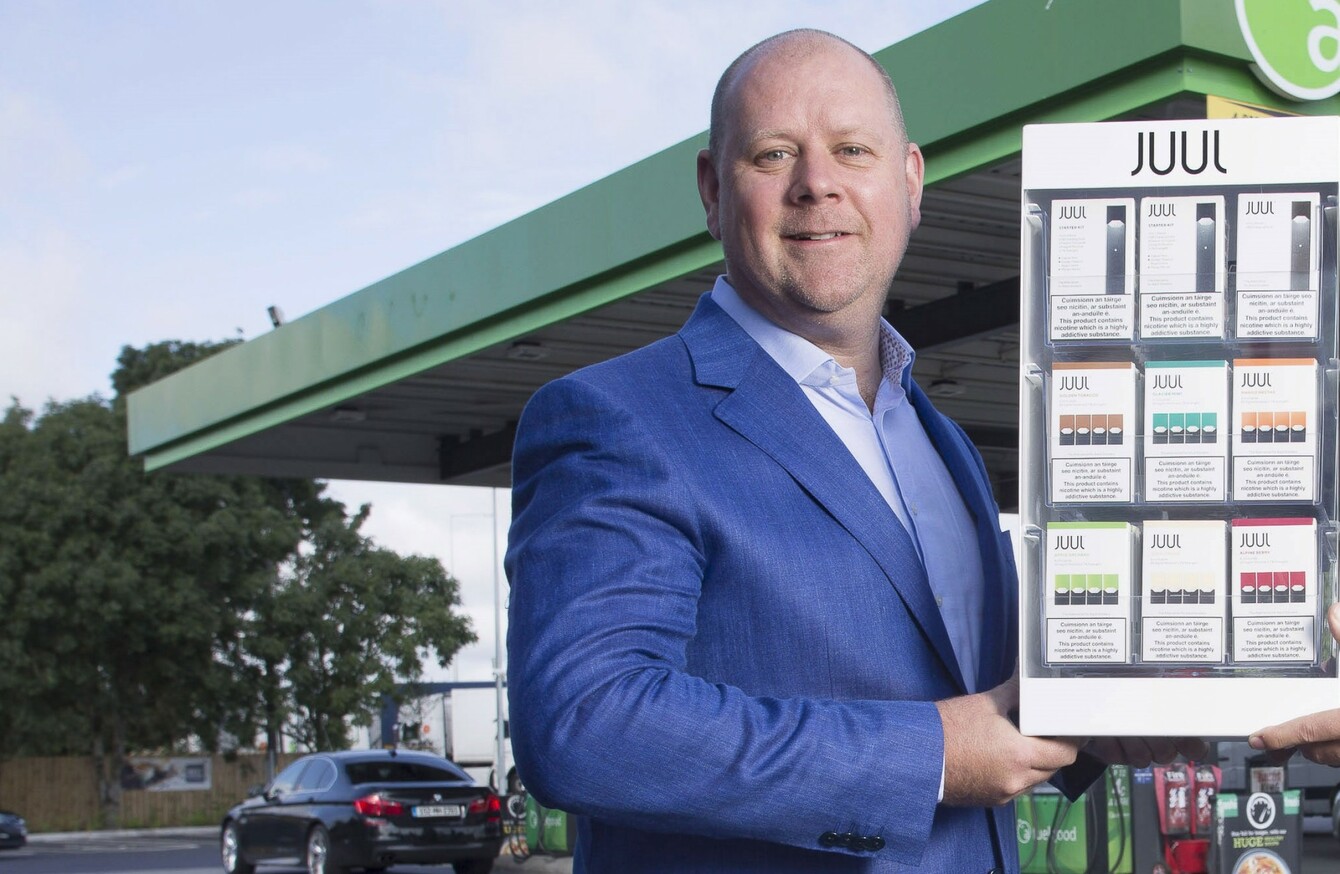 Image: Evan Doherty
Image: Evan Doherty
'RESPONSIBLE' IS A word you'll hear frequently when talking to Gareth Smyth.
"Juul's mission is to try and create an alternative and less harmful alternative for people to get off tobacco smoking," the Irish boss of Juul Labs, the electronic vaping giant, tells Fora.
"I think we have to be extremely responsible as a category around things like youth prevention and adult-only (use), how we market or how we sell it," he adds.
While Juul is new to the Irish market, its name and brand is not. The company was founded originally in 2007 as Pax Labs before being spun out as Juul in 2017. 
It has raised billions of dollars in venture capital making it a household name as far as vaping goes. Smyth took the reins of the Irish business when it launched its products here in May.
This was just a couple months after the company found itself in the spotlight when tobacco giant Altria, Marlboro maker and owner of Philip Morris USA, invested $12.8 billion in Juul for a 35% stake. The investment saw Juul's valuation balloon to $38 billion.
The deal raised eyebrows. How could a company that claims to be getting people off tobacco take money from one of the biggest tobacco companies in the world?
"It was a big question I had when I joined," Smyth says. "The headline makes you think, how does that work?"
He counters that Altria saw the success of vaping and wanted a piece of the action in a world where smoking is gradually declining. Smyth says that the investment represents the tobacco industry acknowledging a desire for alternatives.
"Altria came over to the other side of the road, invested a minority stake in the business and helped accelerate effectively the decline of cigarettes," he says.
"It's helped fund Juul to go on a much more global scale, and actually do what they're trying to do faster as opposed to inhibit it – so that's how I can square that off."
It has since raised even more money with a fresh round of $325 million in debt and equity to finance its international expansion strategy.
Irish launch
Smyth, who doesn't smoke himself, was drafted in to lead Juul's Irish business, following a career spanning roles in the food, drinks and pharmaceutical industries.
Most recently he headed up Irish food company East Coast Bakehouse following a tenure at pharma mainstay GlaxoSmithKline, which brought him to a team that led the spin out and sale of its Lucozade-Ribena unit to Japan's Suntory.
One of the biggest challenges he faces is marketing a nicotine product like Juul to Ireland's more than 800,000 smokers – while staying on the right side of the law.
Smyth says he is in favour of clearer rules for advertising and who can use vapes.
"The product needs to be legislated for, it needs to be governed. I'd encourage and I'd support the whole area around legislation," he says.
"For instance, it's not currently illegal to sell vaping products to under-18s in Ireland. It's illegal to sell tobacco … we would support the government introducing legislation to make that illegal."
Legislation is to be considered by the government shortly, but when it comes to advertising, he's not in favour of vaping going down a similar route to smoking, where ads are effectively banned outright.
"On the premise that it's about adult smokers, I wouldn't be supportive of advertising bans because we need to educate people."
Smyth is keen to reiterate that none of the ads have a 'lifestyle' vibe, instead focusing on functional efficacy with testimonials, in video and billboard form, from users that are over 30 years of age.
"They're adult people who are adult smokers talking about their journey. That is very functional, it's efficacious. It talks about how they made the switch and how it helped their lives and how to improve their lives. There's no room for visual error about what this is targeted at."
It also has brand ambassadors dotted around the country that do demonstrations in retail stores and does not place any public ads within 300 metres of schools.
Regulator scrutiny
Vaping pens still contain nicotine, which is addictive. That brings with it restrictions around how it's marketed, which has invited intense regulatory scrutiny in the US.
In 2018, perturbed by the nature of advertising and marketing, the US Food and Drug Administration kicked off an investigation into youth usage of vaping products.
The agency even launched its own advertising campaign this summer aimed at teenagers to warn against nicotine addiction and vaping use.
Juul has been the focus of much scrutiny over how its marketing may have appealed to young people and teenagers. 
The company's marketing material is framed as adult-oriented after the company was subject to criticisms over how its products were presented.
Juul denied ever targeting teenagers but its critics pointed to its colourful early ads featuring young people with vapes in social settings as well as its use of social media channels to reach people.
Smyth repeats the company's assertion that youth-targeted ads were never the intention, saying Juul "categorically did not intend to focus on youth or youth usage".
"It was a very new business that grew exceptionally quickly. (The) mission was focused on adult smokers. However, there are learnings from how we went about it, that there can be even more measures that go above and beyond the local legislation to prevent youth usage."
#Open journalism No news is bad news Support The Journal

Your contributions will help us continue to deliver the stories that are important to you

Support us now
In response, Juul announced in November 2018 a slew of measures in the wake of the controversies and to appease watchdogs.
It set restrictions on online sales, placed new rules on retail sales and perhaps most surprisingly in this day and age, shut down its social media channels.
Despite these challenges, the business of vaping has marched on with several large brands entering the Irish market.
Logic and Blu have splashed out on advertising in Ireland with their ads garnishing Luas trams, Dublin Buses and billboards – with the latter pushing a lifestyle-like message with its "I blu, do you?" slogan.
But vaping remains under great scrutiny, whether that's over its marketing practices or health claims – Juul's CEO recently warned against non-smokers using its products.
Retail relationship
Juul has signed deals with forecourt chains Applegreen and Circle K and specialist chain Hale to sell its products.
It has instituted an arrangement called 'challenge 25′ with its retail partners where sellers are expected to check IDs on people that look 25 or under – a similar scheme has been seen in stores for cigarettes – sales are still made to 18-year-olds and above.
Smyth says the "buffer" is about encouraging more vigilance.
"We've embedded it in our commercial deals," he adds, with a three-strike rule for retailers that fail to carry out checks. This is audited through mystery-shopper-type checks.
"We basically send 18- to 19-year-olds in but if they don't get asked for ID, that would be a fail," he says.
"Ultimately if a shop continues to fail, by the third time we actually de-list selling the product, we cease supply for that particular store, not the whole chain, for a 90-day period."
Smyth says the scheme helps retailers be proactive in preventing youth usage: "They don't want this issue either."
Get our Daily Briefing with the morning's most important headlines for innovative Irish businesses.
Written by Jonathan Keane and posted on Fora.ie