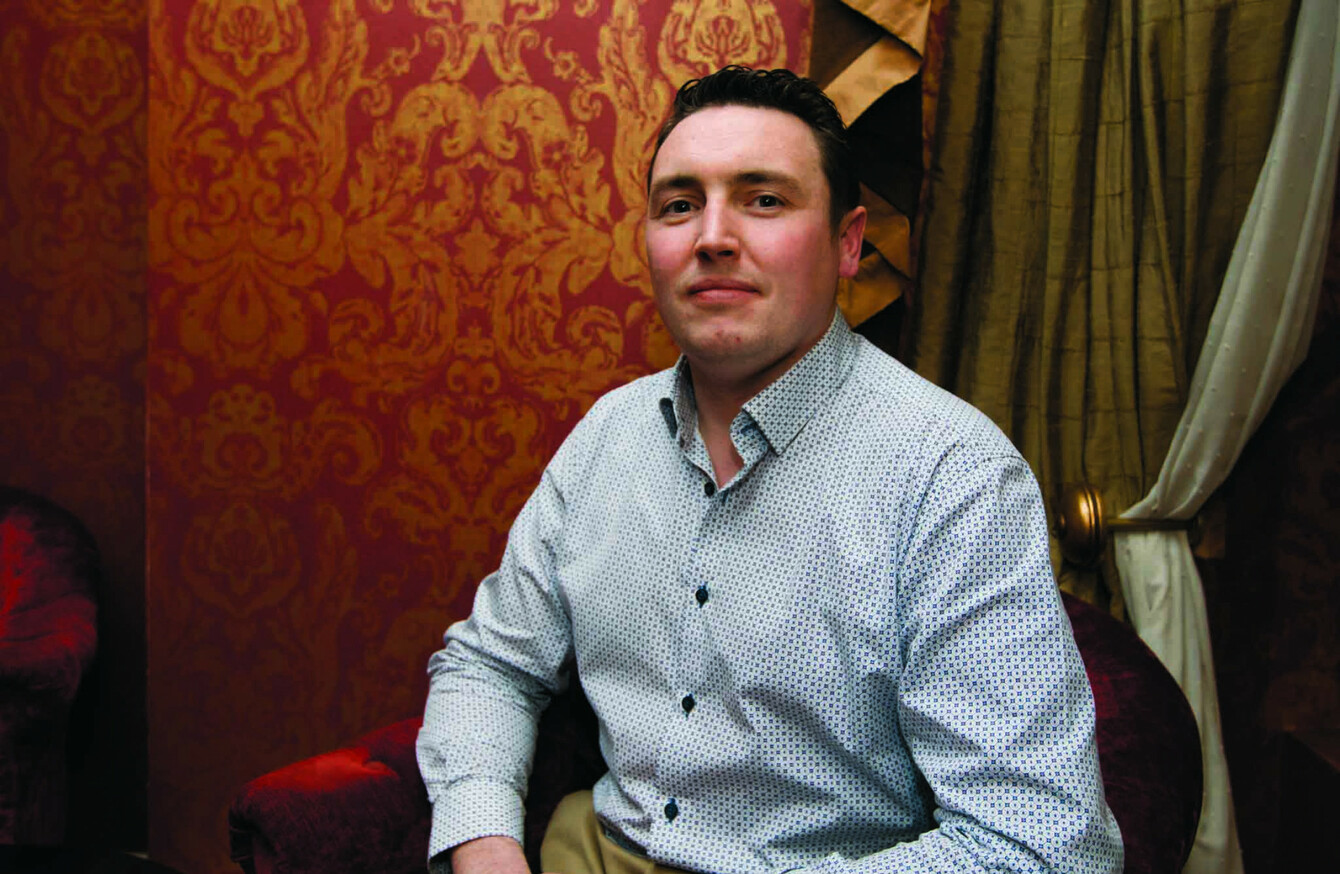 The next phase of the Tribunal will look at allegations made by garda whistleblower Keith Harrison
Image: Eamonn Farrell/Rollingnews.ie
The next phase of the Tribunal will look at allegations made by garda whistleblower Keith Harrison
Image: Eamonn Farrell/Rollingnews.ie
TODAY, THE DISCLOSURES Tribunal will resume after its summer recess.
Mr Justice Peter Charleton heard evidence from a variety of parties in June and July, all of which related to the false allegations made against garda whistleblower Sergeant Maurice McCabe.
Now, however, the Tribunal will hear evidence related to another garda whistleblower, Keith Harrison and, within the terms of reference, is tasked with investigating "contacts between" gardaí and Tusla in relation to Harrison.
So who is Keith Harrison? What is being alleged, and what will the Tribunal examine?
Who is Keith Harrison?
Here's a quick rundown of Harrison's story:
2000: Joined the gardaí.
2009: Arrested another member of An Garda Síochana for drink driving while serving in Athlone.
2011: Granted a transfer to Buncrana, Co Donegal as he wanted to be closer to his partner Marisa Simms. Her brother had been found guilty of the killing of a member of An Garda Síochana in a road incident a few years previously. Harrison said he was reprimanded by senior management for not telling them that he was in a relationship with her.
January 2012: An anonymous letter is sent to the HSE about Simms' children, with allegations that Harrison is a "dangerous" man. The letter is passed on to gardaí.
Over the next 18 months, a number of members of Simms' family make allegations about Harrison to the effect that he was abusive to Marisa in front of the children.
6 October 2013: Marisa Simms makes a statement to gardaí about this, containing a number of allegations.
January 2014: She retracts the statement saying "she was taken advantage of" by gardaí.
February 2014: Social workers visit the family home to ascertain the veracity of the claims made against Harrison. They find that the children were "not at risk of ongoing significant harm". The HSE/Tusla file on the family is formally closed this month.
In this time, a number of anonymous threats are made against Harrison's life in calls to various garda stations in Donegal. Furthermore, Harrison claims that garda cars frequently pass his home to "intimidate" his family.
Harrison believes that these events were directly influenced by senior management at garda headquarters.
The Tribunal will invite a variety of witnesses from these events – including social workers, gardaí, and Harrison and Simms – to examine these claims.
Keith Harrison joined the gardaí in 2000 and attested in June 2001.
When outlining its evidence on Wednesday 14 June, counsel for the Tribunal gave a lengthy account of the statements they had received so far relating to Keith Harrison and his family.
They gave an account of what was in the Tribunal's remit to examine in Harrison's case, and the statements received from witnesses up to that point.
While not included in the terms of reference, Tribunal counsel did mention details around allegations made by Harrison against colleagues while he was serving in the traffic division of Athlone.
Counsel for the Tribunal said: "Sir [addressing Charleton], it is fair to say that he does not hold back in relation to what he says about colleagues, all of whom are named, and about the difficulties which he says that he had with superior officers."
Harrison has made a number of claims about his treatment by senior gardaí since he arrested another garda in Athlone for suspected drink driving in 2009.
He has alleged that people he previously arrested were approached and asked whether they wished to make complaints against him, that surveillance was placed on him and that information about a garda inquiry into him was deliberately leaked.
The whistleblower, who was eventually transferred to Buncrana in Co Donegal, was on leave due to work-related stress for 30 months, up to November 2016. He has claimed he suffered panic-attacks due to the harassment he experienced over the five-year period after he arrested his colleague.
"It couldn't be a coincidence"
In his statement to the counsel for the Tribunal, Harrison likened his treatment from gardaí as similar to the alleged treatment of Maurice McCabe.
Counsel told the Tribunal: "Indeed in his statement to the Tribunal he complains about intervention by garda colleagues, the involvement of the Child and Family Agency, and makes the claim that how he was treated in comparison to Sergeant Maurice McCabe leads him to the view that 'the similarities are so alike it couldn't be coincidence and considering the geographical locations of us such treatment had to come on orders from the highest level'.
In other words, Garda Harrison is alleging that there was abuse of power by colleagues of his in Donegal and that this was directed by headquarters in Dublin. Furthermore, he claims that this abuse extended to inappropriately involving the Child and Family Agency in his personal and domestic relationships.
The whole story is tied up with his relationship with a Donegal woman, Marisa Simms. Harrison had originally been in a relationship with Simms, before they both got married to different people. The pair resumed a relationship again, years later, in late 2010.
According to Simms, Harrison requested a transfer to Buncrana to be closer to her and he was granted this transfer in March 2011.
However, Harrison did not disclose to garda management that he was in a relationship with Simms. This was relevant, Tribunal counsel said, because Simms' brother Martin McDermott was convicted of the manslaughter of an officer during a chase with gardaí in December 2009.
It is Harrison's contention that, when his relationship with Simms was discovered, he was singled out by management on the issue. In a meeting with Superintendent Kevin English, Harrison alleges that he was told "a number of members in Buncrana are very angry about it and some have indicated to me that they won't work alongside you anymore".
Harrison said he was told by English that Chief Superintendents Jim Sheridan and Terry McGinn were "very angry about it" and would order him to be moved station.
He said he pleaded to be kept in Donegal, and was transferred to Donegal town in June 2011.
HSE letter
In January 2012, an anonymous letter was sent to the HSE concerning the children of Marisa Simms. Gardaí in Milford were made aware of the letter on 9 February 2012, when this letter was handed over by a HSE employee to Sergeant Bridget McGowan.
The letter said that her children had suffered, and said that Harrison was a "dangerous man".
The letter said:
It has come to my attention that the wellbeing of [the two children] is questionable. Their mother, Marisa Simms is having an extra-marital affair with a Garda Keith Harrison. I would call you but I am aware that all calls are recorded. I have been advised not to leave myself open to Garda Harrison on any level, as I believe him to be a dangerous individual.
In a meeting in March 2012 with social workers and gardaí, it was detailed how meetings had taken place between social workers and the parents involved to discuss the welfare of the children.
At the time, it was adjudged that there was "no information to substantiate the referral allegations".
Following on from this, a number of relations of Simms, including her uncle, cousin, sister and mother, made allegations to gardaí around Harrison's conduct towards her.
Tribunal counsel said: "All of this happened, it would seem, in the context of a row which occurred because of a family wedding on her side of the family to which [Harrison] was not invited, for whatever reason."
Following a complaint made by Simms' sister on 30 September 2013, it is at this point that Harrison and Simms allege that the latter was then "pestered" to make a statement to the gardaí about the incident in question.
"If this happened, it would indeed be shocking"
Keith Harrison told the Tribunal's counsel that the incident which Simms' sister made a complaint about was a "normal family row".
Despite this, he claims that an Inspector Goretti Sheridan, a relation of Chief Superintendent Jim Sheridan, "bombarded Marisa with phone calls to meet though Marisa didn't want to".
He went on: "Marisa attended Letterkenny Garda Station as requested, she was taken to the Superintendent's office which is quite unusual, and over the course of the next eight and a half hours she was pressurised and coerced into making a statement without any breaks and was told that this statement was for the Chief Superintendent only.
We both have since read this statement and Marisa is shocked by it as she states that there are parts of it which she never said and other parts of it where what she said was manipulated to portray me in a bad way.
In its submission to Mr Justice Charleton, counsel said: "Sir, if this happened, it is indeed shocking."
In this 23-page statement, dated 6 October 2013, Marisa Simms details a number of instances of aggression on Harrison's part. In one instance she describes him as being "in a complete out-of-control rage".
The details of rows between the pair are outlined where, in one instance, it records her as saying that Keith had told her "I am going to burn you" during an argument in front of her children.
Simms told Tribunal counsel: "My understanding at all times what that this was for the Chief Superintendent's eyes only. I never sought or wanted any garda intervention into my private life.
Goretti Sheridan and Bridget McGowan took advantage of me at a very vulnerable time where I was mentally and physically exhausted and my emotions were heightened due to extraordinary circumstances.
All of the gardaí involved in these matters have given statements to the Tribunal "which indicate that they followed procedures and that they took action not only out of an ordinary duty in terms of criminal law, but also because they were concerned with the welfare of the children in question", counsel for the Tribunal said.
At this point, with Simms' statement detailing instances in front of the children, formal referrals were made by Sergeant McGowan to the HSE in relation to the children on 9 October 2013.
Counsel for the Tribunal said: "A standard notification form was filled out in respect of both children for suspected 'Emotional Abuse', providing that the children were "present during argument between mother and partner".
These were signed off by Superintendent McGovern the following day and sent to what was, at the time, HSE Child and Family Services.
Shortly after this, Simms became ill and required hospitalisation. HSE officials met with gardaí for a strategy meeting for the Simms children on 21 October 2013, where it was decided to wait until she returned to better health.
#Open journalism No news is bad news Support The Journal

Your contributions will help us continue to deliver the stories that are important to you

Support us now
Withdrawing statement
On 11 January 2014, Marisa Simms withdrew her statement of 6 October 2013.
At the time, she said: "I am making this statement of my own accord. No one is pressurising me to do so and I am not under duress."
In her statement to the Tribunal, Simms claimed that Inspector Sheridan was "cold and short" with her when she was withdrawing her statement. She further claimed that Sheridan heavily implied that social services would become involved with her family if she withdrew her statement.
On 27 January 2014, social worker Donna McTeague contacted Sergeant McGowan for the purpose of ascertaining "the current status regarding garda investigation so as to allow [the social work department] to proceed with investigation".
She said that she needed specific information of allegations made against Harrison to proceed.
On 3 February, McTeague wrote to Simms requesting a meeting as the social work department had "received information in relation to your family which we would like to discuss" and asked that Harrison also attend.
A decision was made for a home visit, and this took place on 19 February. It was McTeague's view that the children were "not at risk of ongoing significant harm and [both] have… taken steps to ensure disagreements/arguments will not happen again in front of the children".
The file was formally closed on 27 February, with a recommendation for no further action.
"An Garda Síochana have tried to break us emotionally"
Both Simms and Harrison allege that there were very serious consequences following on from the involvement of social workers in their private and family life.
Harrison also alleges that a number of threats have been made against his life in recent years.
In one case, an anonymous caller rang Letterkenny Garda Station and said that they had overheard a conversation to the effect that Harrison would be shot that night. In another instance, a call was made to Donegal Town Garda Station where the caller said they would "put a bullet in" Harrison.
He also alleges garda harassment at his home. He said: "[Following December 2014] we endure[d] patrol cars passing our home and following us and in general intimidating us."
While this stopped for a time, he said that a patrol car regularly passing the house has become the "norm again".
Simms said: "An Garda Síochána have us living in fear as they have told us there are death threats against Keith but have failed to investigate them.
As two individuals, as a couple, as parents and as a family An Garda Síochána have tried to break us emotionally, mentally and financially.
The next few weeks
Over the next three weeks, the Tribunal will hear evidence from relevant members of the gardaí and from social workers involved in this process.
Six members of An Garda Síochána are on today's witness list, including Chief Superintendent James Sheridan.
The Tribunal will also hear from Keith Harrison and Marisa Simms on 25 September.
In their opening statement, counsel told Charleton: "They defend their position but they do not seek to blame the gardaí in relation to what happened.
Since Garda Harrison blames these events on inappropriate, malign and unjustified action on foot of senior gardaí and Garda HQ, sir you must anxiously consider what evidence there may be for this.
Comments have been closed for legal reasons